chocolate tour of Ottawa
One of the best ways to discover the chocolate hot spots of any destination is to find out whether there is a local chocolate lover's tour. I was thrilled to be invited on the 90-minute Chocolate Lover's Tour of the ByWard Market area offered by C'est Bon Cooking in Ottawa. Clare was my guide, and I really enjoyed her company, as she has lived abroad and had a real passion for both chocolate and travel. My kind of girl!
Our first stop on this delicious chocolate walking tour was Stubbe Chocolates. I had visited this lovely chocolate shop a number of years ago when I was in Ottawa, but my visit this time was even better as I had the opportunity to meet the owner of the shop, learn from his knowledge and become immersed in his passion for chocolate. Heinrich Stubbe was born in Germany. His wife is from South America. Between them, they have effectively created an artful blend of old and new world chocolates, now offering 520 different chocolates and confections at various times of the year. The quality of the chocolate you will find at Stubbe is top-notch, and the flavour terrific. I was really impressed with the chocolate fruit leather, a new product that was still under development at time of my visit.
Our next stop was Cacao 70, where we could enjoy a customized hot chocolate made from various single origin chocolate disks. This is a really cool place to come back to and enjoy lunch off the extensive menu, as there are many chocolate offerings to explore. We then headed over to the Tea Store, where you'll find more than 300 different teas. I loved the Vanilla Bourbon Rooibos from South Africa, but die-hard chocolate lovers might be attracted to the Belgian Chocolate Rooibos. Rooibos tea is one of my favourites for pairing with chocolate.
Cupcakes anyone? Our next stop was a visit to The Cupcake Lounge. This is my kind of place as they offer a good variety of delicious cupcakes and are a licensed establishment, so you can enjoy a glass of Prosecco (sparkling wine) or other libation with your cupcake. We enjoyed sitting outdoors at the tables on the patio and watching the world go by.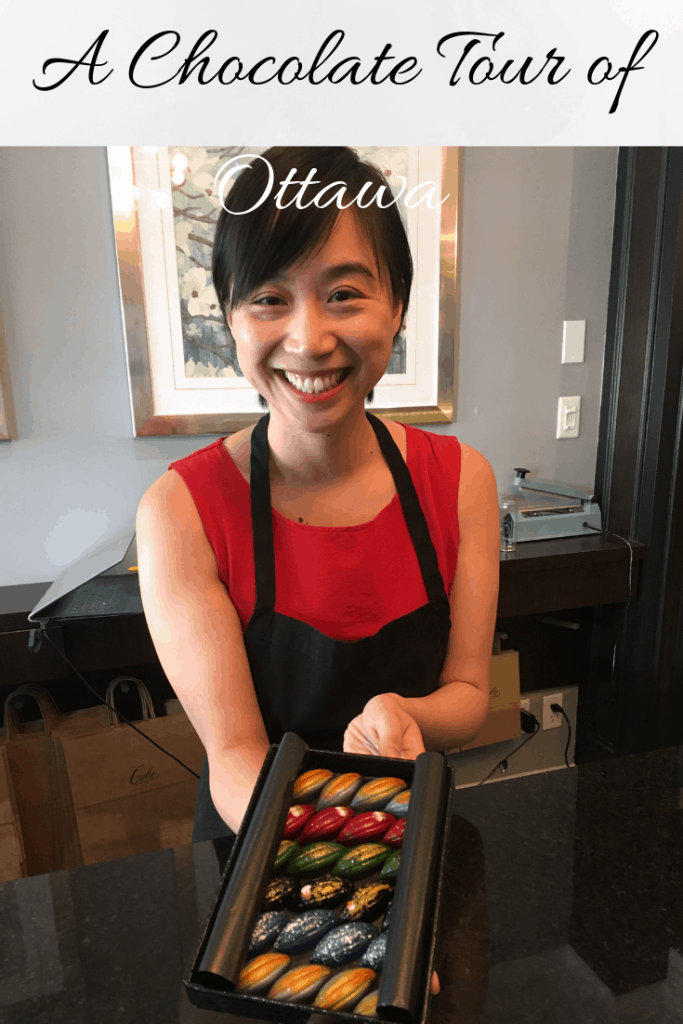 Our next stop was Cylie Artisans Chocolatiers, a fabulous chocolate shop featuring the artistic creativity of Leslie and chocolate mastery of Cyril, a husband and wife team that is taking Ottawa by storm. Cyril was born in France and began his culinary career specializing in French pastries. He was teaching a pastry course at the Cordon Bleu College, where he met Leslie (pictured above), an enthusiastic student who caught his eye. The two later married, and on September 13, 2013, opened their shop in the North Dal (Dalhousie) area of Ottawa where you'll find many small unique shops.
We stopped at Piccolo Grande, a shop where you can choose from over 40 flavours of house-made gelato–about 10 of which featured chocolate. And we ended with a stop at the Beaver Tails trailer, as I'm told that no culinary trip to Ottawa is complete with tasting a Beaver Tail. I was pleasantly surprised with the maple version, that had a nice chocolate drizzle on the top. I admit to eating it so quickly, I never even noticed the 446 calories that slid onto my hips before I could catch them! Definitely not a healthy treat that you would eat often. But I agree that they're definitely worth a try.
I really enjoyed this chocolate tour and highly recommend it should you find yourself in Ottawa. For the size of Ottawa, a city with just under one million people, the culinary and chocolate options are quite astounding.
My sincere thanks to Ottawa Tourism and Ontario Travel for making this trip possible. And for more on my Ottawa adventures, please check out this post.
SaveSave
SaveSave
SaveSave