enter the world of chocoMe, chocolate genius from Budapest, Hungary
Chocolatour is about the world of chocolate travel and all that it entails. Not simply about tasting or eating chocolate, but about going to places where chocolate or cocoa has had an impact on the culture of a country and the lives of its people.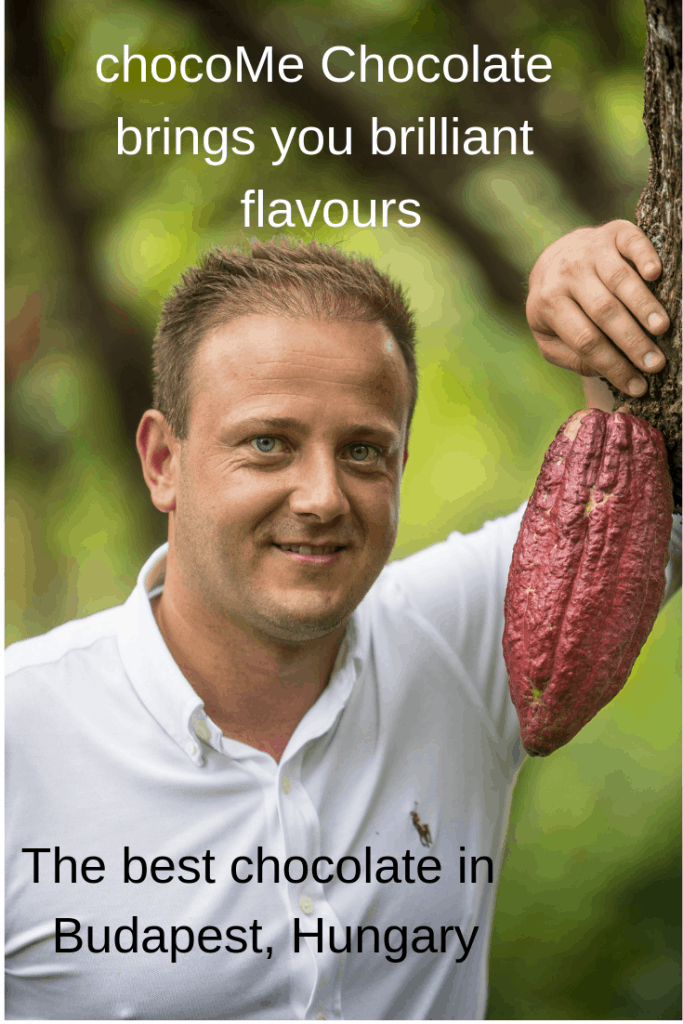 Most of what I write (on this blog, in my books, and in freelance articles) results from experiential travel to the places where the best chocolate of the world is being created and made, where the creative people making the best chocolate live, where cacao is growing, and understanding how terroir affects the flavour of the cocoa and chocolate that is made from it.
That is why when chocolatiers I have met in person or been following online make the leap from using generic couverture to make their chocolate to either becoming full-fledged bean-to-bar chocolate makers or taking the intermediate step of going to cocoa farms, learning and understanding the full process, and ultimately helping to create their own signature recipe for the chocolate that will be used to make their own unique creations … I am thrilled!
chocoMe is a Hungarian brand that features excellent pure dark chocolate squares in addition to a wide range of chocolate confections
This has been the path of Gabor Mészáros founder of chocoMe, the multi-award winning chocolatier based in Budapest, Hungary, who in 2017, developed his own signature Or Noir couverture with the assistance of Cacao Barry's chocolate lab in Paris to make his brand of Délice chocoMe products. The formula for this 72.2% dark chocolate is created from 44% Peruvian Trinitario cocoa blended with 39% Forastero cocoa from the Santo Domingo region of the Dominican Republic. I really loved the fruity (slightly acidic) notes of this blend of cacao and the creative packaging that houses these delicious chocolate squares.
Another thing that chocoMe takes pride in is its Entrée 100-gram chocolate bars that feature dried fruit and/or roasted nuts. I adored the Entrée bar made with 32% blond Valrhona couverture enhanced with caramel powder and bourbon vanilla and topped with roasted pecans flavoured with smoked sea salt. It is a beautiful bronze colour and the perfect blend of sweet and salty.
As a nut nut, I also love the Raffinée line-up of nuts covered in delicious cocoa powder. These are far more than the plain milk chocolate covered almonds you may have eaten all your life. chocoMe's Sicilian almonds are coated with a thin layer of crispy wafer dust and Guérande salty blond Valrhona couverture. They are absolutely delightful! The Raffinée collection also features Piedmont hazelnuts covered in ground Ethiopian Harrar coffee and covered in Valrhona's milk chocolate couverture. It is no surprise that this particular offering has won chocoMe several international awards.
chocoMe has won 55 international awards (and counting!) for its creativity and top-notch chocolate and chocolate confections. I've not yet been to Hungary, but you can bet that Budapest is high on my list as I'd love to tour their chocolate making facility, meet Gabor Mészáros, and thank him on behalf of all chocolate lovers of the world for bringing the flavours of the jungle onto our palates.
Have you been to Budapest or tasted chocoMe chocolate products? If so, please join the conversation and share your impressions. Thanks!
SaveSave
SaveSave
SaveSave
SaveSave
SaveSaveSaveSave
SaveSave
SaveSave
SaveSaveSaveSaveSaveSave
SaveSave
SaveSave
SaveSave
SaveSave
SaveSave
SaveSave
SaveSave
SaveSave
SaveSave
SaveSave