Fairmont Orchid is my kind of place
I wasn't certain whether to stick with more posts about our stay on Oahu or whether to venture over to the Big Island for the next post. My query was answered by news that the Big Island Film Festival is taking place this week at the Fairmont Orchid Resort and I wanted to get this post out incase anyone reading this was toying with the idea of attending the event.
I happily accepted the invitation to stay at the Fairmont Orchid, Hawaii, in February, as an opportunity to scout out the venue as the host of the Big Island Chocolate Festival which was held May 1-3, 2014. Although I wasn't able to attend this year's event, I did meet Hubert Des Marais IV, the Executive Chef at the Fairmont Orchid, and enjoyed several of his creations. I also know this venue can't help but add to the vibe of any event. It is truly magnificent, in a relaxed and understated kind of way. We loved everything about it.
We could watch the humpback whales breaching from our lanai, or be inspired by the vistas of the mountains or the beauty of the golf course. This resort far exceeded our expectations. Every member of the staff we encountered was friendly and helpful. The cuisine was creative and satisfying. The location ideal, being just 20 miles north of the Kona Airport and an easy drive to the city of Kailua Kona or the rustic solitude of Pololu Valley lookout on the northern tip of the island of Hawaii, one of the most scenic vistas I've ever seen. Stay tuned for more on that in a future post.
Want a beach-side massage? You got it. There's also a sanctuary for the endangered Hawaiian Green Sea Turtle on the beach. Just like us humans, the turtles (called Honu in Hawaiian) like to rest themselves on the beach and soak up the sun. The Fairmont Orchid has plenty for guests to do, but if you just want to chill and enjoy the peaceful serenity, it is there without loud music and noisy activities to spoil the Zen.
For us chocolate lovers, there is no better place to be. We were welcomed with an assortment of chocolate covered strawberries hand-dipped in Hawaiian-grown chocolate. Our consolation prize for not being able to attend the Chocolate Festival–which I hear was fantastic this year.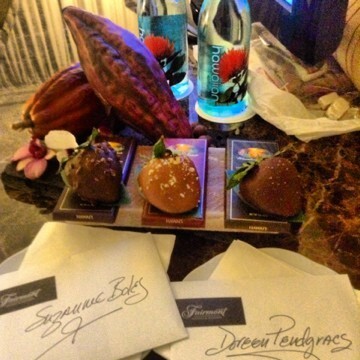 I've also heard that the 2015 Big Island Chocolate Festival will be held in late May, but at a venue with a larger banquet room. Details can be found here.
Have you been to the Big Island? Stayed at the Fairmont Orchid? Attended the Big Island Chocolate Festival? Is it on your Bucket List? Please share your thoughts and experiences. Mahalo!