Swiss chocolate travel to Gruyeres
No other country lives and breathes chocolate like Switzerland. The Swiss are among the highest consumers of chocolate in the world, consuming an average of 9.1 kilograms (more than 20 pounds) of chocolate per person each year. That equates to about 200 small chocolate bars per person, giving the Swiss the top spot for chocolate consumption in the world, according to a recent story by CNN.
So it is no surprise that this magnificent alpine country lured me back to discover what is new in Swiss chocolate and what kind of Swiss chocolate travel experiences I could add to volume II of Chocolatour: A Quest for the World's Best Chocolate Adventures.
exploring Gruyères, Switzerland
It had been seven years since my last visit to Switzerland. That first Chocolatour to discover the world of Swiss chocolate in 2009 had primarily taken me to Zurich where I visited a few chocolate shops and a couple of large factories where excellent commercial grade swiss chocolate is made. But the 2016 Chocolatour was comprised exclusively of unique chocolate experiences discovered in the small cities and villages of Gruyères, Broc, Montreux, Vevey, Lucerne, Root, and Weggis. What a delicious journey that turned out to be!
I arrived in Zurich by air, but my real journey began in Gruyères, just a three-hour train ride from the big city to a tiny village in Western Switzerland, but truly a world away to a magical place that transposes you back to the 12th century of continental Europe. Gruyères is a medieval walled village best known for its namesake cheese that forms the basis of most cheese fondues.
We toured La Maison du Gruyère–the local cheese factory situated in the modern part of Gruyères–and it was interesting to see how Gruyère AOP cheese was made, formed into large rounds, and aged up to 10 months in one of three different types. The mildest Gruyere is aged to six months. The medium strength Gruyere is aged to eight months, and the strongest flavoured Gruyere is matured to an age of 10 months. It's all delicious–especially melted in a cheese fondue.
It is also interesting to note the name of the village has an "s" on the end of it. The name of the district of La Gruyère and its namesake cheese do not.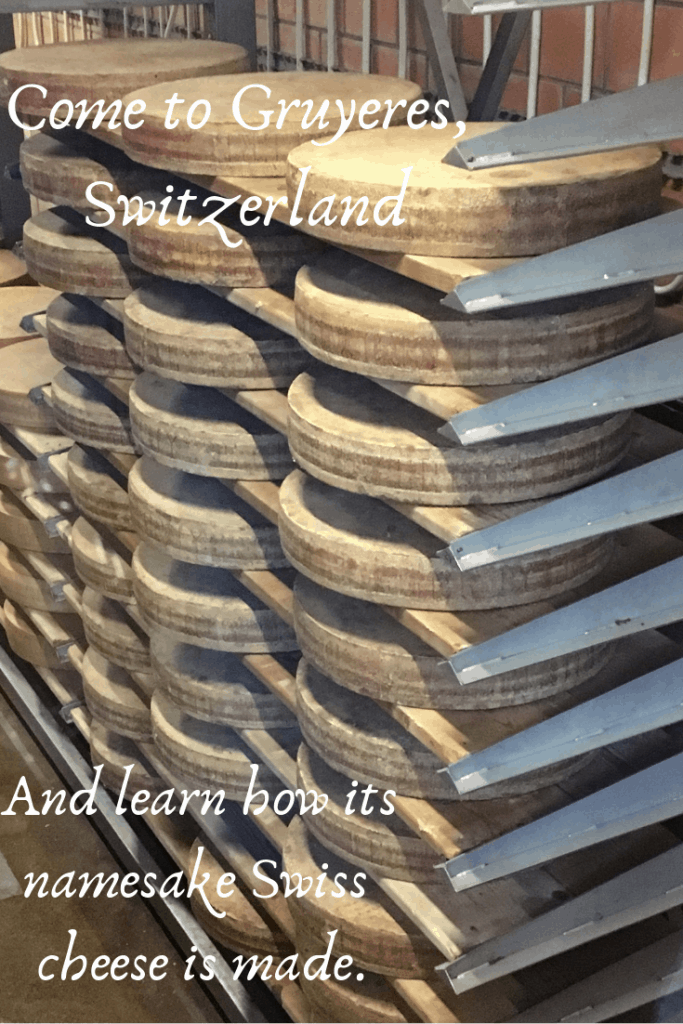 It's marvellous how the Swiss have managed to preserve the historic part of the village while incorporating a thriving economy of small inns, restaurants, galleries, shops, and one fantastic chocolate maker all inside the historic wall. I stayed just outside the wall at the Hotel Gruyeres and loved it. Here is just one of the amazing views from my room.
Thanks to AlpenWild Swiss travel specialists and Swiss Tourism for making this trip possible.
If you'd like to learn more about the evolution of Swiss chocolate, please check out this post. It's not just milk anymore! And if you'd like to read my post about the finest artisanal chocolate in Gruyeres, please visit this post.