The Chocolate Lab: a must-visit for chocolate lovers in Calgary
In a recent post, I shared the literary highlight of my recent visit to Calgary, Alberta. In celebration of World Cocoa and Chocolate Day on October 1st, I'd like to share with you why every chocolate lover should visit Calgary.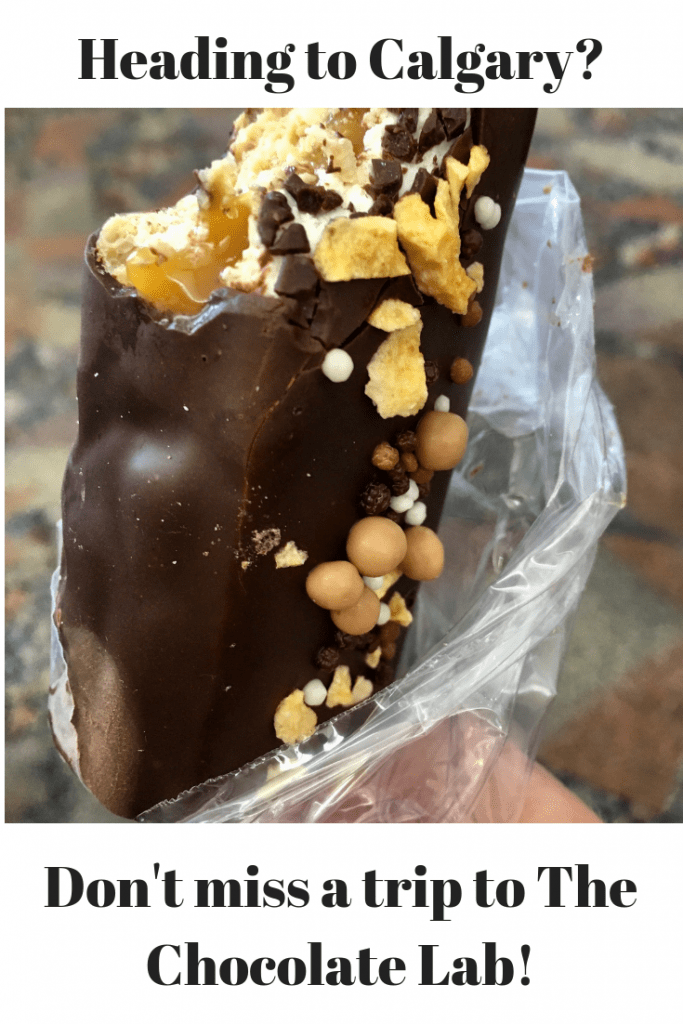 chocolate lab calgary offers a wide assortment of chocolate treats
I met with Dallas Southcott, co-owner and founder of The Chocolate Lab at his location in Calgary's Chinatown and was blown away by his energy, knowledge of the chocolate and cocoa industry, and the quality of his chocolate creations. Dallas has a key eye for design having worked for 10 years in media design and photography, so it is no wonder his bonbons are a work of art. He also has a Masters degree in Musical Cultural History and is trained in classical music.
"I'm a highly creative person," says Dallas. "Chocolate is but one medium in which I express myself." Dallas became a stay-at-home dad about 10 years ago when he and his wife and partner Eva Choi started their family. "That's when I started playing with chocolate," says Dallas, who says that their chocolate activities went into high gear when Eva lost her job in the oil industry due to the economic downturn that hit Calgary in 2014. After taking courses with Ecole Chocolat and working with Bernard Callebaut, Dallas was ready to launch his own chocolate business in 2015. He and Eva acquired the Centre Street location in January, 2016 and opened their shop to the public in April, 2016.
The Chocolate Lab opened its second location in the Foothills south of Calgary in 2017. Their third (private) location is used for administration and shipping, and there is a fourth location in the works. (Stay tuned!) Now with 14 staff, Dallas credits Eva's experience as a hiring manager in helping The Chocolate Lab find the right people who share their passion for chocolate and serving customers with a smile.
The Chocolate Lab is in a hybrid category like Adorable Chocolat who made the journey to Paris to develop their own custom couverture in the chocolate lab run by Cacao Barry. The Or Noir custom blends developed by Cacao Barry have bridged the gap between chocolate makers (who work directly with cocoa beans) and chocolatiers (who generally work with a couverture supplied by a large cocoa processing house like Callebaut, Valrhona, Domori, Felchin, or Guittard.)
The Midnight Special 73.8% dark chocolate custom blend at The Chocolate Lab features 60-62% cocoa from São Tomé, 12-15% cocoa from Peru, and about 13% cocoa from Cuba, and a small amount of cocoa butter to make it silky smooth. I really loved the 42.1% Cassonade custom dark milk chocolate made with a caramelized white chocolate, a touch of sea salt, and 10% Cuban cocoa.
At the time of my visit in August, 2018, The Chocolate Lab of Calgary was offering a total of 16 different chocolate bars–some with pure chocolate and others with fun flavours–but they're working their way up to 30 different flavours, so be sure to check out both the chocolate bar counter, as well as the fresh chocolate bonbon case that features more than 100 colours in a myriad of enticing shapes, and designs and funky flavours that include Leather and Walnut and Little Blue Dress.
But the piece de resistance was the Passionfruit Crunch Chocolate Pop (pictured at the top of this post.) What an amazing fun creation, featuring dark chocolate combined with fresh marshmallow and passionfruit puree. SO amazing, and so fun! Don't miss The Chocolate Lab on your next visit to Calgary for the most unique chocolate creations in Calgary.