what's in a name?
This post gives me the pleasure of welcoming a Toastmaster friend and colleague to my blog, with a guest post that's actually a reprint of the amazing speech she recently presented to the Toastmasters in the Arts club in Gimli, Manitoba. Carolyn Dyane had us sitting on the edge of our seats with this thought-provoking, entertaining, and compelling presentation. Please welcome Carolyn, (pictured below receiving a certificate of participation in her first-ever speech contest) as she tells us the importance and significance the art of choosing a name has played in her life.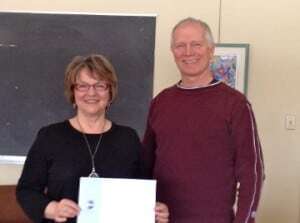 What's in a Name?
by Carolyn Dyane
I am a wasted time artist, able to fill a day with little bits of things and lots of relaxing. I don't write, don't draw or paint, don't sew, garden minimally and find that what I create best is wasted time! When I try to find the time to begin a creative project, particularly one that involves creating something with my hands, the time is never there. It is all gone with my bits and peices of things that fill my day.
I belong to the Toastmasters in the Arts club. My fellow group members are writers, quilters, painters, gardeners. Artists all, and I wonder "What am I doing in such creative company?"
Being involved with creative people has nudged me to take a look at what it is that I have created in my life and it seems to me that just living my life and creating "Me" is an enormous act of ongoing creation and has been as long as I can remember.
Things weren't going well for me when I was in my 30's and in a quest to become more comfortable within my own skin and my own thoughts I started a journey of personal growth which, in retrospect, has been a journey of re-invention. That re-invention of myself has brought me to a place in life where I now feel that I am more aware of and in control of my consciousness – I find that I have become semi-conscious, and can look back on a journey of creative choices that have brought me to where I am today.
When I review those choices, I find that one of the most creative tasks I undertook was the search for a new surname, one that reflected who I am to both myself and to the world.
choosing a name is an act of creation
I'd like to tell you about how my name is both an act of creation and part of my personal journey.
I had never liked the sound of my married name. It had a harsh sound and was difficult to spell and pronounce. In the 1970's women still automatically took the name of their husband upon marriage and I was no exception to that rule. Once my marriage ended, however, I had the opportunity to think about changing my name to something I liked better.
The search for a new name was on. But how does one find a new name? What does one look for? Looking back, I realize that I was clear on what I didn't want in a name and gradually became clear on what I did want. I wanted a girl's name, something reflected me as a woman. And I wanted a name that did not identify me by my relationship to anyone other than myself.
My family encouraged me to take back my birth name. I found when I tried that the person I'd been earlier in life had disappeared during the years I'd been married and I could no longer find her. At that time I was at university and my Women's Studies courses were developing the art of critical thinking in myself as well as shaping my feminist thought processes. When I started examining names my feminist eye found that in our culture most, if not all surnames represent male lineage and can be quite masculine in sound and meaning. And the son's! There are so many sons around – Johnson, Wilson, Dickson, Anderson, Einarson, Thompson. I sure wasn't a son, nor was I a man, another common name ender. So I considered the Icelandic tradition where females take on their mom's name. Llike I had started doing with most names that caught my attention, I tried Bertsdottir – my mom is called Bert. Bertdottir just didn't fit for me and that name went by the wayside.
What eventually happened was that it was through two remarkable men that found the name that I finally chose.
During the time of my name search my daughter, Sara, was taking the lessons necessary to pray and read from the Torah in Hebrew at her Bat Mitzvah. Her teacher's last name was Daien. He was the cantor at our synagogue and he impressed me as one of the loveliest, most gentle people I'd met in a long time. It had become clear to me that I could only choose a name that came from persons who I liked and respected. I would automatically discard any names that had negative connotations for me. His name held positive connotations for me and I also liked the sound of it although I found the spelling a little complicated.
I was also interested in the name of the famous Israeli general, Moshe Dayan. He was in the news at that time and I tried on his name for size and liked how Dayan felt and sounded.
I worked with both the name Daien and Dayan, saying them in my head, mentally introducing myself and having imaginery conversations that included using the names with my first name of Carolyn. And somehow, I put them together and came up with the name I had been seeking for over two years – Dyane.
All it took to make the change was a trip to the Vital Statistics office, fill out the forms, pay the money and six weeks later I received a change of name certificate. I also received something that surprised me, a new birth certificate indicating that Carolyn Dyane was my name from the time I was born.
I so clearly recollect the thrill of using my new name for the first year or so. It was love! I would happily sign cheques and forms. I would do almost anything to write, see and experience my new name. My delight must have rubbed off on others for there didn't seem to be any problem for friends and family to make the shift to using my new name.
Choosing my own name became one of the critical and important first steps in my journey to creating who I am today. I continue on that journey of growth and exploration as I transition into a new stage of life with solid appreciation of the person I have created.
Thanks so much to Carolyn for sharing these words of inspiration with us. Have you chosen your own name? How important is your name to you? Let's discuss the importance of a name.