cacao cuisine is king at Hotel Chocolat Boucan
If you truly want to become immersed in the world of chocolate while visiting St. Lucia, there is no better place to be than Hotel Chocolat Boucan, a small resort of 14 deluxe rooms overlooking the mesmerizing Petit Piton on the southern end of this delicious Caribbean island.
Whether it's "Cacao Cuisine" (a full menu created around the wonders of cocoa), the "Cocoa Juvenate" spa treatments that wrap and pamper you with cocoa-based products, or the "Tree to Bean" and "Bean to Bar" tours of the Rabot Estate plantation where cacao is grown and harvested, British chocolatier Hotel Chocolat makes sure all your chocolate dreams come true when you visit their Boucan Hotel & Restaurant.
Boucan is a boutique property built on the historic 140-acre Rabot Estate, where cacao has been grown since 1745, making it the island's longest-producing cacao plantation. For the past 260 years, cacao has been grown and exported to various countries, who have been making delicious chocolate from it and selling it abroad. All that will change in 2014, as Hotel Chocolat is building a chocolate production plant on its Rabot Estate, where chocolate can be made right from the fermented, dried, and roasted beans in the Hotel Chocolat tradition.
I had the pleasure of visiting the British chocolatier's Rabot Estate Bistro in Borough Market in London, met company co-founder and CEO Angus Thirlwell, and tasted a wide selection of Hotel Chocolat chocolate as well as a selection of its cacao cuisine. I knew I had to visit the St. Lucian property to complete the experience. I was grateful for the invitation of a hosted visit, and was not disappointed in my findings. Hotel Chocolat Boucan truly is paradise for chocolate lovers looking for immersion into the world of chocolate in every possible way.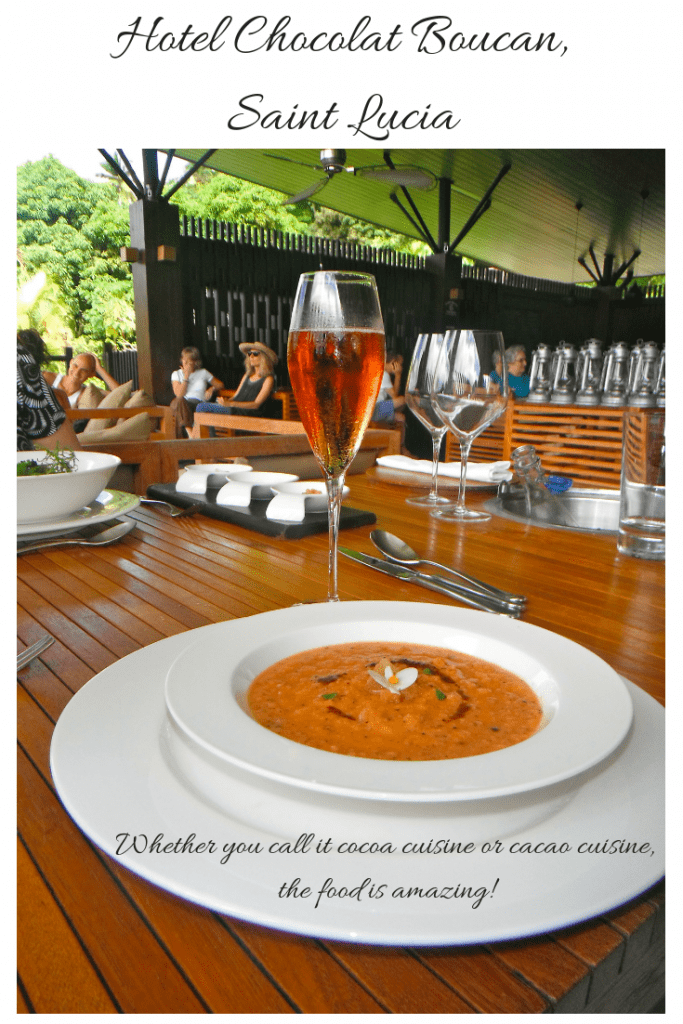 The "Cacao Cuisine" found at Boucan is a fusion-style of cooking into which cacao/cocoa is used as a seasoning or flavour enhancement. It is never over-bearing, and provides a cocoa/chocolate essence to the menu as opposed to the more poignant style of chocolate cooking you might experience in a chocolate molé sauce popular in Mexican cuisine and some other countries.
At Boucan, crushed cocoa nibs are always on the table as a seasoning alongside the salt and pepper. I was really pleased at how the pure cocoa gently enhanced our food, and was totally blown away by the quality of the cuisine we enjoyed during our three-day stay. The cocoa-infused gazpacho at Boucan (pictured above) is the best gazpacho I've ever had.The full menu is online to tempt your taste buds. Every item we sampled was extraordinary.
My only complaint about our visit to Hotel Chocolat Boucan was that they didn't have any of the extensive line of Hotel Chocolat chocolate products onsite for sale. I understand the logistics of why. Shipping it back from Britain where the cocoa is made into finished chocolate creations would make them cost prohibitive. Gratefully, that is expected to change when Hotel Chocolat's St. Lucian chocolate factory goes into production. That will then truly transform this amazing property to the ultimate level for any visiting chocolate lover.
Have you been to Hotel Chocolat Boucan in St. Lucia? Have you experienced Cacao Cuisine? Are you a fan of Hotel Chocolat chocolate? Have you tried the St. Lucian chocolate they produce? Are you captivated enough by the idea of chocolate travel to book this culinary adventure for yourself? Let's talk!