Chocolate in Oakland, California
As I mention in my book, Chocolatour: A Quest for the World's Best Chocolate (volume I), I love discovering great chocolate in places that are somewhat off the beaten path. So I jumped at the opportunity to discover Oakland, California when planning a visit to San Francisco. Oakland is San Francisco's sister city, located just across the Bay Bridge from the more photogenic and better known Northern California port city made infinitely popular by Tony Bennet's hit song, "I Left my Heart in San Francisco." Well, I have to tell you. We left a little piece of our hearts in Oakland, where we had a massive patio room at the Best Western Plus Bayside Hotel overlooking the Oakland Estuary, which runs into San Francisco Bay.
After a full day of travelling, we were thrilled to be able to put our feet up and sit on the patio, watching boats of all sizes go by. But the next day was filled with excitement, as we happily took in the Eat Real Food Fest adjacent to Jack London Square, my favourite part of Oakland, where you can dine on fresh seafood and local vintages, shop till you drop, or just enjoy the fabulous sculptures and waterfront scenery.
my picks for the best chocolate in Oakland
But, yes. I was there for the chocolate. And I wasn't disappointed. I discovered two Oakland chocolate companies that I can wholeheartedly recommend. If you're looking for some fun in your chocolate, try the Ramona Bar made by Double Dutch Sweets. This was probably my most fun chocolate discovery of the trip. The 1.9 oz (54-gram) Ramona bar is handcrafted with dark chocolate, peanuts, salted caramel and nougat. All certified organic ingredients with no additives or preservatives. It was absolutely delicious, and let me tell you … I didn't share much more than a small bite of one bar with my traveling companion, Mary Ann. There's just some of my chocolate stash that I won't share.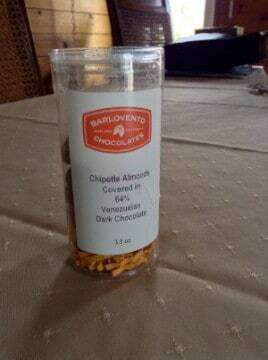 Another excellent chocolate company that is based in Oakland is Barlovento Chocolates. They had a very busy booth at the Eat Real Food Fest. The sea salt caramels were good, but the Chipotle Almonds covered in 64% Venezuelan Dark Chocolate were awesome! Just a little kick (from the peppers) blended with some of the most delicious chocolate I've ever tasted.
And that was just the beginning of our taste-tempting visit to California. My thanks to Visit Oakland for helping with my arrangements. I will definitely be back!