Cupping Specialty Coffee in Costa Rica
This week, we have the great pleasure of welcoming guest blogger Merle Rosenstein to the blog. I know Merle through the Professional Writers Association of Canada. We both share a love of travel, and a love for fine coffee. As Merle has just returned from Costa Rica, where she visited a number of coffee plantations, she has been generous to offer us insight into what she saw and tasted. Please welcome Merle with the same warmth we've come to know here on the blog.
Cupping Specialty Coffee in Costa Rica
Hello chocolate enthusiasts! I've been reading Doreen's delicious accounts of her chocolate travels and wanted to share with you a guest post on coffee travel. Coffee is the number one beverage in Canada after non-bottled water and a favourite morning pick-me-up. But there's more to coffee than most people know. For example, did you know that coffee is more complex than wine and has over 850 aromatic compounds? On a recent trip to Costa Rica, I sampled coffee cherry directly from the bush, talked with farmers and pickers about a new picking paradigm, witnessed the washing, pulping and drying processes and 'cupped' micro-lots of coffee alongside experts.
In February, Francisco Mena of Exclusive Coffees, a boutique coffee exporter, took me to two farms in the lush, mountainous West Valley, a key agricultural district in Costa Rica. The Helsar de Zarcero micro mill is located on a high ridge in the area of Alajuela, in the coffee areas of Zarcero and Naranjo. At the Mill I met the very gracious Ricardo Perez and his charming daughter, who walked me through the washing and drying stations.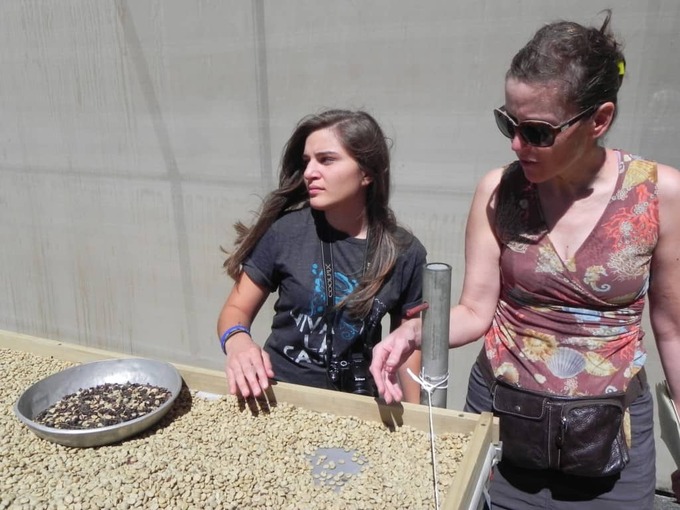 The washing process removes the pulp surrounding the bean in preparation for drying. On a massive cement patio, white coffee beans baked in the hot sun. The beans felt smooth and dry to the touch, but were not ready yet. Fully-washed beans are patio-dried for two days and placed on African beds for eight days. I watched as a worker examined the beans resting in elevated wood frames covered in netting.
Perez drove me over to Finca Don Chepe to meet farmer Manuel Arce and his wife Lorena. Plots of coffee bushes lined a valley on the property, planted in a similar configuration to grape vines. I traversed the steep slippery slope to greet the Nicaraguan and Panamanian pickers. The workers pick coffee cherry by hand and drop them into baskets called cajuelas.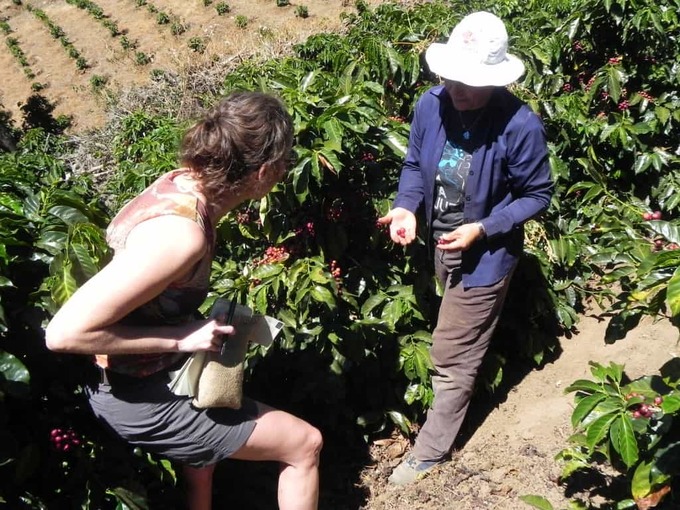 Lorena invited me to sample some fully ripe coffee cherry. The ruby red cherries were very sweet. The ripest coffee cherry make the best tasting coffee.
Then Francisco Mena took me back to his office/warehouse to cup coffee with some coffee roasters from Crema Coffee in Nashville, in Costa Rica on a buying trip. The coffee tasting or 'cupping' process is very intricate and involves smelling and tasting a number of different coffee samples, set up in a circle. As I walked around the table trying each sample, I could detect different tasting notes or complexity in each. Three sample coffees were selected and prepared in the espresso maker as a final test. The coffees were fragrant and full bodied, full of complex aromas.
Both coffee and cacao are major crops in Costa Rica. If you'd like to join me on a small group tour during which we'll learn all about cacao and other crops in Costa Rica, please join me January 11-19, 2020, for a customized Chocolatour with Go Ahead Tours.