meet me in Montreux
I grew up listening to the music of Deep Purple, and the song "Smoke on the Water" resonated through my head when I heard I was going to Montreux, the charming Swiss city on the Lake Geneva shoreline.
musical memories in montreux
Indeed, part of the time I was in the area, there was a lot of fog and mist (which actually added to the charm and mysticism of the vistas), but at the time, it did look like smoke on the water. There really had been a fire back in 1971 when the band had come to record their Machine Head album at the Montreux Casino. And today, you will find a monument commemorating Deep Purple next to the casino–which was reopened in 1975 after having been destroyed by that immortalized fire.
Home to Mountain Studios, Montreux remains a Mecca to the music industry. Rock enthusiasts regularly visit the life-sized monument of Freddie Mercury in Place du Marché overlooking the lake. The day we were there, the grey day was brightened by the bouquets of fresh flowers offered in memory to Mercury by his devoted fans. Freddie Mercury was the front man of the British band Queen and chose to live in Montreux because of its beauty and tranquilty. Queen recorded much of its music in Montreux before Mercury's untimely death in 1991.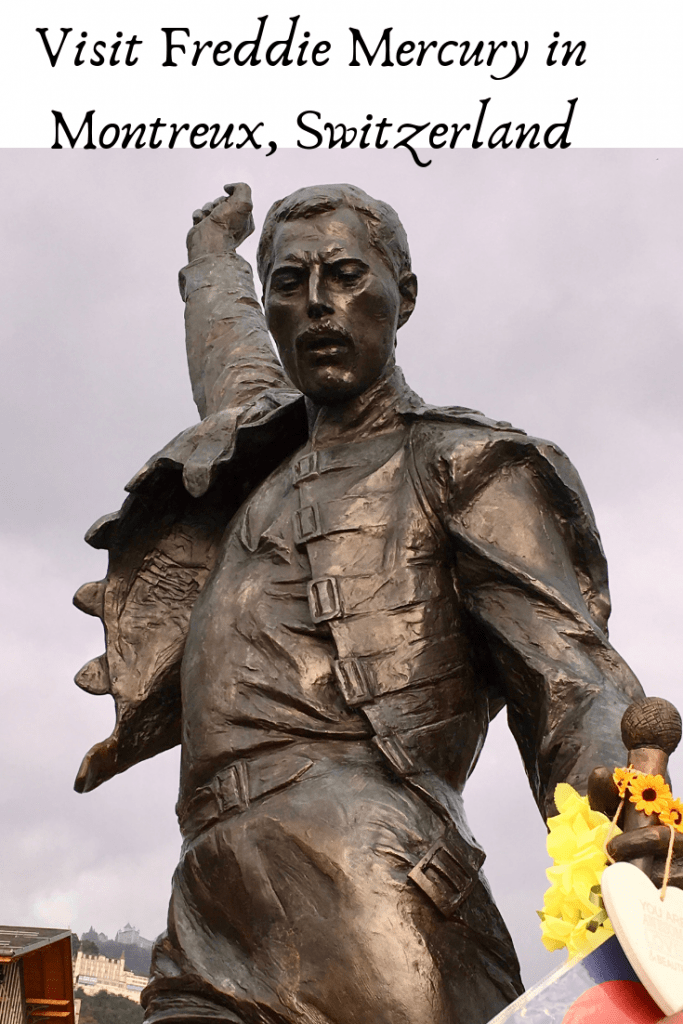 And for jazz enthusiasts, the Montreux Jazz Festival runs annually in early July. It is second in size only to the Montreal Jazz Fest held in Canada. I can imagine how much fun it would be to find myself in Montreux in July for the Jazz Fest! Music featured at the festival is not exclusively jazz, so lovers of all contemporary world music are bound to find something they enjoy over the two-week run. The 53rd Montreux Jazz Fest is scheduled for June 28-July 13, 2019. How I would love to be there!
I was hosted for two nights at the beautiful Hotel Victoria, a four-star Relais et Châteaux property located in Glion-sur-Montreux thanks to Alpenwild Swiss Tours. Glion is located at the top of the hill overlooking Montreux and Lake Geneva. It is truly a magical setting, with cows grazing in the grass and breathtaking views in every direction. Join me next week for more about Montreux.