Chocolate from Peru is second to none
I hope my previous post helped whet your appetite for the many flavours of Peru. Chocolate travel is not just about tasting chocolate, but about tasting all the complementary flavours of the local cuisine and libations.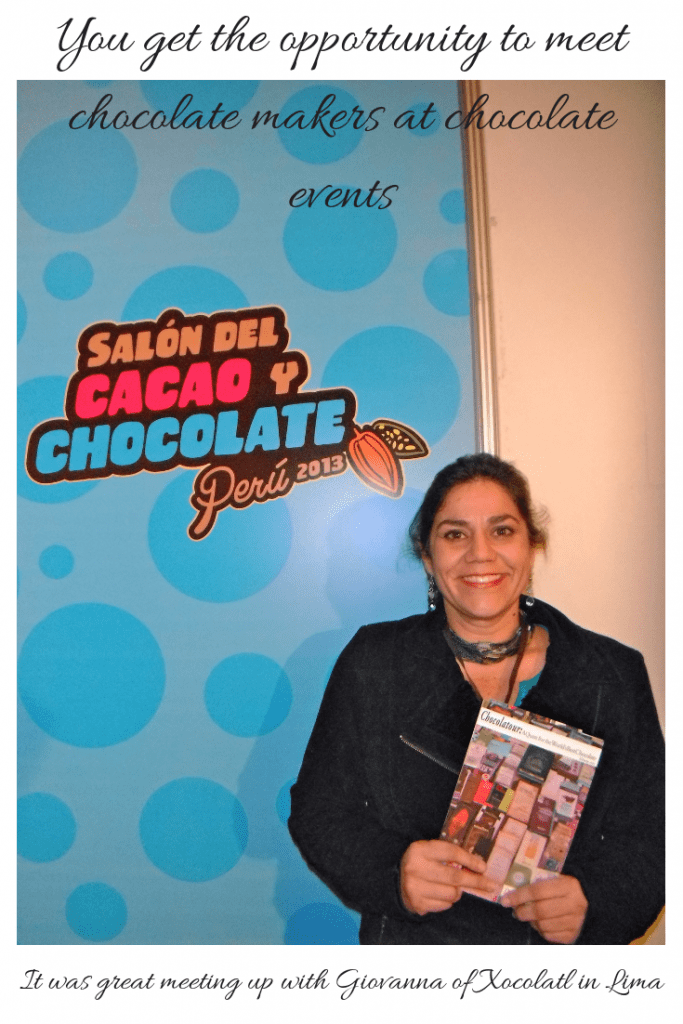 meet Giovanna Maggiolo of Xocolatl
In this post, I'd like to feature two of my favourite chocolatiers from Lima. I first introduced you to Giovanna Maggiolo in a previous post about our time in Lima, but today, I'd like to take you to her chocolate shop in Miraflores and tempt you with the amazing flavour selections you'll find at Xocolatl.
The first thing that will greet you when you walk into Giovanna's shop is the burst of colour! I happened to be there right before Easter, so colourful Easter eggs and treats tempted me at every turn.
Giovanna uses Peruvian couverture and ingredients to create her unique bonbon and bar flavours. One of my favourites was the Fusion fruit and nut bar. The fruit and nut bars are the smaller sized bars. The plain chocolate bars are larger. Both sets are colourfully wrapped. All are delicious and reflect Giovanna's creativity.
The Fusion bar features a dark chocolate base flavoured with cocoa nibs, cherries, and watermelon! It was absolutely delicious and hit you with fresh flavours as opposed to the sickly sweetness you occasionally find with fruit-flavoured bars and confections. That freshness is something I found consistent with products of all of the Peruvian chocolatiers and chocolate makers that I met. Because, for the most part, they are using cocoa and ingredients grown locally, freshness and intensity of flavour is what puts Peruvian chocolate out in front of most others.
meet Roselen Chocolatier
Another Peruvian chocolatier based in Lima that really impressed me is Roselen Chocolatier, a mother and son team running a home-based operation creating chocolates that are beautiful to look at and delicious to enjoy.
Elena Basagoitia Villavicencio started her chocolate company back in 2003 from her home in Surco, located in the south end of Lima. Her handsome son, Giorgio Demarini Basagoitia, is trained in graphic design, and uses his artistic talent to design Roselen's colourful packaging and handpaint all of their chocolates. You almost hate to eat them as they're so beautiful, but believe me. You don't want to miss out on the opportunity to try the delectable flavours Giorgio and Elena have come up with.
The Guinness truffle rolled in crushed maca (a Peruvian potato popular in the Andes culture) is just an example of the creative flavour palette you can enjoy from Roselen. What also thrilled me is the fact that they use couverture from Orquidea (who we visited in the May 8th post.) Roselen uses three different kinds of organic chocolate to make 30 different unique flavour combinations in small batches that you can order online and have hand-delivered if you live in Lima.
Because of their quality and creativity, I was happy to include Roselen Chocolatier on the list I wrote for National Geographic Traveler featuring the 10 Best Chocolate Shops in the world.
I hope you've now got a better idea as to why I'm loving Peruvian chocolate and why you should, too. And if you can't get to Lima anytime soon, it's good to know that SOMA in Toronto and Willie's Cacao in the UK are just two bean-to-bar chocolatemakers who are making terrific bars featuring Peruvian chocolate. You can order online from both of their sites. Have a taste and let me know what you think!