touring San Francisco
It had been many years since my last trip to San Francisco, so I was glad that there are enough terrific chocolate makers in this remarkable city to warrant a return trip. It was as beautiful as I'd remembered.
I loved taking the ferry from Oakland to San Fran, as the views as you approach the city are stunning. Lots of interesting architecture, boats and ferries coming and going. A real hub of activity.
When we got off the ferry, we headed straight for the old Ferry Building that is now occupied as the Marketplace, with all sorts of businesses, including the Wild West Fungi fresh mushroom shop, which I found to really unique! I've never seen so many varieties of wild and cultivated mushrooms available in an urban market before.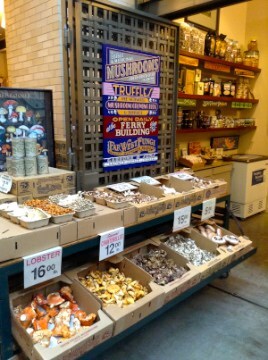 Yes, there was good chocolate in the Marketplace as well. You'll find more about that in this post.
We also enjoyed strolling around Fisherman's Wharf. The city is celebrating 150 years as a port during 2013 and there was plenty of action happening on the piers and along the wharf.
Taking a Bay Cruise under the Golden Gate Bridge and around Alcatraz Island was a highlight. The US Federal Government had shut down all non-essential services during our visit, so Alcatraz was closed to the public, but we did sail past really close and the old former federal prison appeared eerie, and almost haunted even in the light of day.
The city of San Francisco is serviced by two magnificent bridges. The Bay Bridge crosses San Francisco Bay over to Oakland, and is probably best known for being one of the most illuminated bridges in the world with 25,000 white LED bulbs illuminating the bridge at night in a light sculpture designed by Leo Villareal. The Golden Gate Bridge painted bright orange is one of the most photographed bridges on the planet and has the longest suspension bridge main span in the world at 4,200 feet. It really is a sight to behold.
There were many more highlights of our trip to San Francisco and the Bay Area, but we'll leave it at that for now. Many thanks to San Francisco Travel and Visit Oakland for the hospitality.