a visit to the Original Hawaiian Chocolate Factory
We had the great pleasure of meeting Pam and Bob Cooper at their cocoa plantation–which also happens to be their chocolate factory. The Original Hawaii Chocolate Factory had been the only location in the world I has visited to that point in time, where the cacao/cocoa is grown on the very same piece of land on which the beans are fermented, dried, made into chocolate, packaged and sold all on the same site. And what an incredible site it is!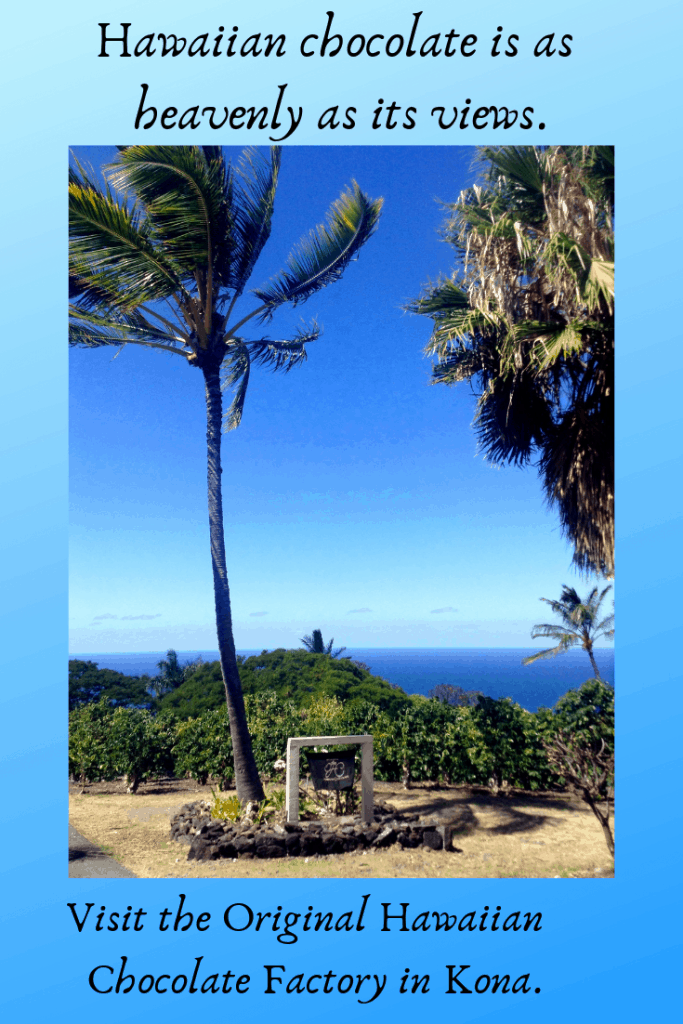 As you pull into the driveway of the Original Hawaiian Chocolate Factory (OHCF), it feels like you are driving into the yard of friends–who just happen to have a beautiful hilltop piece of property with a stunning ocean view! The Coopers' cocoa plantation is located on the leeward slope of Mount Hualalai, just minutes from the community of Kailua Kona, on the Big Island of Hawaii.
The Coopers left their home in Raleigh, North Carolina, in 1997 and moved to Hawaii to begin a new life of island bliss. In 1998, Bob took a chocolate making course at Richardson Researches, Inc. in California, and by September, 2000, made his first batch of artisanal chocolate for sale. He now has approximately 1,450 cacao trees on his six-acre farm alongside some macadamia trees.
The OHCF presently makes 10,000 pounds of chocolate per year but has the capacity to make 80,000 pounds if they could get more Hawaiian-grown cocoa. The Coopers currently buy cocoa beans from 27 different growers, but still can't get nearly enough to make their capacity. They call themselves a 'self-restraining operation,' and limit production so that they can maintain their 100% Hawaiian grown branding. This is important, because there are several other Hawaiian chocolate makers who make excellent chocolate in Hawaii, but it is not made with Hawaii-grown cocoa due to its limited supply and significantly higher price than cocoa grown in other parts of the world such as Africa and South America.
Bob tells me that OHCF uses organic growing practices and organic fertilizer, but doesn't have formal organic certification because of the 'red tape' it involves.
On your visit to the Original Hawaiian Chocolate Factory, you'll learn that the cocoa beans are fermented in mahogany boxes for a week and then dried in the sun for 30 days in order to reduce the moisture content of the beans from their natural state of 22-28% down to just seven percent. The shells of the beans are then removed by winnowing and the cocoa is conched (refined) for just 18 hours—compared to the 80 or more hours I've seen done in many European establishments throughout Belgium and Switzerland. Yet, the chocolate that OHCF produces is heavenly smooth.
I particularly enjoyed the dark Forastero chocolate from OHCF and their fresh cocoa nibs. It was a very sad day for me when I finished the cocoa nibs I'd brought back with me from OHCF. I love the intensity they bring to yogurt mixed with fresh fruit, crunchiness to ice-cream sundaes, and the exotic layering of flavour they add when mixed in with granola.
You can also use cocoa nibs to enhance the flavours of sauces, gravy, chilli, and other savoury dishes. Just remember that the nibs won't melt or dissolve as chocolate does. They will add a bit of delicious crunchiness to your culinary creation. But if you want the end result to have a smooth texture, just grind the cocoa nibs in a food processor to end up with smaller granules.
Bob and Pam Cooper are founding members of the Hawaii Chocolate and Cocoa Association (HCCA) and are really committed to seeing the local industry grow. You can take a tour of their operation by getting in touch via their website or reserving by phone at (808) 322-2626. The really cool thing for chocolate travellers is that OHCF uses Fedex to courier orders to customers in the US, so that you don't have to carry your chocolate orders home with you. Something to remember for your Chocolatour to the island of Hawaii!
Have you tried the chocolate offerings of OHCF? Do you enjoy cocoa nibs as a healthy snack? Have you considered including Hawaii in your chocolate travel plans? Let's talk about it!
SaveSave