Winnipeg's Chocolatier Constance Popp
In this post, I thought I'd indulge in a share about my hometown of Winnipeg, and one of the most spectacular things about it for anyone interested in chocolate travel.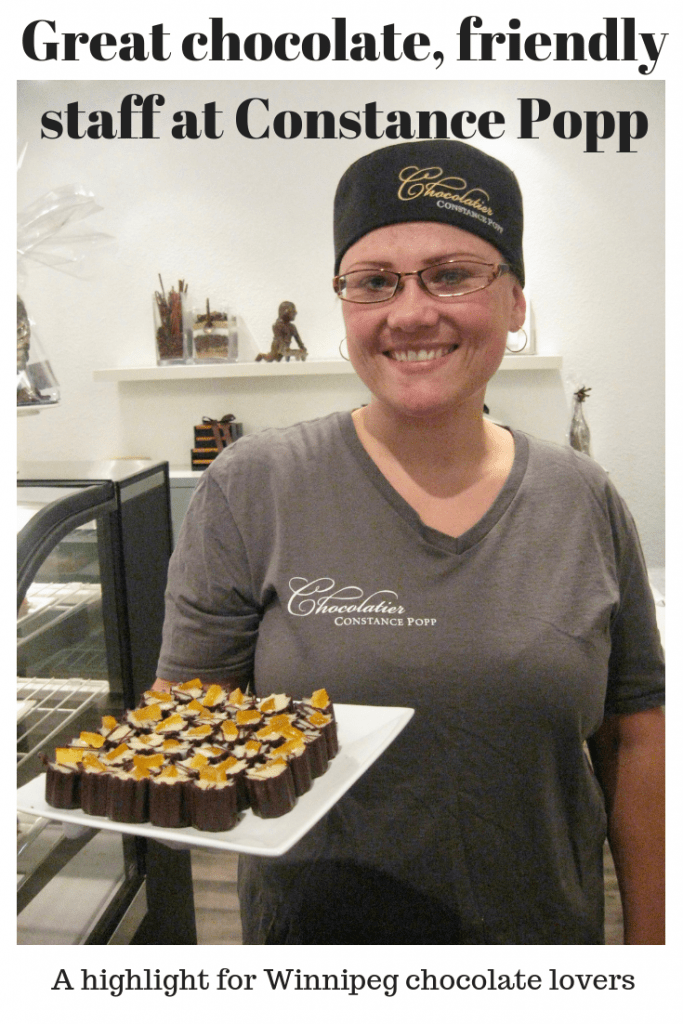 Artisanal chocolate in Winnipeg
Chocolatier Constance Popp, (owned by Constance Menzies pictured below) was launched in Winnipeg on Portage Avenue in 2007. Constance Popp was the first Winnipeg chocolate shop to offer bean-to-bar chocolate. It is now located at 180 Provencher, in the St. Boniface neighbourhood of Winnipeg.
chocolatier constance popp
I first met Constance a number of years ago at the "Chicks and Chocolate" fundraising event in Winnipeg. She was busy handing out free chocolates and it was then that I had the first opportunity to try her chocolates. I'll never forget the taste and texture of the Manitoba beet truffle, which remains one of my favourite chocolates to this day. Constance has recently revised the beet truffle by adding orange and caramel to it. See the colourful Beet & Orange Caramel in Dark Chocolate Truffles pictured at the bottom of this post. As well, another amazing chocolate creation you'll find at Chocolatier Constance Popp is the dark chocolate maple bacon bark. If you've never had bacon bark, you're really missing out on something terrific. The slight saltiness and smokiness of the crushed bacon goes impeccably well with the 56% dark chocolate and the hint of maple gives it a truly Manitoba flavouring.
Constance is well known throughout the province for making uniquely Manitoba products such as her chocolate golden boy, the "Birch Bar" made from birch syrup, the Manitobar, a small bar shaped like the province of Manitoba and filled with hemp, flax and sunflower seeds, and lemon honey to make it a healthy form of indulgence, and a lovely chocolate sculpture of the Canadian Museum for Human Rights.
At Thanksgiving time and by special order, you can enhance any family gathering with one of Constance's own multi-coloured chocolate turkeys! These babies are about the size of a roasting chicken and cost about $65 each. I tried talking my husband into one to take to the family gathering we were heading for today but it didn't happen. Hopefully, sometime soon, as I'm sure those turkeys taste just as good as they look.
This post is also a tribute to the wealth of talent we have in our own backyards. I'd recently done a post encouraging travel writers to look for stories about the treasures and talent right in their own neighbourhoods. And I'm proud to say that after traipsing around the world looking for the most unique and scrumptious chocolate creations, I've happily opened the door to the delicious and highly creative chocolate offerings at 180 Provencher Avenue, right in my hometown of Winnipeg–and in a spirit of gratitude, I'm very thankful for that.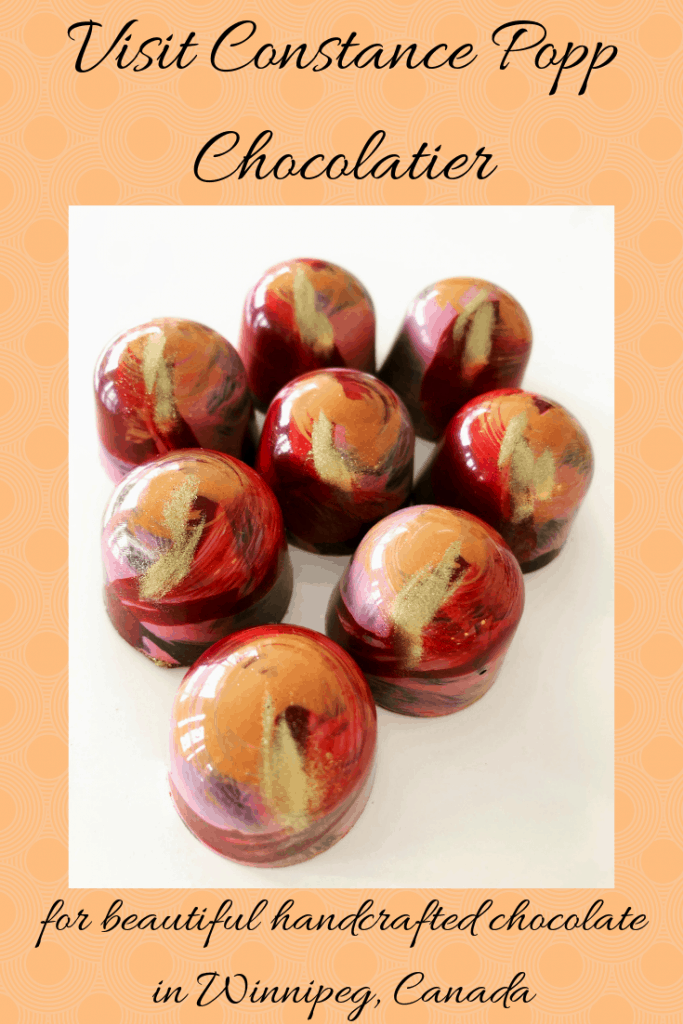 Have you tried the chocolate of Chocolatier Constance Popp? Do you have a favourite chocolate treat there? Among the creations I've mentioned above, I also really love the chocolate peanut butter cups. They put Reese's to shame! Oh, and did I mention the chocolate skulls for Halloween? The delicate Easter treats? And the artful sculptures of Winnipeg landmarks including the Canadian Museum for Human Rights? Do your taste buds a favour and visit Chocolatier Constance Popp. She is now offering gourmet cakes and making a limited amount of bean-to-bar chocolate bars as well.
COVID update: Chocolatier Constance Popp is offering curb-side pickup and online orders during the pandemic of 2020. If you live in Manitoba, please support this independent small business owner by placing an order here. Seniors get 10% off every Tuesday. #ShopLocalMB Mail orders on select products from across Canada will be accepted.