Chocolatouring on a virtual book tour
I'm thrilled to share news that next week will begin a virtual book tour for Chocolatour.
The exciting thing about being a blogger, and more specifically a travel blogger, is that I've met so many amazing bloggers–in person, in online groups, and at various events– who have been supportive of my work in the realm of chocolate travel. I'm forging a new niche here, and it's exciting to find fellow enthusiasts who will share different aspects of Chocolatour and chocolatouring on their blogs.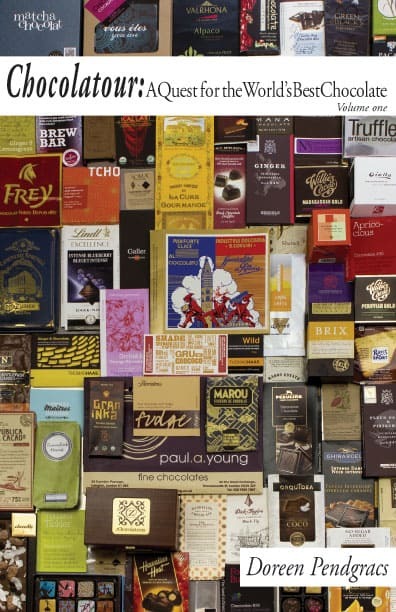 virtual book tour for Chocolatour
Let me give you a rundown on the hosts of the virtual book tour, and the dates they'll be chocolatouring with us.
We start the week off with Agness Walewinder, who will host a guest post from me on her terrific blog at http://etramping.com/best-chocolate-destinations-around-world/ on June 23rd. Stay tuned for my picks of top chocolate travel destinations to visit. Agness is originally from Poland, and has been travelling the world for the past three years with her friend Cez.
On June 24th, Carolyn Hamilton will host Chocolatour for a Q&A on her site http://www.adventuress-travel-magazine.com/Chocolatour.html. Carolyn is an "over 50 Adventuress doing fun things." Please check out her site and bookmark it to return on June 24th.
On June 25th, I'll be guest posting on The City Traveler at http://www.thecitytraveler.com/2014/06/choco-tours-five-cities-to-sample/ where I'll share some excitement for a few of my favourite chocolate-friendly cities. This site is run by JoAnn Greco and a team of talented travel writers.
On June 26th, Suzanne Stavert will host a Q&A on her site for Adventures of Empty Nesters at http://adventuresofemptynesters.com/chocolatour-quest-worlds-best-chocolate. Suzanne and her husband are enjoying life in the "empty nest" stage of life and sharing their adventures on their lively blog.
On June 27th, Suzanne Fluhr of Boomeresque will share her review of Chocolatour with travel loving baby boomers at http://www.boomeresque.com/a-boomeresque-book-review-chocolatour-a-quest-for-the-worlds-best-chocolate-volume-one-by-doreen-pendgracs/. I had the pleasure of meeting Suzanne in Hawaii in February and we are both members of the Boomer Travel Writers group on facebook.
On June 28th, there will be a post on the blog of Jenna Davis at http://giveforgranted.com/2014/06/featured-doreen-pendgracs-book-review-chocolatour/. I have only very recently 'met' Jenna online, but love her enthusiasm and dedication to her project. Please check it out and help if you can.
On June 29th, I'll be hosted by fellow Winnipegger Donna Janke, who lives in Manitoba spring thru fall, and is a snowbird in winter when she heads south to escape our winters. Donna will be posting a Q&A on her blog Destinations, Detours, and Dreams at http://destinationsdetoursdreams.blogspot.com/2014/06/chocolatour-book-tour-exploring-many.html where you'll learn about some of the chocolate events I have been hosting and attending.
On Monday, June 30th, I'm on Michele Peterson's site "A Taste for Travel" at http://michelepeterson.com/2830-q-a-with-chocolatour/. Michele and I share a common focus: travelling the world for the sake of great tastes!
And to wrap things up with a salute to the best of Canadian chocolatiers and chocolate makers, on July 1st I've got a special Canada Day Salute on Canadian author Sarah Butland's site at http://sarahbutland.com/blog/2014/06/30/a-canada-day-salute-to-some-of-canadas-finest-chocolate-makers/.
Be sure to stop into each one of the posted hosts where you'll receive a code to receive a discount on your copy of Chocolatour when you order it via my site at http://chocolatour.net between June 23-July 1st, 2014. A special thanks to D'vorah Lansky for the great information I received in her book, 21 Ways to Launch a Successful Virtual Book Tour.
See you next week on the tour …