join Chocolatour on a virtual book tour
This is an exciting week+ for me as I take Chocolatour on a virtual book tour around the world, from June 23-July 1, 2014.
I'm thrilled to have an interesting line-up of hosts who will run Q&A's with me, guest posts that I may have written about my book or chocolate research, and one or two book reviews as well.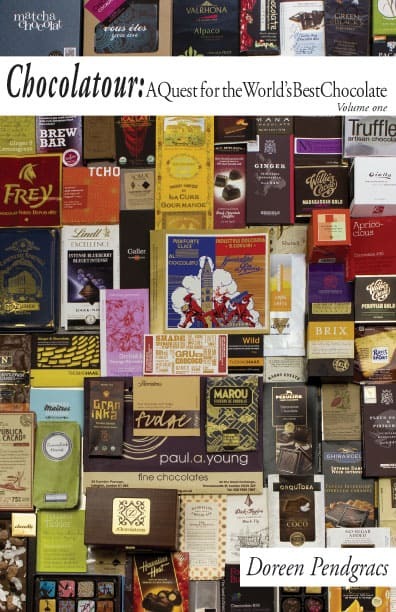 June 23rd, I was on eTramping.com and talked about some of my favourite chocolate destinations. You'll find the post at http://etramping.com/best-chocolate-destinations-around-world/.
June 24th, my stop included a visit to the Adventuress Travel magazine, where I participated in a Q&A with editor/publisher Carolyn Hamilton at http://www.adventuress-travel-magazine.com/Chocolatour.html.
June 25, I'm at The City Traveler, where I share five of my favourite chocolate cities at http://www.thecitytraveler.com/2014/06/choco-tours-five-cities-to-sample/.
June 26, I visit the Empty Nesters for a Q&A with Suzanne Stavert at http://adventuresofemptynesters.com/chocolatour-quest-worlds-best-chocolate.
June 27, I'm on Boomeresque where Suzanne Fluhr is kind enough to review Chocolatour at http://www.boomeresque.com/a-boomeresque-book-review-chocolatour-a-quest-for-the-worlds-best-chocolate-volume-one-by-doreen-pendgracs/.
June 28th, Jenna Davis will share her review of Chocolatour on her site at http://giveforgranted.com/2014/06/featured-doreen-pendgracs-book-review-chocolatour/.
June 29th, I'm thrilled to be featured on the site of fellow Manitoba blogger Donna Janke at http://destinationsdetoursdreams.blogspot.com/2014/06/chocolatour-book-tour-exploring-many.html for a chat about the chocolate dinners and events I've been hosting.
June 30th, I'm on Michele Peterson's site at http://michelepeterson.com/2830-q-a-with-chocolatour/. Michele's blog A Taste for Travel shares a similar focus on travelling the world for the sake of great taste, as we do in Chocolatour, so it's a perfect match.
July 1st, I'm wrapping up the tour and celebrating Canada Day with a post saluting a few of my Canadian chocolatiers and chocolate makers on the site of Canadian author Sarah Butland at http://sarahbutland.com/blog/2014/06/30/a-canada-day-salute-to-some-of-canadas-finest-chocolate-makers/.
When you visit any of these sites, you'll be directed on how to receive a coupon code to save 20% off the purchase price of Chocolatour: A Quest for the World's Best Chocolate between June 23-July 1, 2014. Just choose your purchase option from the "Buy the Book" page on this site, and you will have the opportunity to enter the code and receive your discount.
In celebration of the virtual book tour, if you order the print copy of the book during this week, I may even surprise you with a taste of chocolate along with your book!
Thanks, and may you enjoy your chocolate … and your chocolate travels.