Watch Doreen speak about World Chocolate Day on CTV Morning Live via this link.
Doreen and the Brothers-of-Tourism Greg & Colin Girard talk about chocolate tourism in Canada and around the world on the "EH? Travel Talk Show" (a 39-minute podcast) recorded May 11, 2021.
Invite Doreen Pendgracs to talk about the world of chocolate travel with your readers, listeners, or viewers. She can guide your audience or readership on how to:
– taste chocolate like a pro;
– pair chocolate with various libations or different kinds of wine;
– understand the terroir of cocoa and chocolate;
– discover their chocolate personalities;
– experience the sensual side of chocolate;
– embark on a chocolate tour and experience the world of chocolate travel.
– develop an appreciation for chocolate tourism and the world of chocolate.
Here are links to a few of Doreen's interviews and media appearances:
⇒ Audio Interview on the CBC Weekend Morning Show with Nadia, April 20, 2019, during which Doreen discusses the historical connection of Easter and chocolate, and shares some new ideas for eating healthy with chocolate:
⇒ Audio Interview on the Unapologetically Canadian Podcast, Feb, 2019: https://traceyarial.com/blog/doreen-pendgracs/.
⇒ CBC Information Radio interview with Marcy Markusa focusing on how to read chocolate labels and buy healthy chocolate, February, 2019:
⇒ March, 2018 profile on the TWIP travel site. Read the interview at:
⇒ November, 2017 issue of Toastmaster Magazine: 2 page feature on Doreen here: Chocolate Queen-Mirkin-1117 .
⇒ April 24, 2017 radio interview with CBC's Information Radio program. The interview is 6:27 minutes long.
Veteran radio host Marcy Markusa calls this, "The best interview I have ever done." See why she was excited!
⇒ March 30, 2017 Express Weekly News article on Doreen's writing career as an award-winning author.
⇒ Express Weekly News 020917 pg09 Cross to the dark side this Valentine's Day is a playful story that focuses on tasting chocolate. Published in the Express Weekly News on February 9, 2017.
⇒ Story about tasting bean-to-bar chocolate in the Winnipeg Free Press, August 31, 2016.
⇒ In-depth online interview with Go Ahead Tours, March, 2016.
⇒ Q&A with Media Kitty, April/16.
⇒ Video filmed by videographer Henrik Bodholdt in Costa Rica during the Puerto Viejo Chocolate Festival, at which Doreen was a judge of local artisan chocolate (November, 2014.) The interview with Doreen begins at the 2:55 mark, and continues to the end of the tape at 12:00.
⇒ CTV television interview in which Doreen talks about the world of chocolate travel and chocolate personalities. (September, 2014.)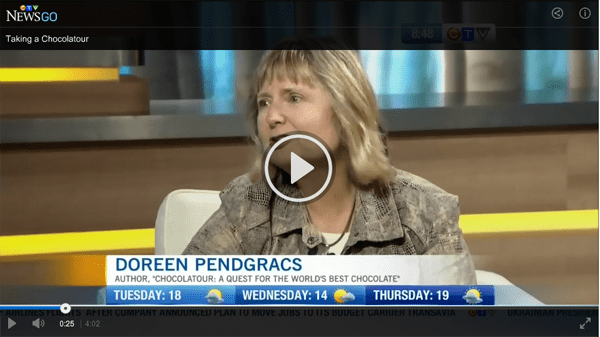 ⇒ ⇒Listen to Doreen's interview with Laurie Hoogstraten on the CBC Radio Weekend Morning Show in February, 2015, about the evolution of chocolate from candy to power food, and the relevance of packaging.
During the February, 2016, interview on the CBC Weekend Morning Show, Doreen guides host Laurie Hoogstraten through the art of tasting chocolate.
⇒Listen to Doreen's interview with Marlene van Helden, of CJ107FM radio in Manitoba, Canada, regarding her research trip to Ecuador and Peru where she stayed with cocoa growers and participated in the harvest.
Listen to Doreen Exploring the world of chocolate travel on World Foot Prints. (roughly 10-minute interview, March/2016.)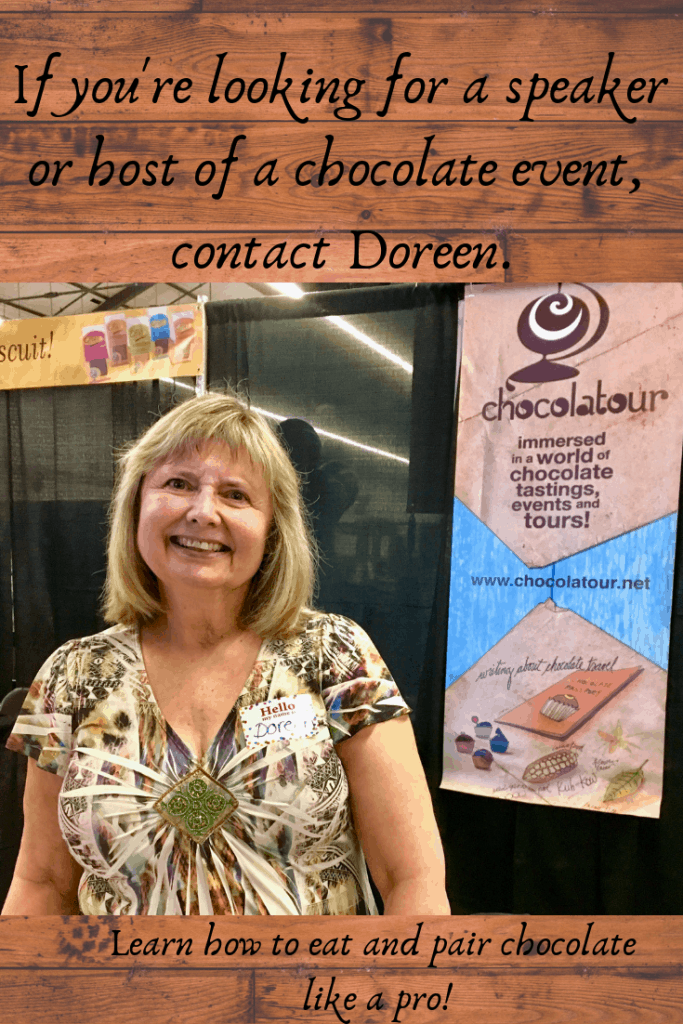 SaveSave
SaveSave