the many faces of volunteerism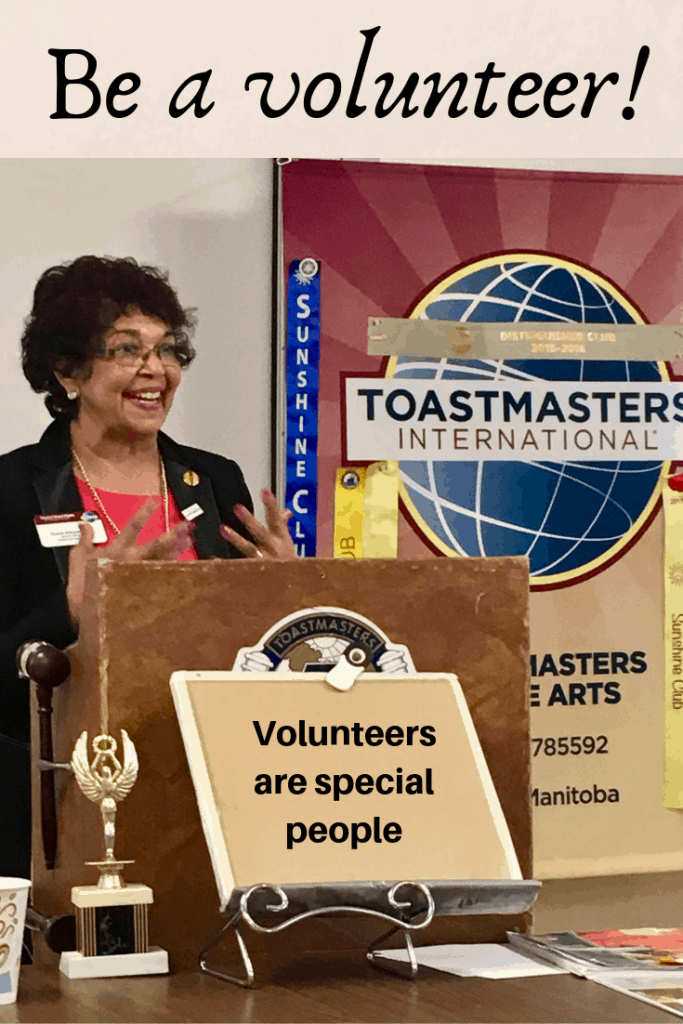 This week's post celebrates the spirit of volunteerism and is a tribute to International Volunteers Day which was celebrated December 5, 2019. Volunteers are also saluted annually during National Volunteer Week–April 7-13, 2019, and Volunteer Appreciation Day which is celebrated April 20th. It's nice to see so many days set aside to honour the great work volunteers are doing in their communities, and around the world.
This an update of a popular post I wrote several years ago on the importance of volunteering and helping causes or groups you believe in. Pictured above is the past District Director for District 64 Toastmasters, Thecla Athayde, who like many other Toastmasters, has spent many hours per week volunteering on behalf of Toastmasters International.
Volunteerism plays a huge part of my everyday life. Most recently, I have been volunteering a good part of my time for the Professional Writers Association of Canada (PWAC). In my role as national President and former chair of the Partnerships and Advocacy Committee, I have had the opportunity to be involved in many exciting and important activities that affect freelance writers across Canada. That involved a trip to Ottawa to make a presentation to the Heritage Committee on the subject of copyright reform in relation to Canada's creative community. And it has involved partnering with other writers' groups to strengthen our voice.
Volunteerism has many faces, and can be of benefit to us–personally and professionally–with implications that can be immediate, longlasting or both. Volunteering for Toastmasters is something that has also taken an important role in my life. Toastmasters helps me personally and professionally, and is something that has played an integral part of my life since joining Toastmasters International in 2001.
In this post, I thought it would be fun for us to reflect back on some of the most meaningful, unusual or memorable moments in volunteerism that have blessed our lives.
I have two most memorable occasions that are entirely different. One good to great! And the other … not so good. To start with the positive, one of the most memorable volunteer roles I've had was as part of the media team for the 1999 Pan Am Games that were held in Manitoba. As I lived right next door to Birds Hill Provincial Park, I volunteered to work at the equestrian events being held in the park.
There were journalists from all over the Americas, and it was our job to be sure they had everything they needed, help them arrange interviews with anyone they wanted to meet, etc. I was teamed with Heidi Bock of Winnipeg, someone I became quite good friends during the process.
Heidi (left) & I doing our thing at the 1999 Pan American Games held in Manitoba in 1999.
volunteer experiences come in all shapes and colours
The not-so-good volunteer experience that will always be lodged in my memory (and was fodder for my book on volunteerism, "Before You Say Yes …") occurred when I was on a small board for an arts group. We were in the midst of a meeting, and our executive director (who had a very volatile personality) became enraged at something one of the directors had said, rose to her feet, threw her chair against the wall and stormed out of the meeting room, never to be seen again! Needless to say, that moment left us all quite dumbfounded, and left the organization without staff and in quite the bind. What the learning experience that was!
Some of the most meaningful volunteer work I've done are the years I spent serving as shop steward, contract negotiator, and president of our component within a provincial union. Unions have amazing training programs. They taught me all about leadership, how to be a good listener and how to be confident in my position. That work helped form the core of the person I am today. And I hope I helped a lot of my co-workers along the way.
That leaves the unusual category to ponder. I didn't have to go as far back in my memory banks to find that one! In 2009 I was Mrs. Santa at the Matlock Recreation Club–quite the stretch for someone who has never had any children, and who has probably held no more than a dozen babies in her arms throughout my lifetime!
That's my husband, Reg, playing Santa and me by his side as Mrs. Santa at the Matlock Rec Club in 2009.
But that's what volunteerism enables and encourages us to do. To step outside our comfort zones and to do things that will help others, make the world a better place and bring smiles to the faces of others.
Now it's your turn! Please share some of the most memorable, meaningful, or unusual moments you have experienced in your roles as a volunteer.
I look forward to hearing your stories. We can all learn from and be inspired by the experiences of others. Remember to thank your favourite volunteer during National Volunteer Week, International Volunteer Day (which is held December 5th) and always. Let's celebrate all the incredible volunteers in our lives. Hug a volunteer, and thank them for all they do. And if hugging is beyond your comfort zone, send your favourite volunteer a note of thanks. I guarantee you they will thank you for it.