in search of Quebec City chocolate
From time to time, I am offered a guest post from a chocolate lover who is visiting a locale and would like to report on its chocolate for me. Renée Borg recently travelled to Québec City, Canada, to practise her French and search for chocolate. In this guest blog, she reveals the taste-tempting 'trésors' (treasures) discovered there. Please help me welcome Renée Borg as she searches for the best Québec City chocolate.
an Easter chocolate tour of Quebec City
I picked a serendipitous time of year–just before Easter, for my visit to Québec City. The first night, a display caught my eye at the local Metro grocery, where I was seeking treats for a midnight feast. It featured an assortment of chocolate bars, rosettes, and chocolate-coated fruits and nuts handmade locally by the Mistassini Trappist Monks. I tucked a dark chocolate bar into my basket.
The next morning, I headed for la vieux Québec (old town Quebec), a designated UNESCO World Heritage Site. Passing through the stone ramparts, I came upon cobblestone streets, horse-drawn caleches and the occasional sighting of a costumed Courier des Bois.
in search of chocolate treasures in Québec City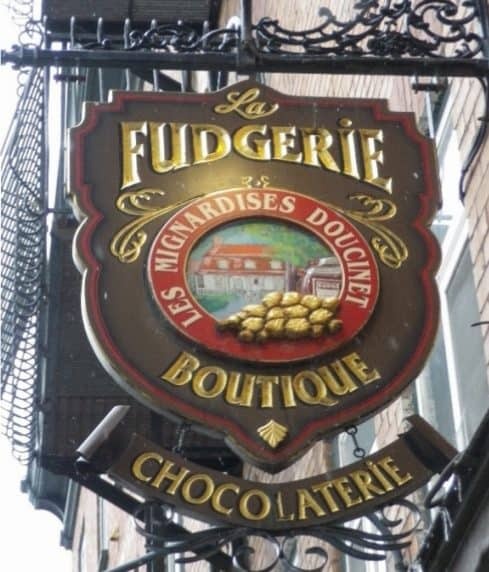 My first stop was La Fudgerie, renowned for handmade chocolates and fudge, including irresistibly cute sausages in unusual flavours like wasabi and garam masala. Helen offered me a sample of fragrant maple fudge that melted creamily in my mouth.
The shop was crammed with a Genie's cache: hot chocolate blends, chocolate-covered coffee beans, fudge pops and Easter cream eggs, chocolate bark swirled with different flavourings and studded with nuts and fruit, and chocolate shields shaped in the image of their eponymous sign which has swung over the doors since 2002. All of the products are handmade at their main workshop, located in the historical quarter of Charlesbourg, just north of Québec city. Did I mention the chocolate-dipped marshmallows?
more quebec city chocolate
Saturday was market day at le Vieux Port Marketplace. Tucked inside the bustling Marché was the patisserie Pralines et Chocolat featuring beautiful Easter figures, artisan breads, brioches, specialty cakes and pastries. I sampled blueberry honey, lavender, and sea buckthorn filled bonbons, intense flavour bursts enrobed in rich, dark chocolate.
On funky Rue St. Jean I found Erico's Creative Chocolate Shop and Museum. The chocolate boutique was busy, but I enjoyed exploring the quirky Chocolate Museum, and found it fun and informative. The story of chocolate is well documented here, though the interactive games were a trifle outdated.
hands-on discovery at the Chocolate Museum in Québec City
Sunday dawned a perfect day for walking and sampling. Champagne Chocolatier was located on the other end of Rue St. Joseph in the neighbourhood of St. Roch. There were plenty of Easter chocolates and wrapped baskets. They also featured Marzipan popular characters like Nemo and Shrek. All of the chocolate was crafted in-house, featuring saffron, lychee, balsamic, Fleur-de-sel and pear-ginger flavours. I sampled Larme du Diable truffles, which translates to Devil's Tears – fragrant, dark chocolate with a searing chili bite. They also featured Perles Du Quebec, which were stylized after Ferrero Rocher chocolates.
My last stop was Croquembouche on the same street-–a great lunch spot with sumptuous chocolate displays, European-style cakes, French macarons and pastries, notably a maple éclair. I enjoyed a Chocolatine (chocolate croissant) and bought some chocolate fish to add to my trove of sweet Québecois treasures. A weekend magnifique!
Thanks so much to Renée Borg for sharing her delicious exploration of Quebec City chocolate offerings with us as we celebrate the 400th post on Chocolatour.
With an abundance of French culture and historic architecture dating back to the 17th century, Quebec City is a feast for the eyes. And now we know it's a great place for Chocolatouring as well!
SaveSave