Adorable Chocolat, best chocolate east of Quebec
As a Canadian, I'm always on the lookout for the best chocolate in various parts of our vast country. I recently had the pleasure of meeting Ginette Ahier, the skilled chocolatier who previously made her handcrafted artisan chocolate creations from her home in Cocagne, New Brunswick, under the name Choco-Cocagne. You will have seen them listed in the A-Z Guide in the first volume of Chocolatour.
I'd tasted Ginette's chocolates back in 2012 and had her earmarked as someone I just had to meet. The stars aligned when the Professional Writers Association of Canada decided to have its 2017 conference in Fredericton. (More on Fredericton and other great places of New Brunswick in future posts.)
what makes adorable chocolat so special?
In November, 2013, Ginette merged her chocolate creativity with Frédéric Desclos of Adorable Chocolat (pronounced in the French vernacular) of Shediac, New Brunswick, a short 30-minute drive from Cocagne. This collaboration has resulted in the best chocolate I've tasted east of Quebec.
For those of you who don't know Canada well, what's east of Quebec are the Maritime Provinces of New Brunswick, Nova Scotia, and Prince Edward Island. If you include Newfoundland and Labrador, the region becomes Atlantic Canada. All four provinces are east of the province of Quebec, a province known for its Parisian-style cuisine and superb French-style chocolate.
New Brunswick is a fully bilingual province, with more than 30% of the population declaring French as their primary language. Ginette is a French-speaking Canadian and Frédéric worked in the chocolate industry in Paris, France, moving to Canada in 2011 and opening Adorable Chocolat in Shediac where French is the prevalent language spoken.
Ginette's strengths are in marketing, and so she handles the front of the store public relations and marketing for the shop, while Frédéric creates chocolate masterpieces in the kitchen with the assistance of two staff who are both also from France.
While chocolate bonbons, truffles, and confections were the primary focus of Adorable Chocolat for the first three years, in February, 2017, the new Scorpion Bars were launched elevating Adorable Chocolat to the category of hybrid chocolatier, and one step closer to bean-to-bar.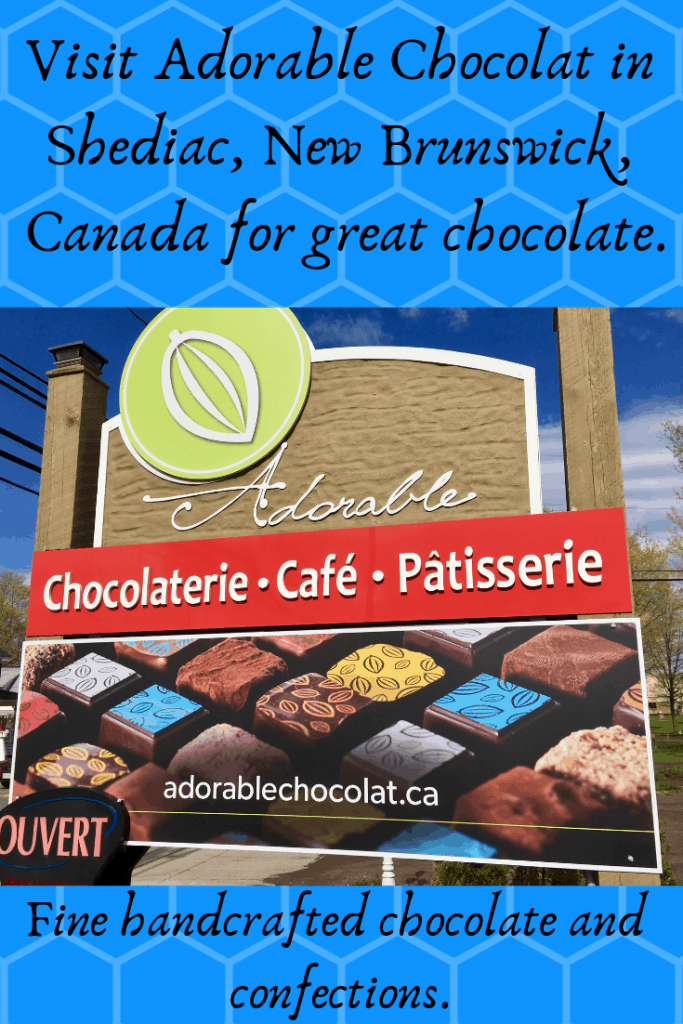 "We created a private blend of cacao beans used to make our 72.7% dark chocolate bars," says Frédéric, who tasted a total of 30 blends of Cacao Barry couverture in Paris before pinning down their own custom Or Noir blend of Peruvian, Madagascan, and Tanzanian cocoa that he and Ginette chose to make their signature bars. "We're both Scorpio's, so choosing the name Scorpion for our bars seemed to represent both of us equally well."
Taste, quality, and ethics are the three guiding principles that guide everything at Adorable Chocolat. "We source only products where we can trace the origin and the chain, so that we can maintain the sustainability of our products," says Ginette, who says that Adorable Chocolat is working toward achieving USDA EcoCert approval.
Adorable Chocolat is an excellent chocolate shop focusing on the sustainability of chocolate that has successfully been able to create a fusion of old world and new world chocolate products to please the most discerning customer–whether they are local patrons, or visitors who have travelled thousands of miles the region to find this lovely little shop and cafe in the town best known for its giant lobster.
SaveSave
SaveSave
SaveSave