5 reasons you'll love Las Alcobas in Mexico City
I finally got the opportunity to visit Mexico City and loved it!. What made my brief visit to this metropolis of nearly 20 million people very special was a two-night stay at Las Alcobas, a 35-room boutique hotel located in the trendy Polanco neighbourhood of Mexico City.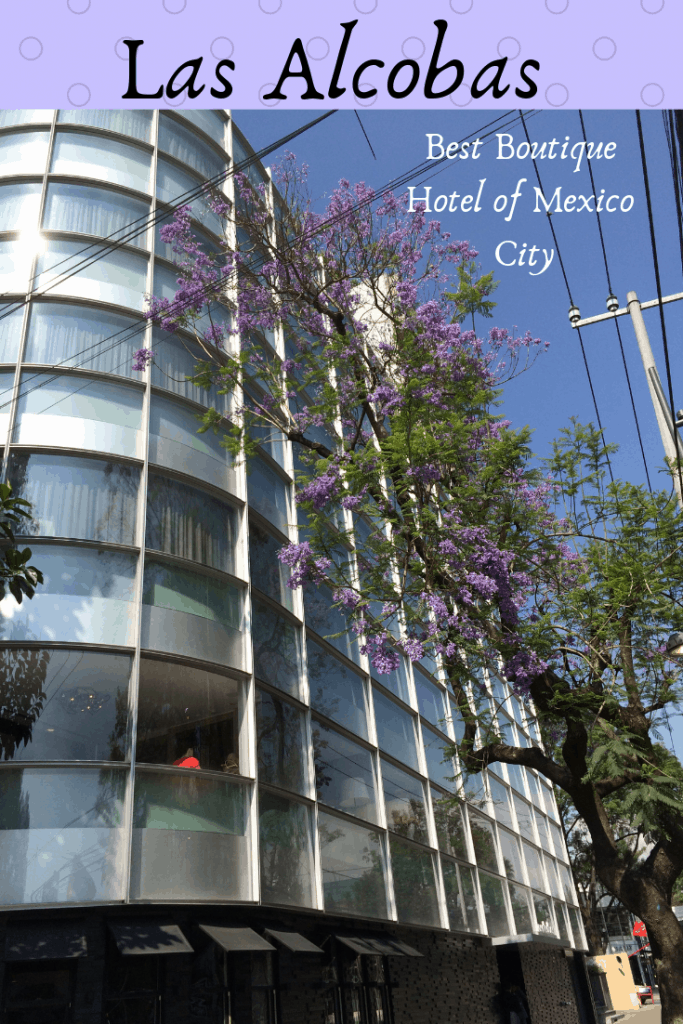 I chose Las Alcobas for three reasons:
Las Alcobas is part of the Starwood Luxury Collection, and many of my memorable stays in new destinations have been thanks the support of Starwood Hotels who provided me with an affordable media rate for this stay.
Las Alcobas is located just two blocks from Que Bo! Chocolatier–run by Mexico's number one man of chocolate, José Ramón Castillo, the creative force of Que Bo!
Polanco is a really cool and safe historical district with lots of restaurants, boutiques, and people watching in any direction of the hotel.
These reasons made visiting Mexico City a highlight of my recent Chocolatour to Mexico.
Las Alcobas translates to "the bedrooms." I was thrilled that my room overlooked the courtyard of an old church. And my room was extremely quiet and private. It was a much appreciated oasis of comfort after a nine-hour day of travel from Winnipeg to Mexico City via Toronto. I was welcomed with a plate of moliendas–flat discs of dark chocolate covered in candy sprinkles–a traditional Mexican treat.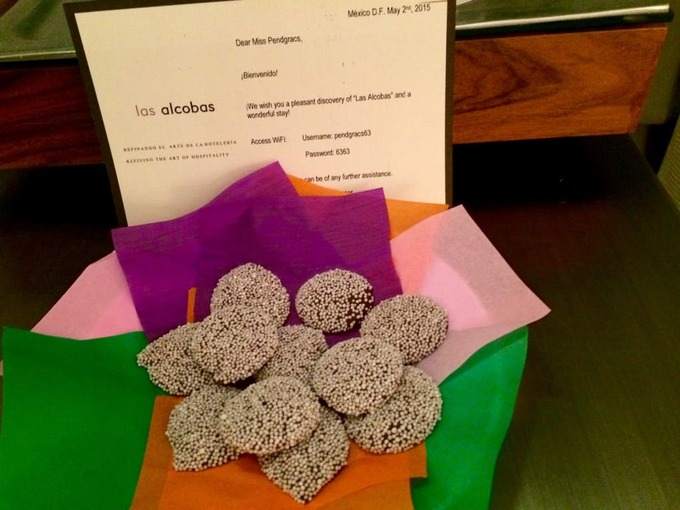 5 reasons why you are guaranteed to enjoy your stay at Las Alcobas Mexico City.
The hotel is devoted to self-care. There is an on-site spa which I didn't have the opportunity to visit. But in your room, you will find a platter of artisan soaps made with coconut oil in a variety of recipes to cure what ails you. You'll find a "Vita Bath" jet tub in your room in which you can enjoy an aromatherapy bath prepared for you by your personal "Bath Butler." The bath was a much needed highlight for me that made me never want to leave this sanctuary in the heart of one of the world's largest cities!
The food is great and highly creative. My stay included an amazing Mexican breakfast in the second floor dining room. I enjoyed Mexican-style Eggs Benedict one morning, and the Brioche French Toast the next. Both were fabulous, and came with fresh-baked pastries and fresh fruit salad to complement the entree and keep me pleasantly filled for the day.
A visit to Polanco is a terrific way to familiarize yourself with the heart of Mexico. I wish I'd had more time to shop, but I did find a very good supply of fabulous chocolate.
Which brings me to number 4 … Que Bo! Chocolatier is one of the most artistic chocolate shops I have ever visited! Chocolate lipstick anyone? Castillo is the man leading Mexico's Chocolate Evolution.
The staff at Las Alcobas is incredible, from the ultra-charming manager, to the equally charming Bath Butler who brought me the customized aromatherapy prepared to my specifications, and the helpful server in the restaurant who told me about the chocolate museum. More on that in this post.
With any luck … I'll be back at Las Alcobas before that bath cools off! I see cocoa butter is the top ingredient listed in their spa menu, and we all know where cocoa butter comes from …
Have you been to Polanco or Las Albacos Mexico City? Please share your thoughts and experiences here. And please join me next week as our chocolate travels explain the evolution of Mexican chocolate.