does chocolate beer contain real chocolate?
As I pack and get ready to attend the Chocolate Festival in St. Lucia this coming week, I'm pleased to welcome the first ever guest post on Chocolate Travel Diversions with Doreen. I met Patrick Huff in "Bloggers Helping Bloggers" (a subgroup of the Blog Zone group on Linked-in.) BHB is comprised of a terrific group of supportive and talented bloggers. Patrick asked if I'd be interested in exchanging posts with him, and so, this month he's guest posting here to enlighten us about chocolate beers. And later this month, I'll guest post over on his craft beer blog about how to pair chocolate with various libations — including beer!
Please welcome Patrick to our chocolate loving community. He's agreed to respond to comments and answer any questions in my absence.
Chocolate Beer Demystified
Early on, when my fellow beer geeks and I were still learning our way around the beer aisle, we stumbled upon a beer called Mackeson XXX Stout, a chocolate lover's dream. Chocolate had to be added in order to have this much chocolate flavor, or did it?

Chocolate beers have become so popular they were added as a category for the 2011 Great American Beer festival.
Many questions come up regarding chocolate beers. Are they all brewed with actual chocolate?  What types of chocolate are used?  When and how are they added to the brewing process?
Believe it or not, adding chocolate to beer is not a new idea.  Patrick McGovern, an expert in ancient ales and Sam Calagione, the founder and president of Dogfish Head Brewery, collaborated on an ancient ale inspired from the analyses of pottery fragments found in Honduras. The fragments indicated an alcoholic drink brewed with chocolate, used to toast special occasions, dating to about 1,200 B.C.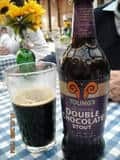 But do all chocolate beers have actual chocolate?  Surprisingly, no!  Typically most beers that have chocolate  flavor profiles have no chocolate at all.  Brookland Brewery's Black Chocolate Stout achieves an intense chocolate character from using dark malts such as chocolate malt.  Cool huh?  But other brewers add different forms of chocolate to their brew such as Young's Double Chocolate Stout, a sweet ale brewed with dark chocolate and chocolate essence.
Other forms of chocolate are sometimes incorporated into  beers, such as cocoa nibs and cocoa powder.  One example of using cocoa nibs is Samuel Adams Chocolate Bock, a malty lager, which is aged on a bed of cocoa nibs.
A brewer also achieves his or her results from adding chocolate to specific stages of the brewing process.  Chocolate can be added to the mashing process, the boil, the fermentation or the aging process.
While you may find quite a few chocolate stouts, chocolate also finds its way into other styles such as bocks, porters, brown ales and barley wines.
Indulge Your Chocolate Craving
The next time you find yourself in the beer aisle, look for these interesting chocolate brews.
Rogue Chocolate Stout from Rogue Brewery.  A dark American stout with rolled oats, roasted barley,  chocolate malt and chocolate.  Creamy, medium to full bodied beer with sweet chocolate and coffee notes. Perfect for dessert.
Black Oak Double Chocolate Cherry Stout.  A soft carbonated stout from Ontario, Canada. Pours dark brown with a creamy tan head. Lightly tart cherry flavor and medium chewy mouthfeel.  Finishes with a dark chocolate flavor and pleasant bitterness.
Ommegang Chocolate Indulgence. Cooperstown, New York.  Opaque with a mocha head.  Fruity esters, chocolate and roasted malt flavor. Medium body and softly carbonated.
Rogue Chocolate Peanut Butter Banana Ale.  An interesting ale inspired from Voodoo's Memphis Mafia Doughnut, created as a nod to Elvis' entourage.  Made with more than a dozen ingredients, including chocolate, creamy peanut butter and ripe bananas.
Dogfish Head Theobroma.  A light orangey ale with Aztec cocoa powder and cocoa nibs from  Askinosie Chocolate, honey, chilies and annatto seeds. Subtle chocolate, chile,  and sweet flavors with medium body and medium carbonation.
Thanks to Patrick for getting our taste buds pumping with thoughts of delicious chocolate beers. We have a fabulous beer named Stir Stick Stout made right here in Manitoba where I live. It's made with chocolate malt and is one of the most delicious beers I've ever had. But they have a very small distribution at present. How about you? Do you know of any chocolate beers that haven't been mentioned here? Do share, and join in the conversation.