augmenting the author's income stream
I've been a freelance writer since 1993. Although freelancing is challenging, and you have to weather the storms of either too much work at once or the dry spells when you have virtually nothing on the go, if you plan ahead, you'll get by.
But for the past year, I've pretty much been making my income from book sales and from speaking events that I'm able to arrange. The best scenario is when you can combine the two and sell books at your speaking events.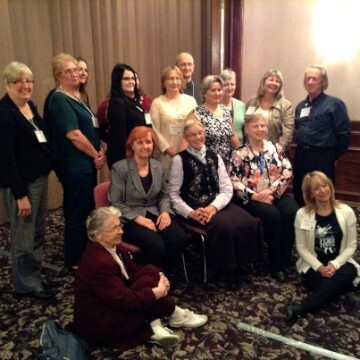 My most recent speaking gig was at the Black Ink Writers' ReCon Retreat & Conference held October 24-26, 2014, in Selkirk, Manitoba. The photo above shows me (second from the right in the back row) along with the organizers and some of the attendees to the banquet, where I gave the keynote talk on the subject of crowdfunding. Hats off to Tyra Heinrichs, Ishbel Moore, and Richard Koreen for putting together a wonderful event.
Last week, I was a judge at the Puerto Viejo Chocolate Festival in Costa Rica (the reason this blog post is late!) If you're interested in how that went, be sure to subscribe to my chocolate travel blog for a string of posts I'll be uploading about this funky up-and-coming chocolate destination.
My next speaking gig will be November 19th in Kingston, Ontario, where I'll be giving a chocolate chat to celebrate the opening of Sugar Swan, a new chocolate shop in Kingston. I'll receive an honorarium for that via the Canada Council National Public Readings Program administered via the Writers Union of Canada.

And then I'm off to Miami, Florida, where I'll be presented with my Readers' Favorite award for Chocolatour and will visit with some Miami-based chocolate makers. Before I leave, I must complete a freelance article on the fabulous chocolate of London, England, for the CAA magazine.
That's a month in the life of this freelance writer. What kind of writing do you do, and how do you supplement and augment your income with activities related to your writing and area of expertise? I look forward to hearing your insights and will post again soon to catch up on the regular posting schedule for this blog. Cheers!