award winning author
Wow. Seeing those three words in a note of congrats that I rec'd from a colleague made me realize I had actually achieved something wonderful. I am now an award winning author.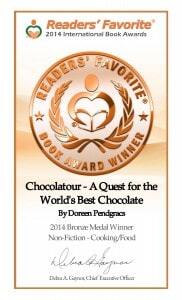 My latest book Chocolatour: A Quest for the World's Best Chocolate (Volume I) has won as a Bronze Medal winner in the 2014 Readers' Favorite International Book Awards in the non-fiction Cooking/Food category. This achievement is particularly sweet as this book is 100% my creation–with of course, the guidance and assistance of my editor(s), designer, and printing company.
Over the past five years I have researched, photographed, written, helped design the cover and interior of the book, crowdfunded, marketed, and independently published a full-colour 176-page book about the world of fine chocolate. I have interviewed hundreds of chocolatiers and chocolate makers, eaten chocolate from far more, attended dozens of chocolate events as a chocolate lover and as a speaker, enjoyed visiting choco-centric resorts and attractions, and become totally immersed in the world of artisan chocolate.
What an absolute delight it is to see the book saluted in the category of Food and Cooking, as chocolate has always been called the "Food of the Gods" and in its pure form, is considered to be one of the healthiest foods in the world.
It is my goal to establish chocolate travel as the new niche in travel for people who love indulgence and are interested in developing their palates, for people who want to understand where cacao is grown and how it is magically transformed into the amazing elixir we call chocolate, and for people who want to meet the highly creative and sometimes eccentric individuals who are creating these chocolate masterpieces.
I am currently researching Volume II of Chocolatour, and am happily speaking at numerous upcoming events about chocolate in Winnipeg (McNally Robinson Booksellers on September 20th), Puerto Viejo Chocolate Festival in Costa Rica (October 30- November 4), Kingston, Ontario (November 20th at the launch of a new chocolate shop), and Miami, Florida (November 22nd for the Readers' Favorite Awards Ceremony and the Miami Book Fair.)
I also have some writing related speaking spots in Selkirk, Manitoba (Oct 23-25 for the Black Ink ReCon conference) and November 29th in Winnipeg for an event on crowdfunding sponsored by PWAC Manitoba.
Thanks so much to everyone who has encouraged me and accompanied me on this journey.
If you are an award winning author, please share with us what you have achieved and how it has come to be. If you've won another life-changing award, please share and tell us about it!