Caribeans Chocolate of Puerto Viejo
If you're like me, you look for unique and local flavours from places you visit and seek out gifts and souvenirs that highlight those flavours. No surprise, my primary focus is on the sustainable chocolate of any given place, and I'm always thrilled when a chocolate shop I visit has travellers in mind.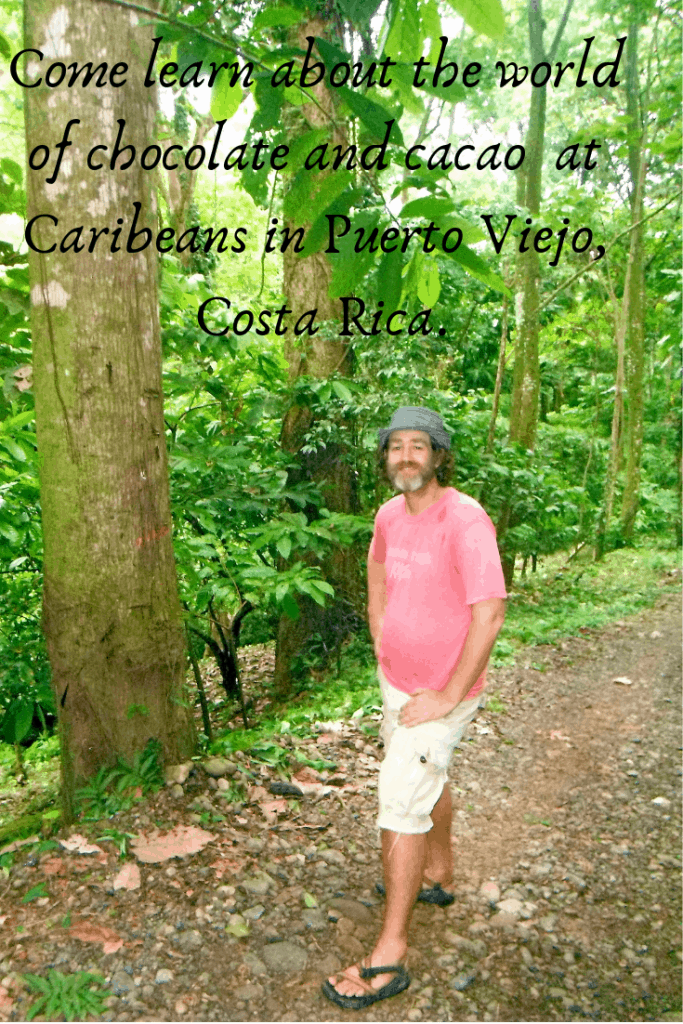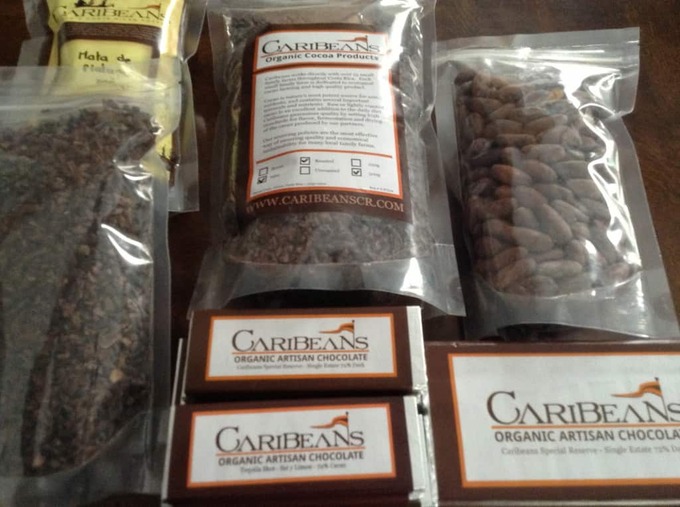 Such is definitely the case with Caribeans Organic Artisan Chocolate in Puerto Viejo, Costa Rica. It was thanks to Paul Johnson of Caribeans–pictured above in his cacao plantation–that I was able to make my way to Puerto Viejo and be a judge at their 2014 chocolate festival. We met online (I believe it was via Twitter) and a post by one of Paul's colleagues on the facebook page of the Puerto Viejo Chocolate Festival alerted me to the fact that there was a major chocolate event happening in a country I was anxious to explore. I'm thrilled that it all worked out, and even more thrilled with the stash of chocolate, cacao (cocoa beans and nibs), and coffee I brought home with me from Caribeans. The coffee and cocoa beans and nibs are packaged in durable plastic that easily survives a journey around the world.
And what about the chocolate? Well, it's not for sissies. Caribeans chocolate is conched for only 24-36 hours, so it not the silky smooth chocolate you may have tried in other places. It is pure, and quite intense. All bars are made from 72% sustainable cacao except the milk chocolate. It's nice and thin, and has a good snap to it. It authentic handcrafted chocolate, and only contains cacao, some cane sugar, and whatever natural flavourings may be included to create a special bar. Like the "Tequila Shot" bar that contains the leaves of Johnson's own lime tree and some granulated sea salt. I love it, and will have to try it with a shot of tequila!
Paul and his wife Jeanne are excellent marketers, and give you the option of purchasing tiny 25-gram bars in a multitude of flavours (also available online), or the 150-gram larger "Special Reserve" bars featuring the finest cacao beans Caribeans has to offer.
It's really worth taking the Caribeans Chocolate Forest Experience Chocolate Tour that shows you how Caribeans grows its cacao and makes its chocolate. The price is just $28USD for a three-hour tour that includes a fabulous guided tasting experience featuring this view! Private tours can be scheduled in advance for $32 per person. If you really want to go all out and experience the world of Caribeans Chocolate and The Mango Walk guesthouse I profiled in the previous post, I recommend indulging in the "Chocolate Makers Dream" vacation. I guarantee you will leave a changed person, having learned all about this amazing chocolate destination of Puerto Viejo, Costa Rica.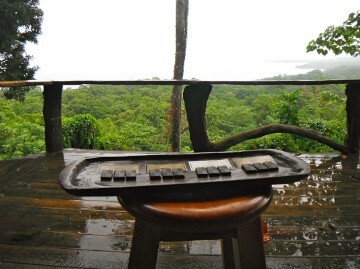 SaveSave