Dessert steals the show at March 6 chocolate dinner
We had another sold-out chocolate dinner in the Community Classroom of McNally Robinson Booksellers on Friday, March 6, 2015. (This was a snow-date to replace the Feb 7/15 date for which I couldn't get into Winnipeg due to bad weather.)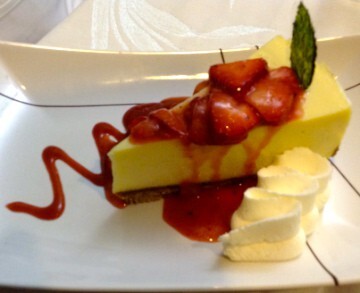 The star of the March 6th dinner was the White Chocolate Cheesecake, orchestrated by Geoffroy Dextraze, chef de pâtissier of the new culinary team at Prairie Ink Bistro. Dextraze really won my confidence, when just a matter of one day before the scheduled event, he was able to come up with an astounding dessert in honour of White Chocolate Cheesecake Day!
The White Chocolate Basil Cheesecake was served with peppered macerated strawberries and a hit with everyone in attendance (apart from one person who expressed a preference for dark chocolate desserts.) Indeed, the original dessert selection for last night's dinner was to have been a dark chocolate selection, but how could we not sufficiently honour White Chocolate Cheesecake Day?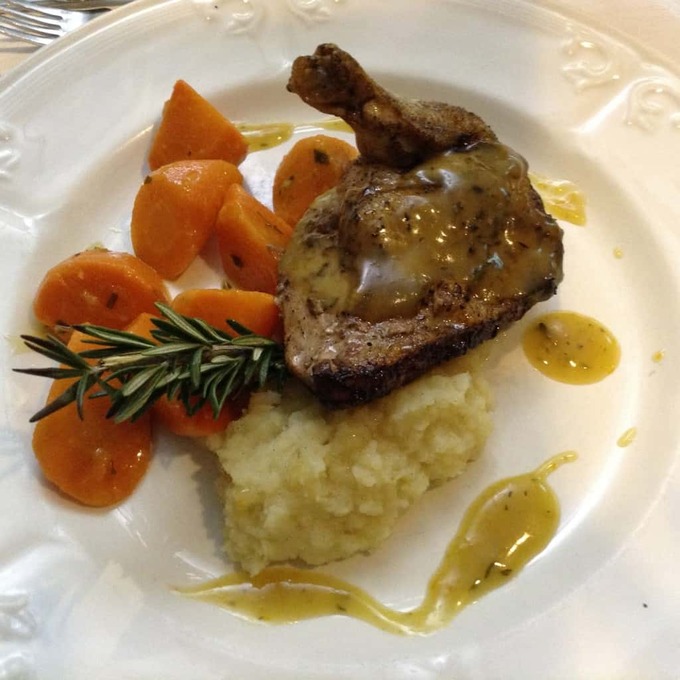 Chef Chris Kopp and his team presented us with cacao crusted chicken as the main course. I would have liked a much stronger presence of cocoa on the flavour palate, but did really enjoy the accompanying l'orange sauce, vanilla parsnip puree and citrus carrots. As well as the delicious flavour-packed Cacao Gazpacho Soup based on the recipe contained in Chocolatour (volume I.)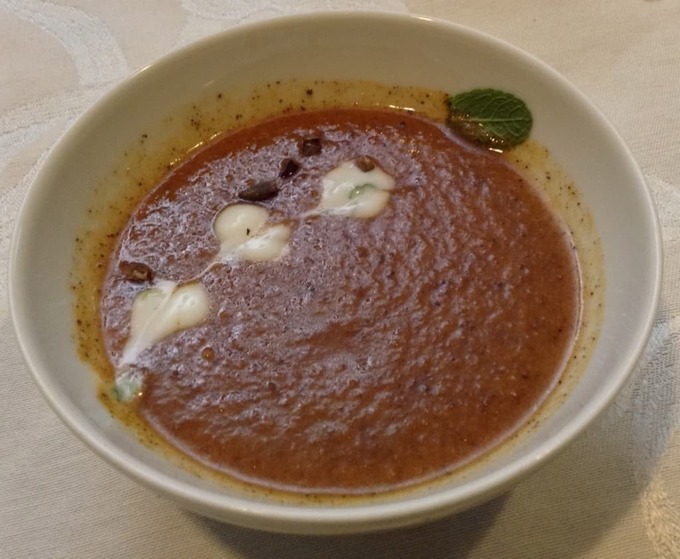 The timing of the courses could have been better, but with the recent departure of Chef Karen Nielsen, it is understandable that the new culinary team will take a bit more time to get up to speed.
Our next (sold-out) chocolate dinner in the classroom is scheduled for April 4th, and I've been assured by Chef Chris that we will all be pleased. There are a number of seats left for the September 19, 2015 dinner. If you'd like to join us, please don't wait much longer to book, as each one of the six previous chocolate dinners has sold out well in advance.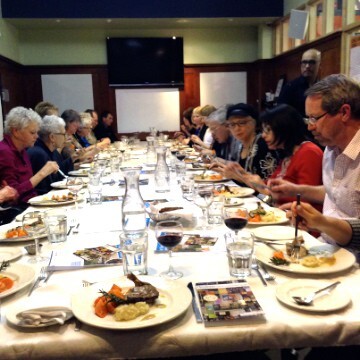 Please call Barb King at (204) 475-0483 or book online via the Community Classroom link. I look forward to seeing you there!