embark on a northern safari to Churchill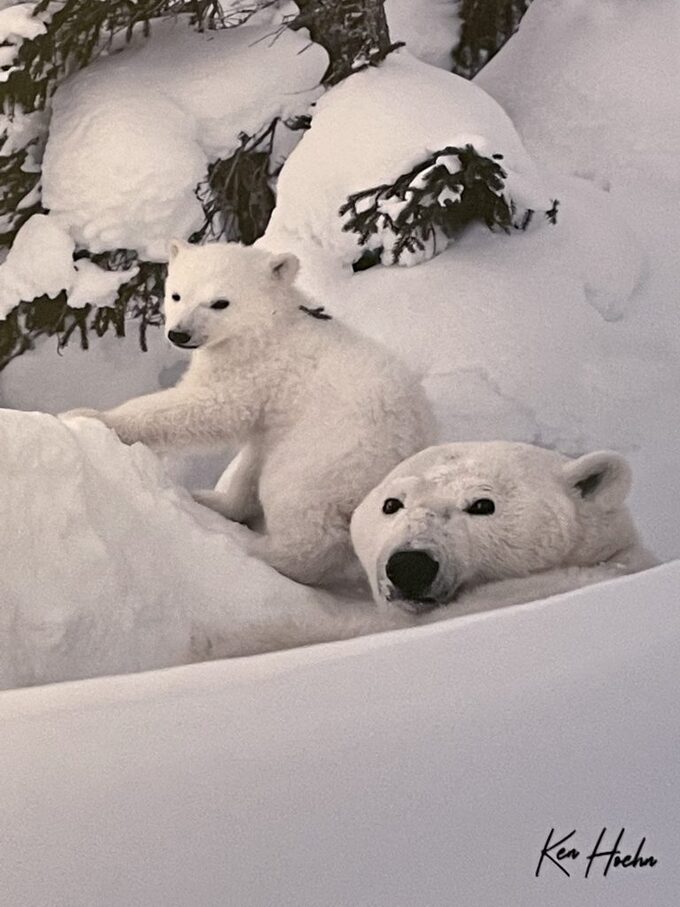 celebrating polar bear week
Each year, polar bears are celebrated during the first week of November for Polar Bear Week. This year, the event is celebrated October 30th until November 5, 2022. I absolutely love the photo of a polar bear and cub taken by Ken Hoehn, whom we had the pleasure of meeting in Canmore, Alberta at his beautiful Ken Hoehn Gallery.
I recently heard a sad report on the news. Scientists are predicting that the majority of the world's polar bear population is severely at risk due to climate change and that the polar bear population around Hudson Bay in Manitoba, Canada, may be gone within 80 years! With the COVID-19 pandemic still having an impact on international travel, there is no better time for Canadians and others able to travel to Manitoba to make the journey to Churchill and go on a northern safari.
I've had the pleasure and thrill of seeing polar bears in the wild in and around the town of Churchill, Manitoba, Canada, several times over the past 25 years. If you've never been to Churchill–often referred to as the Polar Bear Capital of the World–treat yourself to a northern safari, where you will see polar bears, and a whole lot more.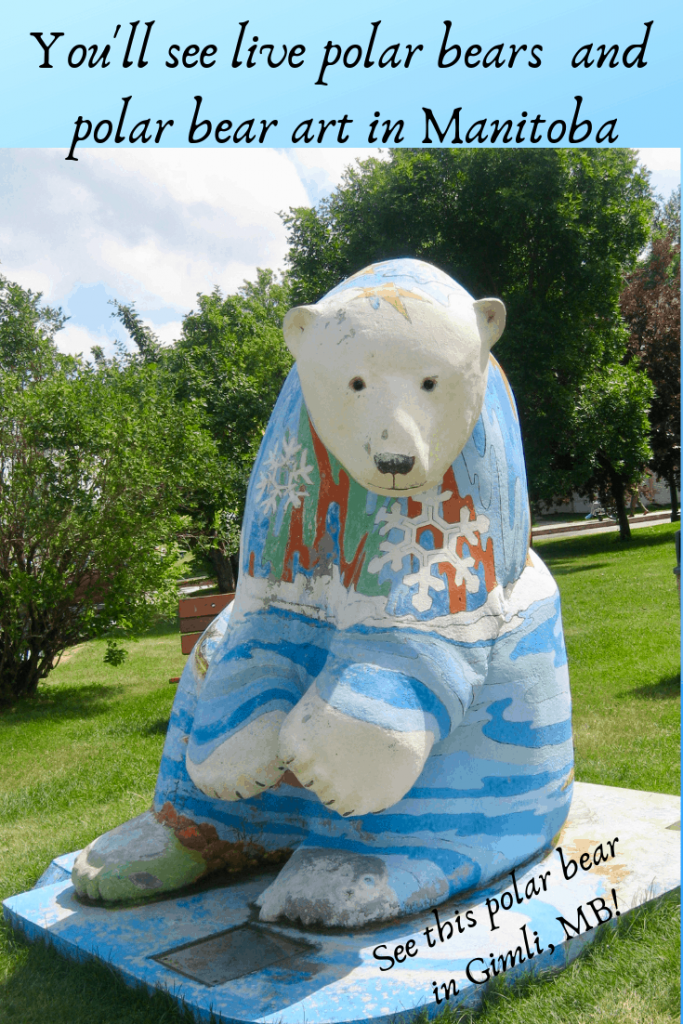 Churchill is one of the best place on earth to observe the aurora borealis and is home to the Churchill Northern Studies Centre (CNSC) where people come from around the world to study the aurora and Churchill's other natural wonders. Also known as the northern lights, aurora borealis are a natural phenomenon that occur in northern locations around the globe when there is a clear night, the right atmospheric gases are present, and there is a solar wind. You need undisturbed darkness to observe the aurora, so generally, they cannot be seen in densely populated areas where "city lights" mask the darkness of the night.
Churchill is a great locale for sky watching due to its remoteness and long hours of winter darkness. Brilliantly coloured northern lights are visible here an average of 300 times per year. I grew up in Manitoba, so I've seen a lot of northern lights. But I've never seen anything like the northern lights of Churchill. You'll find yourself under the spell of the aurora borealis in Churchill because of their vibrant colours, and because they often last for hours at a time. I saw aurora in shades of red and pink, green and yellow, and white. They truly are a magnificent sight and if you allow yourself to be captured, you will be whisked away to a land of pure imagination.
School programs, university courses, and learning vacations covering a wide range of topics are offered at the CNSC in cooperation with Road Scholar and the Earthwatch Institute. It really offers a unique location, as you are 23 kilometres from town and in a rather undisturbed world where nature is much more accessible than if you are staying in town. I spent a week on assignment at the CNSC one spring many years ago tagging along on an Elderhostel course focusing on Northern Astronomy and loved it! I still keep in touch with one of the wonderful ladies from Iowa that I met on that course.
The CNSC generally offers aurora programming from late January through March depending on the year. Programs are booked around the time of the new moon and during months when Churchill has long clear dark nights for aurora viewing at its peak.
exploring churchill manitoba
If you don't make it up to Churchill during peak aurora season, there are still many other reasons to visit. In fall (generally late October through to early December–depending on the weather) you have the best chance of seeing polar bears up close and personal.
The bears wait along the shores of Hudson Bay for the ice to freeze so that they can begin their winter-long seal hunt. Seals make up the primary diet of the world's largest land-roving carnivore, and until the ice freezes, the bears hang out in and near Churchill waiting for the hunt to begin. A tundra buggy or helicopter ride may give you the opportunity to spot a few bears loafing near the coast in late spring or summer. But they spend a good deal of their time sleeping once the weather gets warm and the ice has melted. If you're fortunate, you'll get the chance to see a polar bear swimming as they try to cool off during the surprisingly warm Manitoba summers.
The stars of a Churchill summer are the beluga whales. Thousands of them come to Hudson Bay to have their young, and are generally in the Churchill area from June through early September. These small white whales that resemble dolphins are curious about humans, and will let you get close to them if you are in a small zodiac boat, or snorkelling or diving in a drysuit. I remember the time I had my feet dangling over the edge of the zodiac when we were up around the Seal River, and a beluga touched my toes with his nose! You may also see caribou, and Arctic hare and fox during a summer visit.
Churchill offers much to those with a keen interest in history. The Prince of Wales Fort, a massive stone fortress at the mouth of the Churchill River, was built on permafrost, with construction beginning in 1732 and ending 40 years later. With 40 cannons mounted on walls 40 feet (12 metres) thick, the fort's magnitude was rivalled only by the French fortress of Louisbourg in Nova Scotia. Today, the walls of the fort are giving way, and preservation tactics are in place to save it from crumbling. During the summer months, knowledgeable Parks Canada staff will accompany you along the path to the fort, explaining how it was built to protect cargo ships belonging to the Hudson's Bay Company and their Royal Navy escorts. In 1782, during the only attack on Prince of Wales Fort, Samuel Hearne–the great explorer and fur trader, lost a battle with French invaders and surrendered the fort. At Sloop's Cove, a short distance away, history buffs bear witness to Hearne's signature etched in stone along the shore and dated 1767.
Churchill, Manitoba, has the excellent Itsanitaq Museum (formerly known as the Eskimo Museum) that contains a large collection of Inuit art as well as a stuffed polar bear and musk-ox. You can learn much about life up north from the museum's exhibits. Accommodations, for the most part, are quite basic. Don't go to Churchill, looking for luxury five-star accommodations. But if you thrill at the sight of wildlife and natural beauty or are interested in history, it is definitely worth the trip. There are a few motels within the town, as well as several lodges to help you plan your own unique Churchill visit. This site tells you how.
This post shares some thoughts on the various visits I have made to Churchill. Contact Via Rail to embark on the long and very unique journey by train from Winnipeg to Churchill. It's quite the trip!
Have you been to Churchill? If so, at what time of year, and did you enjoy it? We celebrate International Polar Bear Day every year on February 27th, as a tribute to the world's largest land-roving mammal. But every day of the year is a good time to salute the "Ursus maritimus" or polar bear. Pray that they find a way to survive the incredible challenges before them and that polar bears will still roam the north far past 2100.
SaveSave