Have you found YOUR tribe?
I've always been a joiner. I've belonged to numerous organizations, including Toastmasters International, the Professional Writers' Association of Canada, The Writers' Union of Canada, and the Manitoba Writers' Guild. There are other organizations I may have belonged to and have left and may rejoin. I feel a bit like my interests and loyalties are in a state of transition. Finding your tribe can sometimes be an arduous journey.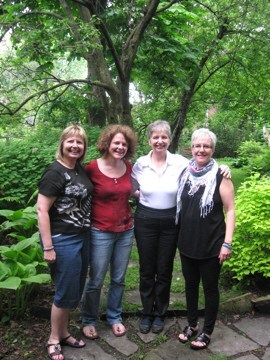 I've made dear friends (such as the gals pictured with me above – we are all members of PWAC) and have learned from them and others in each of these organizations. But there comes a time when our needs and interests change and we must move on, as maintaining memberships in organizations in which you are not active is costly and counter-productive.

finding your tribe
A new tribe that I've recently become immersed in is the 2014 Readers' Favorite Finalists. We have formed a group on Facebook, and are supporting one another's efforts as we wait for the big day on September 1st, when we hear which of us have been chosen as winners in each of the categories. Right now, we are all one big happy family–sharing tips, tricks, enthusiasm and support. I'm not sure what will happen after September 1st, but right now, we are one big happy family that is engaged in constant dialogue.
I'm also a member of numerous groups on LinkedIn, and have made many friends and forged some great relationships via that platform. Some of these groups are vibrant, and really feel like a tribe. And of course, our personal friends and family members are a different kind of tribe we also belong to. Each of these tribes holds a piece of our heart and has made us the person we are today.
Have you ever thought about your life in terms of tribes, or is it something that we writers (and bloggers) seem to do more than others? Let's talk about tribes, and the ones that have most influenced our lives.