hot on the trail of the best Nanaimo Bar experience
I had a terrific time spending six weeks on Vancouver Island, just a few minutes north of the city of Nanaimo, British Columbia, Canada. Nanaimo is known as being a port city that had some pirate action in years gone by. But it's also known as being the birthplace of the Nanaimo bar, a delicious confection featuring a crust of graham wafer crumbs, chopped almonds, coconut, and cocoa. The middle layer is primarily composed of icing sugar, vanilla custard power, cream, and butter. And the top layer features a thick layer of semi-sweet chocolate melted with unsalted butter which forms a rich and decadent icing when cooled. (American readers can equate the Nanaimo Bar to the New York Slice, as they are very similar, if not identical in some places.)
Tourism Nanaimo is clever to be capitalizing on the popularity of the Nanaimo bar, and recently devised a self-guided tour of Nanaimo on which chocolate lovers could visit any of 34 locations for some sort of Nanaimo bar experience. How could I resist the invitation to partake on this incredible journey in search of the best Nanaimo bar?
My personalized tour began with a Nanaimo Bar pedicure at the Kiyo Salon and Day Spa. What a treat for my feet! My technician, Alison, first exfoliated my feet with a coconut scrub. She then encased my feet in a warm chocolate wrap, which detoxified my feet and readied them for the third treat of being rubbed with a delectable vanilla cream that made my feet silky soft and smooth. They never felt better!
We were now ready to hit the streets of Nanaimo in search of lunch. My enthusiastic guide, Chelsea Barr, took me to the Modern Cafe located on historic Commercial Street. The lunch was fantastic. The Nanaimo Bar Martini exquisite, and probably the best chocolate-based martini I have ever had. (And trust me … there have been quite a few along my research over the past 11+ years through 20 countries.)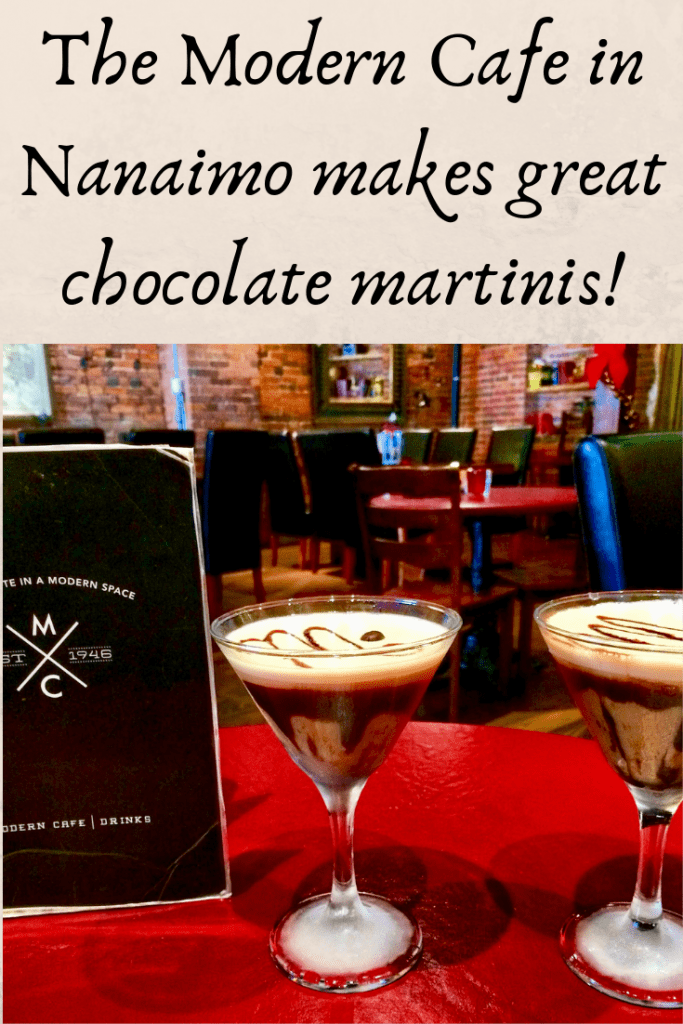 The Nanaimo bar martini is created using locally made Coven Vodka, Absolut Vanilla, Creme de Cacao, coconut syrup, milk, and a shot of espresso coffee. It is one of the best "Chocolate Martinis" I've ever had. Look for the precise recipe in volume II of Chocolatour.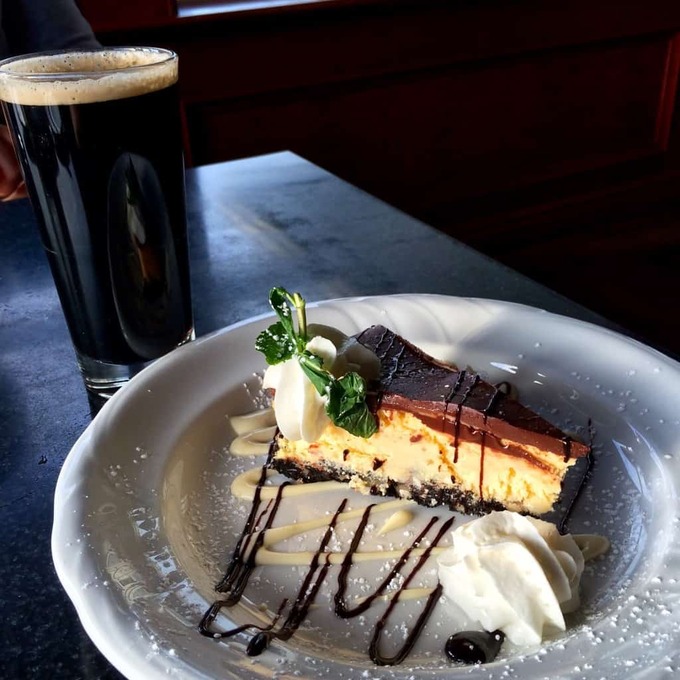 I really loved the Nanaimo Bar Cheesecake at the Longwood Brew Pub. It went incredibly well with their Russian Imperial Stout pictured above. The Longwood Brew pub makes a good selection of craft beers, has a creative food menu, and also makes a decadent chocolate layer cake.
And I really loved the Nanaimo bar cupcake served at Wee Cupcakery in the Old City Quarter. Also on Fitzwilliam Street in the Old Quarter is Bocca Cafe, a terrific place to have lunch or enjoy a baked treat. Bocca gets the award for having the most extensive variety of Nanaimo bars. I tried three different varieties and liked the traditional version and Bocca's peanut butter Nanaimo bar best.
The wackiest stop along the way was at Pirate Chips, where you can try a deep-fried Nanaimo bar! This wasn't my favourite dessert, but Pirate Chips is definitely worth a stop for lunch or a snack, and the chance to feel like a kid again!
For those wanting to experience a true Nanaimo bar in a more elegant setting, head over to Riso Foods Inc. located in the nearby community of Lantzville. We stayed in Lantzville, and it was nice to be so close to a beautiful location offering fresh-baked goods and wood-fired pizza within minutes of our abode. Riso is a busy place that does quite a few special events, so do call before making the drive out to avoid being disappointed.
I hope I've whet your appetite for a visit to Nanaimo, British Columbia, where you can find your own favourites. You can pick up the Nanaimo Bar Trail brochures at the Nanaimo Visitor Centre located next to the Bastion, and at any of the locations participating in the Nanaimo bar trail.
Have you been to Nanaimo? Have you tried any of the Nanaimo bar treats named above? Please join the conversation, and hope to see you on the trail!
And please note that the first volume of Chocolatour is now available in the Vancouver Island Regional Library network. Look for it, if you live near Nanaimo. We hope to have a launch of Volume II in the area when it comes out in 2021. Or at the very least, a virtual event. 😊 Be sure to subscribe so you're in the loop!