Meet Hummingbird Chocolate—Canada's most awarded chocolate maker
I often get asked by readers and friends as to what chocolate I recommend or "is the best." To help you with your chocolate shopping, and in honour of the great chocolate being handcrafted in Canada, I dedicate this post to one of my favourite chocolate makers, Hummingbird Chocolate based in Almonte, Ontario, featuring one of Canada's dedicated #WomenInChocolate.
I first met Erica Gilmour of Hummingbird Chocolate in 2013. She'd come to my Ottawa hotel room to bring me chocolate to taste, as at that time, they didn't have a factory or a storefront location. She and husband Drew were making chocolate bars in the basement of their home, and selling them at local farmers' markets in the Ottawa Valley. It was all kind of intriguing!
What a long way Hummingbird Chocolate has come in that short time, having won three awards from the International Academy of Chocolate in 2014, nine awards in 2015, and six Academy of Chocolate Awards in 2016 in addition to the coveted Golden Bean Award for "Best Bean to Bar in a dark chocolate bar." That's a total of 19 international awards in just three years! Since then, Hummingbird Chocolate has continued to wow the world each year and has won more than 100 international awards to date including six in the 2020 competition and a Silver Award in the 2020-2021 International Chocolate Awards for their former Golden Bean winner, the 70% Hispaniola bar.
What I love about Hummingbird Chocolate in addition to the powerfully pure taste, silky texture, and really cool packaging:
Erica and Drew are genuine hardworking people who are making chocolate because they love it.
The Gilmours have a really interesting history, having met while doing international aid work in Afghanistan.
Ethics and sustainability are front and centre in the philosophy of Hummingbird Chocolate. They purchase their cocoa beans directly from farmers or cocoa cooperatives that provide them with top quality organic beans.
They are always striving to expand their offerings and improve their craft by introducing new flavours of bars, perfecting the thickness of their bars, improving their packaging, and whatever it takes to meet their own high standards.
Hummingbird Chocolate is now making couverture (bulk packaging of their chocolate for use in commercial kitchens.) What a great way to spread the love and give people a chance to enjoy and re-enjoy the many flavours of Hummingbird Chocolate. You can also buy roasted cocoa beans and cocoa nibs from Hummingbird, if you're looking to taste pure unadulterated cocoa.
They are Canadian! We Canadians are known for not blowing our own horns, for our humility, and humbleness. It's so nice to see a small Canadian company making it big on the international stage.
Not only is Hummingbird Chocolate, Canadian, but they are small town Canadian! That really appeals to me, as I, too, have lived in rural small-town Canada since 1982 and know how hard it is to get noticed when you live (or work) outside of a major centre. Hummingbird Chocolate is located in Almonte, Ontario, a tiny historic community located about 40 minutes from the Canadian capital of Ottawa.
Hummingbird Chocolate won the Golden Bean award in 2016 for its 70% Hispaniola dark chocolate bar, which also won Gold in its category. It continues to be awarded for this bar, and in 2021 won a Silver Award for the 70% Hispaniola from the International Academy of Chocolate. This bar is made from Trinitarian beans grown in the San Francisco de Macoris region of the Dominican Republic and offers flavour notes of deep cherry blended with light citrus. I love it! They also offer a fabulous Reserva Zorzal bar made from the same beans grown on a bird sanctuary, but with slightly different processing, you'll taste flavour notes of apricot and pecan. So delicious.
Hummingbird works with a variety of cocoa origins including Guatemala (I loved the Alta Verapaz bar offering hoppy notes blended with bright fruit.) And in recent years, a Haitian bar, the Copán bar from Honduras, Oh Mama! bar from Nicaragua, the hot and spicy Mayan bar (now) featuring Peruvian cacao, and the Tumaco from Colombia have been added to the flavour roster. Try the delicious Dark Milk Tumaco bar which won a gold award from the Academy of Chocolate in 2020 or the new Mocha bars. You will always keep learning, and keep developing your palate with the single origin offerings from Hummingbird Chocolate.
Hummingbird Chocolate also creates an assortment of limited-supply confections such as the delicious Vodcow chocolate-covered caramels. You'll also find unique infusion bars such as the Maple Bar featuring chocolate naturally sweetened with maple sugar made from concentrated Almonte-made maple syrup and the Honey Lavender Bar featuring honey from the Ottawa Valley and lavender oil from the Prince Edward County region of Ontario. It doesn't get any more Canadian than that.
This past holiday season, I treated myself (and my friends!) to the three flavours of "chocolate salami" created by Hummingbird. The Chocolate Cherry and Brandy salami features cream and hazelnuts. I love the crunchiness of the hazelnuts, the creaminess of the chocolate ganache, and the tartness of the dried cherries and brandy. I also love the Pistachio and Date chocolate salami rolled in sesame seeds and am looking forward to tasting the Fig and Rosemary flavour over the holidays. Just three more reasons that Hummingbird Chocolate remains at the top of my Christmas list for giving and purchasing for myself.
SaveSave
SaveSave
SaveSave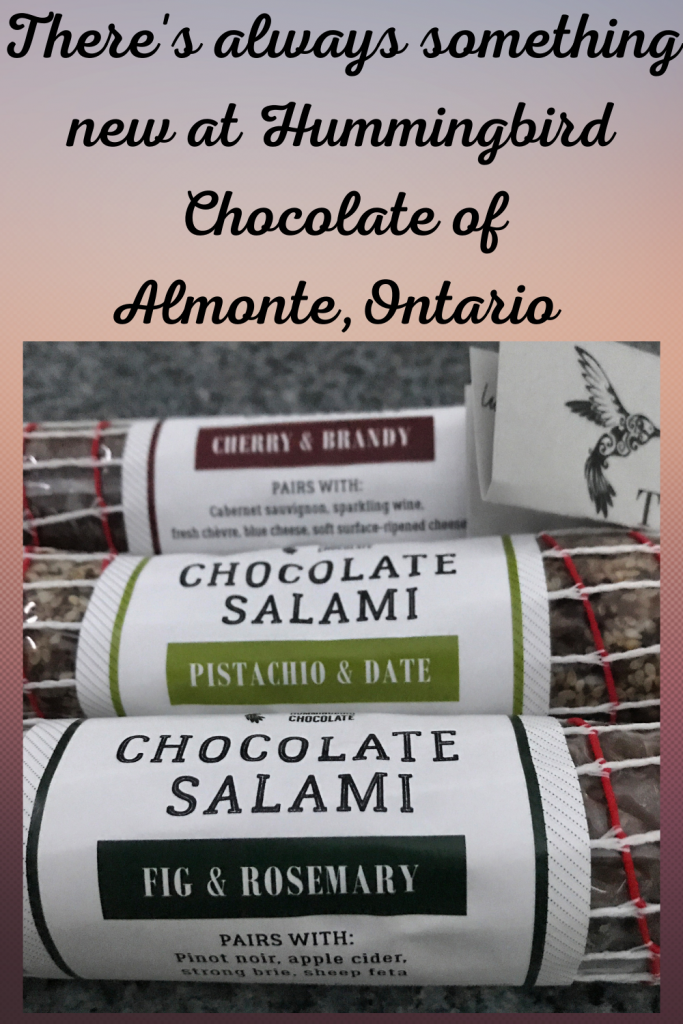 Gourmands and chocolate enthusiasts are sure to enjoy the savoury side of chocolate in these chocolate salamis. They come complete with pairing suggestions. Another thing I love about Hummingbird Chocolate. You'll find pairing suggestions with many of their products. I hope chocolate lovers from around the world will support this small Canadian company that has chosen to be "industrious, not industrial" in everything they do. They are a chocolate company built on ethics and a commitment to the sustainable world of artisanal handcrafted chocolate.
Have you tried Hummingbird Chocolate? If so, what's been your favourite flavour so far? If not, what are you waiting for?