thinking about the Dominican Republic
Every great idea was planted by a seed. And for Chocolatour, The Dominican Republic was the place that planted the seed for my desire to further investigate the world of fine chocolate back in 2009 while enjoying a holiday package to Punta Cana in the Dominican Republic.
That was a superb trip, and I'd love to go back and stroll that amazing beach again. But also to continue exploring the island, and visiting the cacao plantation where some of the finest cocoa in the world is grown.
sustainable chocolate in the dominican republic
I first became familiar with Dominican grown fine chocolate when tasting the bars, bonbons, and truffles from SpagNvola, an artisanal chocolate company now based in Maryland, USA, but founded and operated by a very creative couple from the Dominican Republic.
The chocolate bars from SPAGnVOLA Chocolatier taste like they've just come out of the jungles of Punta Cana. So full of fresh fruitiness! On SPAGnVOLA's site you can purchase a 3-pack of 70, 75, or 80% cocoa bars that are made from beans grown right on the Hacienda SPAGnVOLA Estate.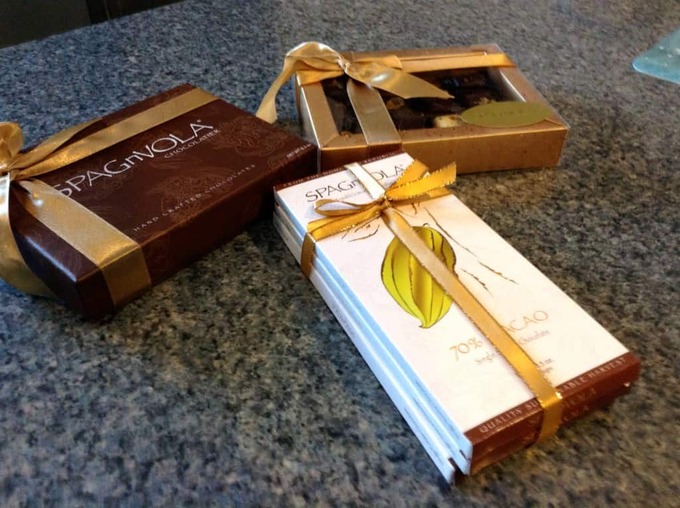 The bonbons are beautifully decorated and filled with exotic flavours such as Passion Fruit, Mango, and White Peach. And the pure chocolate truffles come in flavours that include Dominican Republic Rum & Raisin, Passion of the Sea Salt, and Jasmine Rose. All absolutely enticing!
I've since learned that there are several other great chocolate makers like Canada's Hummingbird Chocolate that are making award-winning sustainable chocolate with cocoa beans from the Dominican Republic.
If you are passionate about fine chocolate and love to travel, a visit to the Punta Cana region of the Dominican Republic is sure to satisfy on every level. Just ask the folks at your resort to help find a tour that takes you to a cocoa plantation. We took the one offered by Bavaro Runners and really enjoyed it.
And Punta Cana now has the Choco Museo chocolate museum which I hope to check out one day soon.
Have you been to the Dominican Republic? Did your visit include a stay in Punta Cana? Did you get to the chocolate museum? Have you eaten sustainable chocolate made with cocoa from the Dominican Republic?
I'd like to thank Air Transat for sponsoring this post about the Dominican Republic, an up and coming chocolate destination. Please rest assured that the information you find on this blog will always be impartial, whether it is in the form of a sponsored post, or the result of subsidized or independent travel. My job is to share my knowledge and opinion with you. Your job is to join the conversation, and share your own experiences and thoughts with us here.
SaveSave
SaveSave
SaveSave