I'm in love with Norman Love – Chocolates
This … my chocolate loving friends is the post you've been waiting for. As today, I will introduce you to one of my favourite men of chocolate in all of North America!
On our 2011 trip to Florida, I had one major goal. To meet Norman Love. I'd heard of Norman when I was at the World Chocolate Masters Championships and Salon du Chocolat in Paris in 2009. He is revered by many experts and chocolate lovers as being the finest chocolatiers in the USA.
So we made our way down to Fort Myers Beach with the kind assistance from the folks at the Lee County Convention & Visitors Bureau. I will be forever grateful to them for introducing me to Mr. Norman Love.
the artistry of norman love chocolates
Love is one of those passionate individuals who lives and breathes chocolate. His shop is a mecca for chocolate lovers. I pulled up to the Norman Love Confections shop in Fort Myers, only to find another woman taking a picture of it! I could see myself doing that, for the purposes of Chocolatour, but she was simply a chocolate lover who was documenting her journey to this place of sensual wonders.
You walk in the door to the small shop and you are blown away by colour. The packaging is so beautiful it's mouth watering! And the display of chocolates and fresh pastries is so enticing, you'll probably gain a pound or two before you even walk out the door.
But it wasn't the fanciful packaging or luscious pastries that won my heart. It was Love's BLACK Collection. A simple black box containing the most elegant and sensuous chocolate I had ever tasted.
Love is a purist in that he tries to keep flavours recognizable. In the BLACK Collection of 2011, I indulged in single-origin chocolate from five of the finest cocoa producing areas on the planet: the Dominican Republic, Ecuador, Bolivia, Venezuela and Madagascar. I have been to the DR and Ecuador, but the remainder of the locations share a place at the top of my wish list.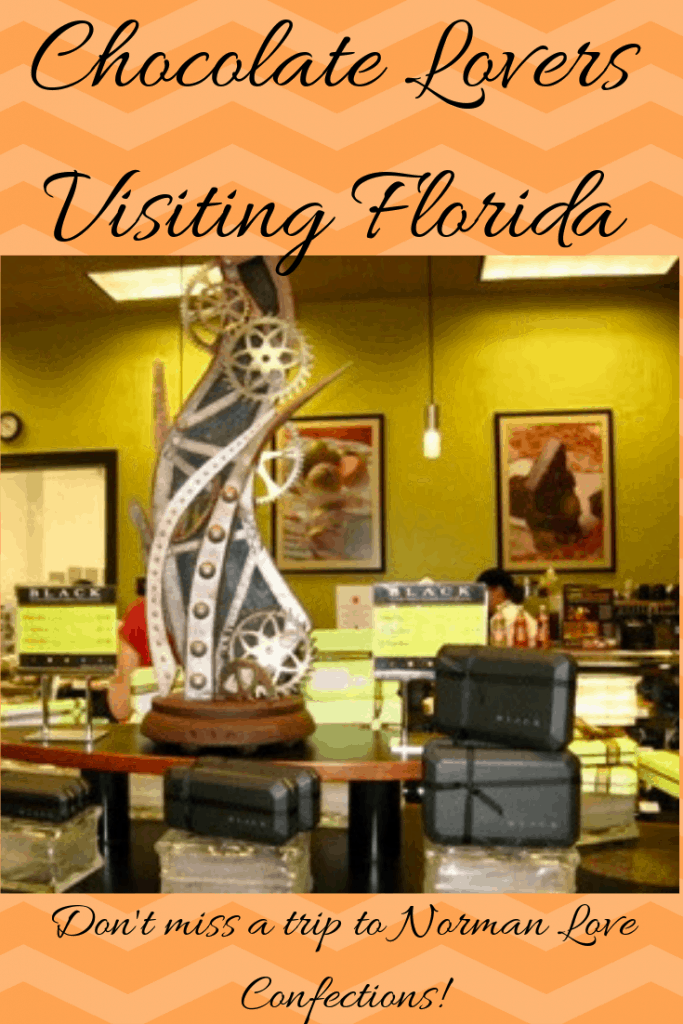 Eating that box of BLACK was one of the most intoxicating chocolate experiences I've ever had. In fact, when I was in Fort Myers tasting with Love, I admitted to him that I was getting high. The cocoa is so pure and perfect that someone like me (who is easily swept up in the natural high of dopamine) finds herself giddy like a school girl and lost in the love of chocolate. I think you diehards know what I mean.
Let's just say I loved each and every piece in that box of BLACK. But to give you a brief synopsis, the Madagascar was my favourite in the 2011 collection. It's created from 64% cocoa mass produced from trinitario beans (which possess a natural fruity flavour) blended with roasted hazelnuts and a subtle hint of clove and cedar! The Maracaibo Clasificado from Venezuela was my least favourite, but don't think I didn't like it. They were all magnificent, and make me wish I lived closer to Fort Myers so that I could be one of the regulars that Love knows by name.
An update to the original post: The 2016 Black Collection contains single origin ganaches from Venezuela (Maracaibo 88% cocoa), Tanzania (75% cocoa), Peru (74% cocoa), St. Dominique (Dominican Republic 70% cocoa), and Nyangbo (Ghana 68% cocoa). Still as beautiful and intoxicating as ever!
And in 2016, Norman Love introduced some delightful new Infusion Chocolate Bars that are worth checking out. I loved the Marcona Almonds and Pine Nuts Bar. Paired with a fine glass of Pinot Noir red wine, it was irresistible!
So all this deliciousness concludes that eating Norman Love Chocolate provides you with the kind of natural high we all seek in the days of our lives. Look for his shops in Fort Myers, Naples, and these additional locations throughout Florida. And if you live in the US, you can order online. Cheers in chocolate love.