Kailua is King of Hawaiian Chocolate
Before we began chocolatouring around Hawaii, I hadn't previously heard of Kailua–a community located within Honolulu County and just 12 miles northeast of the metropolis of Honolulu city. But the small town of about 38,000 residents is a world away from the hustle and bustle of Honolulu and has a bit of the country feel you'd find in a Midwest town of the same size. What makes Kailua different (besides the beautiful beach) is the chocolate!
Within the course of a few blocks, we visited the three chocolate shops I mentioned in the previous post: Manoa Chocolate Hawaii, Madre Chocolate, and Kokolani Chocolates. Each of these is very different and well worth a look.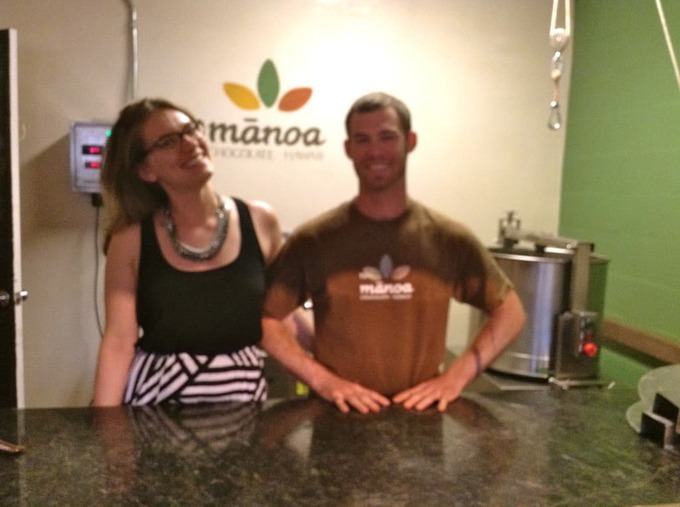 I love Manoa because it is the labour of love of a young couple in love. Hawaiian-born chocolate maker Dylan Butterbaugh and his finance Tamara Armstrong lead the creative team at Manoa. Tamara handles most of the marketing and Dylan is the chief chocolate maker. They make a super cute couple and some incredibly tasty chocolate. My favourite is the Breakfast Bars made of a 60% "dark milk" chocolate and Hawaiian-grown crushed coffee beans. Unfortunately, due to a shortage in local supply and the high price of Hawaiian-grown cocoa (as much as 4x the price of fine cocoa from any other part of the world,) Manoa uses cocoa beans from Costa Rica, Liberia, and Papua New Guinea to make most of their chocolate. I love the crunch of the Breakfast Bar with cocoa nibs and coffee beans to give your day the kickstart it deserves. (Coincidentally, Manoa used Kickstarter crowdfunding to purchase new equipment for its operation in 2012.) You can take a tour of the tiny Manoa "factory" and learn more about their operation while you taste the different products in their lineup.
Madre Chocolate is similar to Manoa in that they focus on producing excellent chocolate bars from the best quality cocoa beans they can acquire from numerous sources around the world. My favourite Madre creation is the Triple Cacao bar that features chocolate made from cocoa grown in the Dominican Republic along with pieces of cocoa nib, cacao pulp from Brazil, and vanilla bean from Mexico. It's one of the best bars I've ever had, as the tiny chunks of cacao pulp really add a new dimension to the bar. Madre has a super small chocolate workshop in Kailua and now, a larger location in Honolulu's China Town. Keep your eye open for more Madre chocolate to contain locally grown beans, as they've already begun working with beans from Hamakua and Holualoa on the Big Island and Waiahole on Oahu, and hope to continue increasing the Hawaiian component of their chocolate over time.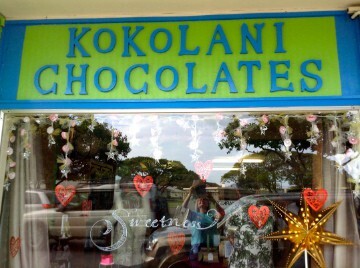 Kokolani Chocolates used to be a favourite among chocolate lovers visiting Kailua. Chocolatier Virginia Douglas is a Master Chocolatier and graduate of Ecole Chocolat. She uses some chocolate couverture from Valrhona, but specializes in uniquely Hawaiian chocolate creations such as exotic truffles. Some of my favourites from Kokolani include the Blond Chocolate Caramels and the Kokolava made from Waialua Estate Hawaiian dark chocolate, pineapple, macadamia nuts, and coconut. Virginia is a true chocolate artisan with an uncanny ability to blend flavours and design chocolate delicacies that are as beautiful to look at as they are to eat. In 2016, Virginia purchased Sweet Paradise Chocolatier from Melanie Boudar and moved to Maui, so her Kailua shop is no longer open.
You can visit each of these terrific chocolate makers in their shops. I also visited their booths at the Hawaii Chocolate Festival in Honolulu. Detailed profiles of each of these uniquely-Hawaiian chocolate artisans will be contained in Volume II of Chocolatour.
Have you tried any of these chocolate creations? Have you been to Kailua? Please share your thoughts here.