book review: Eat Chocolate, Lose Weight
I don't do a lot of book reviews on this site, but couldn't resist the opportunity to review this one as the topic of chocolate is so close to my heart. And Lord knows … I eat a lot of chocolate in accordance with my research for Chocolatour, so learning how to better manage my weight is always welcome knowledge. Especially if eating chocolate is the key!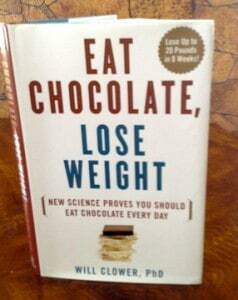 what did I like about this book?
The subject matter, of course! The author, Will Clower, PhD., shows us that we have the choice to make chocolate good for us by eating solid, pure dark chocolate OR letting it continue to be bad for us by eating chocolate candy filled with additives, preservatives, and impurities. Clower also keeps reminding us that we are in control of how we eat our chocolate. i.e. Whether we purposefully seek out chocolate that will improve our health or whether we let our sweet tooth take control and entice us to eat impure chocolate that is detrimental to our health. Each chapter of Eat Chocolate, Lose Weight contains the success story of someone who lost weight using the book's recipes and suggestions. Each person provides one of their own "chocolate tips" about how they best enjoy their chocolate.
what did I learn from this book?
– Pure cocoa does not lose its health benefits over time. Clower tells us that 80-year-old cocoa powder is nearly as powerful with antioxidants as cocoa that has been processed this year.
– Adding real foods like nuts or berries doesn't detract from the healthfulness of chocolate. Adding sugar-based ingredients such as caramel or nougat definitely does detract from the healthfulness of the chocolate and should be avoided.
– Adding pure vanilla or vanilla bean to chocolate is OK as vanilla beans contain many nutrients. But adding vanillin is bad, as it is an artificial chemical-laden derivative of vanilla.
– Although coffee and cocoa beans grow in similar conditions and are similarly fermented, dried, and roasted, what's really different about the cocoa is that it has a natural component of about 50% fat in the form of cocoa butter, whereas coffee only contains about 10% fat. Therefore, how the beans are roasted is quite different.
– The highest level of antioxidants is found in unripened cocoa beans, which is why you see Green Coffee Bean Extract blended with Green Cocoa Beans marketed as a weight management supplement sold in health food stores.
– The natural fat contained in cocoa enables the body to absorb the antioxidants up to 50% more efficiently.
– The healthy fats in cocoa make you feel full and satisfied faster.
– Only dark chocolate is good for you. The good fat found in cocoa modestly decreases while the amount of sugar dramatically increases as you decrease the cocoa percentage in a chocolate bar. So if you eat a high percentage chocolate of 90% cocoa, you consume the same number of calories as in a 50% cocoa bar, but in the 50% bar they will be bad calories comprised of 84% more sugar and a very small reduction in the fat.
– The average American now consumes nearly 160 pounds of sugar per year. This is significantly higher than we ate in previous generations, and much higher than other 'healthier' cultures such as Japan.
– Cocoa contains protein! There are approximately 8-9 grams of protein in a 70% cocoa standrad-sized chocolate bar.
– Cocoa is also a good source of fibre. There are 32 grams of fibre in one cup of cocoa powder or 4 grams of fibre in a 70% cocoa chocolate bar.
This book contains many more interesting facts and tidbits about how eating dark chocolate can improve your health and help you lose weight. Eat Chocolate, Lose Weight is published by Rodale Inc.
Do you eat dark chocolate daily for your health? Clower insists that if we are to reap the benefits of dark chocolate, we must eat it daily, and in modest amounts of approximately 1-1.5 ounces. I've taken to eating cocoa nibs on and in my food and regularly enjoy a teaspoon of crushed cocoa nibs on my morning yogurt, in smoothies, and in recipes such as chile and savoury sauces. Do you have a chocolate secret or tip you'd like to share?