a profile of Executive Chef Hubert Des Marais IV
Every once in awhile I have the opportunity to meet a chef who is really doing something special, and that happened on my recent visit to the Big Island of Hawaii. In this post I talked about how much we loved staying at the beautiful Fairmont Orchid resort on the Kohala Coast. This man was partially responsible for the deliciously chocolate focus of our visit.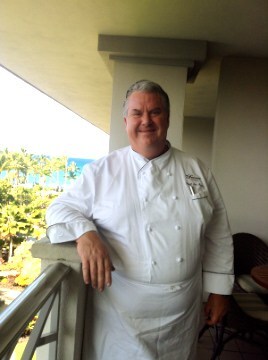 "Freedom is king," says Chef Hubert Des Marais IV of his global career
Born in Virginia, and growing up in North Carolina, Des Marais developed an early interest in fine cuisine. He worked in Mexico and studied how to make the perfect molé (savoury chocolate sauce.) He oversaw a group of properties in East Africa and got deeply interested in the world of cocoa there, and when the opportunity arose to relocate to Hawaii, he embraced it. "I really enjoy the flavours of the Banana Belt," says Des Marais. "Wherever they grow cocoa, there's always good coffee and tropical fruit."
So Des Marais made the commitment to work with what was grown locally, and find the best of what Hawaii had to offer. "My biggest challenge here has been our remoteness. It makes it very expensive to import products. When I came here two years ago, the resort was only using 30% local produce. We're now up to 80%. The Aquaculture Center provides us with our fish, and local farmers and growers provide the rest. The only thing we can't get locally is chicken, as there is no USDA slaughterhouse for poultry on the Island of Hawaii."
One of the local specialities who will find featured at the Fairmont Orchid is fish crusted with cocoa nibs. "Hebi (shortbill spearfish) and other stronger fish such as monchong and striped marlin (also called nairagi) pair very well with cocoa," says Des Marais. "We either coat the fish in cocoa-flavoured sea salt or keep it coarse with crunchy nibs." Des Marais has 50 cocoa trees of his own growing in his orchards, and is continually experimenting in combining local flavours. "Acidic fruits such as passionfruit go really well in a salsa with pieces of chocolate or cocoa nibs," he says. "And I like to blend flavours of coffee and chocolate with meats such as lamb."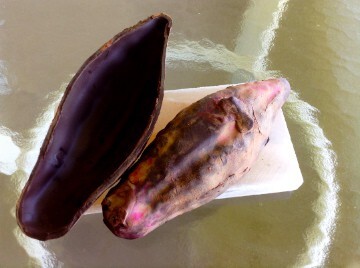 The chocolate cocoa pod above shows why the Fairmont Orchid is the perfect place for chocolate connoisseurs! Des Marais and his culinary team–which includes seven sous chefs (one of which is a dedicated pastry chef and chocolatier) and 78 cooks continually stretch the boundaries of their creativity to keep the culinary offerings exotic, enticing, and satisfying. Here's hoping I'll have the opportunity to return again soon for more of their cocoa cuisine.