talking chocolate in Kingston, Ontario
I had the great pleasure of giving a chocolate talk on Chocolatour and my chocolate travels at Sugar Swan, what was locally known as 'Kingston's Best Candy Store.' You might wonder what Chocolatour would be doing in a candy store, but I assure you. In addition to a wide assortment of candy and confections, Sugar Swan offered terrific handcrafted artisan chocolate provided by Ridgway Confections, (With regard to the packaged candy, I particularly enjoyed the GooGoo Cluster made by the Standard Candy Company of Nashville, Tennessee.) If you like peanut butter, this one's a winner!
I'd never been to Kingston, Ontario, before and wasn't sure what to expect. From what I saw, they have a lovely waterfront park–which I'm sure is most inviting spring through fall. But I happened to be (un)fortunate enough to have hit Kingston the night of a snowstorm, and so the turnout to our chocolate event was much smaller than anticipated.
The wild weather didn't dampen our spirits! It gave me more time to get to know Ken Suitor and his wife Tanya, who are the proud owners of Sugar Swan. The big smiles of these two young chocolate lovers is reason enough to visit the store.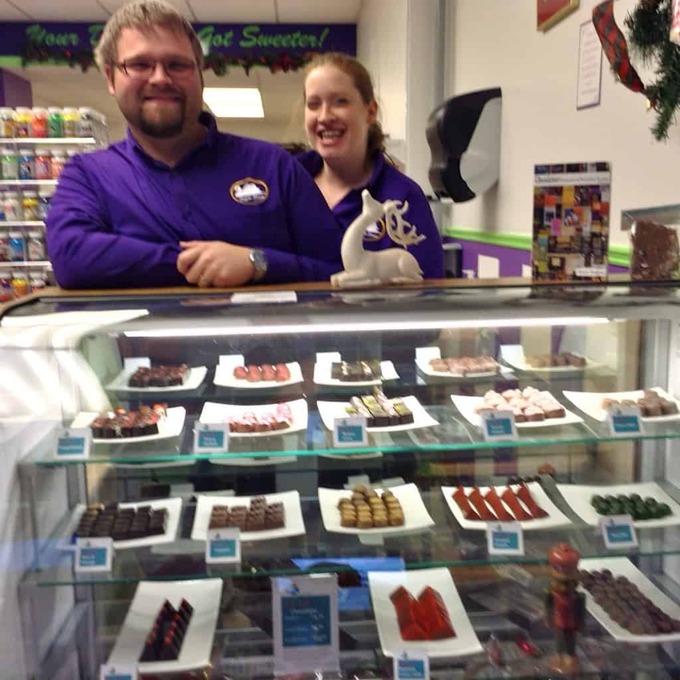 great chocolate in kingston ontario area
But for adamant chocolate connoisseurs, there's an even better reason. Sugar Swan carried the delicious chocolate creations of Ridgway Confections, a company headed by chocolatier Derek Ouellet and his wife Cindy Healy, who looks after marketing for the company and is also the genius when it comes to blending spices.
"I love playing with spices," says Cindy, who created the 12-spice Madras ganache made from cardamom seeds, curry, mustard seeds, and coconut cream mixed with white chocolate and 72% dark chocolate. The Madras chocolate cream offers an unforgettable blend of flavours, a mild heat, and artful appearance. Definitely my favourite in the Ridgway product line.
Derek uses maple syrup to sweeten his chocolate and confections, and plans to transition from making his chocolates out of processed cocoa nibs to making it right from whole cocoa beans. I have no doubt that will take Ridgway to a whole new level.
The creativity and artistry already found in Ridgway's offerings include macadamia nuts covered in powered sugar, dark chocolate bars topped with sour cherries, and the aromatic Wendy Bar made from cocoa grown in Ghana–all handcrafted in a chocolate workshop attached to the 1896 house in nearby Seeley's Bay where Derek and Cindy live.
Since my initial visit to Kingston, Sugar Swan has closed, and Ridgway Confections has opened its own shop at the front of 159 Main Street in Seeley's Bay. At present, it is only open to the public on weekends as it is also the residence of Derek and Cindy.
Their future plans are to transform their historic residence into a chocolate-focused Bed & Breakfast. What a delicious experience that would be!
Thanks to my friend and Chocolatouring companion Christine Peets of Napanee, Ontario, for introducing me to Ridgway Confections, which she discovered at a local craft fair.
SaveSave
SaveSave