the messy baker — book review
I met Charmian Christie a number of years ago in Toronto at a PWAC conference. I immediately liked her warmth, sense of humour, and smile. And over the past few years, I've loved receiving posts via her Messy Baker blog. Now … I'm able to enjoy some of those favourite recipes in Charmian's new book, The Messy Baker.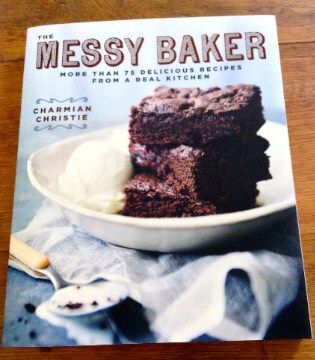 I absolutely love this book. I love the feel of the cover and the high-grade coated paper. I love the beautiful colour photography that brings the recipes to life. And I love the fact that it is written by a friend and colleague who has worked hard to establish herself as someone who has fun in the kitchen while creating easy to make signature dishes of all types.
I've never liked baking because you have to be so precise. Charmian's recipes are written with me in mind. They let you know when it's important to be exact on ingredients or precise on measurements. And they let you know when you can just have fun and experiment without worry.
The Messy Baker offers a wide variety of offerings from savory basil and aged cheddar scones to rosemary, apricot, and pistachio crisps to a wide variety of recipes featuring chocolate — including the delectable deep dark cherry and chipotle brownies featured on the cover of the book.
And there's a whole lot more chocolate to please chocolate lovers like me. The book explains how to make chocolate sauce, how to deal with chocolate in the kitchen, and even how to make chocolate-tipped cigarettes!
With the holiday season just around the corner, keep The Messy Baker in mind if you want to stretch or polish your own abilities in the kitchen, or if you want to please someone who does like to create culinary delights by gifting this book. Who knows … the gift may just end up giving back to you by tantalizing your taste buds over the holidays. Enjoy!