travelling with culture in mind
Nuit Blanche Gimli
I had the pleasure of being the culture guide on September 27, 2014 in Gimli, Manitoba, for the town's inaugural participation in Nuit Blanche, the annual night-time culture tour that is free and designed to immerse participants into a collage of cultural opportunities and venues to fill their senses with pleasure. Our first crack at Nuit Blanche was a great success, and Gimli's event was chosen as one of the Top 10 Nuit Blanche in Canada in 2014. We did it again this weekend on September 26th, 2015, October 1st in 2016, and September 30th, 2017.
Nuit Blanche Gimli is being organized by representatives of Gimli's cultural scene in cooperation with the folks at Culture Days Manitoba, and how special we felt knowing that Gimli was the only place in Manitoba outside of Winnipeg to have a Nuit Blanche event in 2014 (although several other communities did participate in Culture Days.)
Nuit Blanche is a cultural event that was first launched in Nantes, France, back in 1984, and can now be found in more than 120 locations around the world. Although we don't go all night as some Nuit Blanche events are said to do–thus the name meaning "white night" as the lights are on throughout the night–Nuit Blanche has been extended for 2015 to go well into the night. Some venues in Winnipeg and abroad lived up to the name, but our local Gimli tour runs from 7:30-9:30 p.m., with additional events continuing until 2 am at the Ship & Plough.
We'll begin at 7:30 pm at the A-Spire Theatre, A Gimli landmark venue that houses many cultural events such as live performances and readings by authors. Last year's sketch was, "GPS – An Auto Erotic Comedy!" In 2014, we were treated to a sketch called "Louis and Dave" by playwright Norm Foster that has us rolling in the aisles. Performances at the A-Spire are always filled with energy and inspiration. Can't wait to see what they have in store for us this year for Nuit Blanche.
Those who love melodic music were thrilled with the next stop on the tour, as we were whisked away to the land of bliss, listening to Deborah Romeyn's concert at the New Iceland Heritage Museum. You can get a taste of Deb's music on her site. Some folks enjoyed perusing the quilt show that was featured at the museum, but you couldn't tear me away from the music.
We then made our way to the Gimli Art Club, where artist Warren Wenzel was waiting for us with his chainsaw! In addition to stoneworks (also on sale at the GAC) Warren is a master of chainsaw art, and showed us how he carves a pelican out of a stump of wood. Inside the art club, tour participants could create their own mini painting with guidance from members of the club. This year, the GAC is hosting "Art by Moonlight" from 7-10 pm.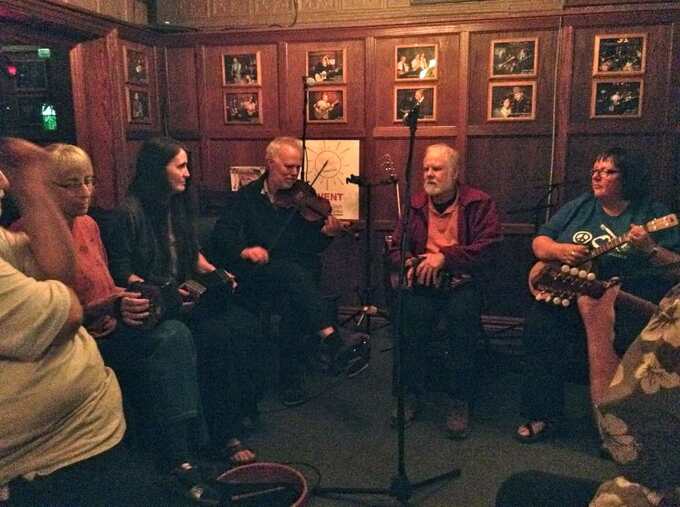 The final stop on the 2014 tour was to the Ship & Plough Gastropub, where we caught the tail end of a performance by Hammer's Music School (pictured above.) This year, the Ship & Plough if offering free Music workshops from 7 pm until 2 am, so there is bound to be something to appeal to everyone, no matter what time you drop in. Our tour will be there at 7:50 pm this year.
Nuit Blanche Gimli is a great success. I was thrilled to be a part of it from its beginnings in 2014, and have been happy to be the guide since then. Hope to see you there! Meet me at the A-Sprire Theatre at 7:30 pm to be part of the tour, or take in any of the events on your own schedule throughout the evening.
We'll be hash tagging on Twitter as #NBGimli. Look for it, and participate in the tweet-up on Saturday, October 1st to be part of the spirit even if you can't join us.
Have you participated in a Nuit Blanche or Culture Days event? How was it?