10 Reasons to Love When Words Collide Festival for Readers and Writers
Bring together 750 writers of various genres in Calgary–one of Canada's most vibrant cities–and it's bound to be a great event. But When Words Collide–a Festival for Readers and Writers truly exceeded all my expectations. It was fabulous in every way. Here are a few photos that help illustrate why.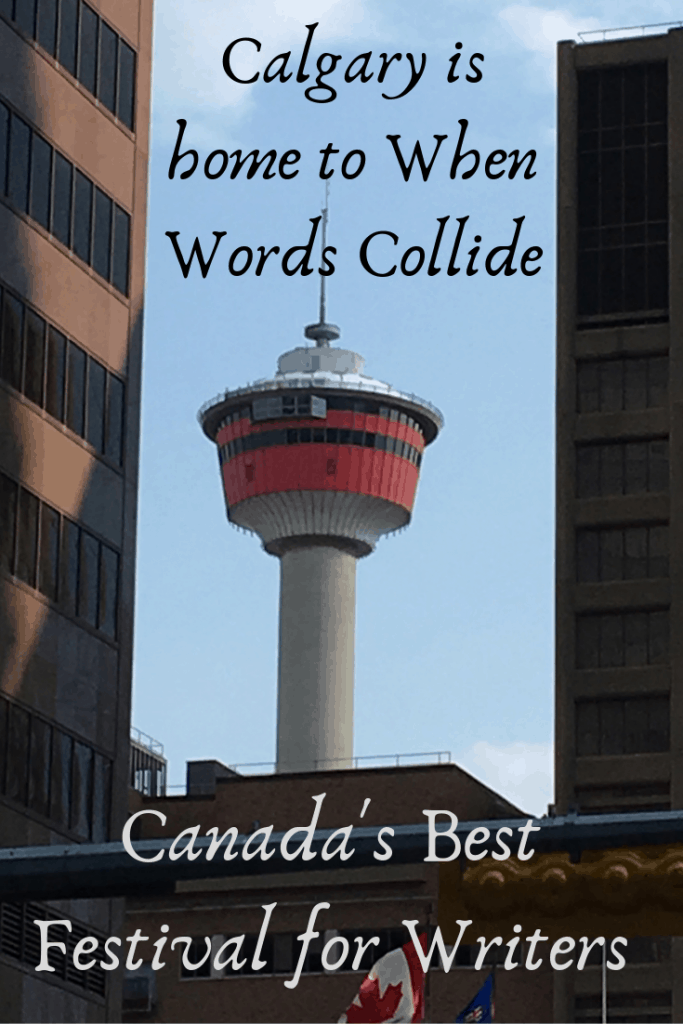 Here are 10 reasons why anyone who loves writing and reading will love When Words Collide (WWC):
It's grassroots run. Founder Randy McCharles started this event in 2001, and continues to work with a team of organizers to maintain WWC's vibe as informal, accessible, and ever-evolving to keep it as a top draw among Canada's annual literary events.
It's cheap to attend. If you buy your event pass well in advance, you can get it for as low as $45 Canadian. That gives you access to all events over the course of the three days other than the banquet, for which there is an additional charge. PHENOMENAL.
It's extremely well organized. The program can be found online, and is updated as you draw closer to the event. When you arrive, you receive a well-organized printed program listing all the speakers, presentations, and social events, plus a map of the venue.
The venue is perfect for an event of this type. The Delta Calgary South Hotel is located just 15 minutes from downtown Calgary, has two hotel towers with comfortable guest rooms, great amenities, and an affordable rate for WWC attendees.
There are plenty of opportunities to network (and have fun!) outside of the formal program time with fellow attendees, as well as with the presenters.
WWC makes it easy for authors to sell their books. No charge to participate if you have a pass. The only requirement is an hour of your time to volunteer at the book table during the course of the event. This is truly a writer-friendly event that helps authors connect with readers without a prohibitive overhead or administration fee.
There is a no-pressure "Merchants' Corner" (which is actually a separate room containing the communal book table) where vendors and service providers can chat informally with attendees.
The vibe is friendly and inclusive. It was my first year attending, so I knew very few people at WWC. But I immediately felt welcome, and that everyone was equal, without any undertones of elitism.
The opportunities to learn are endless. I attended sessions on branding, podcasting, self-publising, working with agents, ergonomics for writers, understanding publishing contracts, a publishers' panel, and more. I served as moderator for a panel on non-fiction freelance writing presented by the Professional Writers Association of Canada. There was not one session that I attended that was not worth my time.
You get a chance to visit Calgary and its surrounding areas. I'll do a future post on the highlights of a quick visit to Calgary, but keep in mind that it is just over a scenic's hour from Canmore, and just 75 minutes from Kananaskis, 80 minutes from Banff, and 90 minutes from Drumheller and the Royal Tyrrell Museum.
Have you attended WWC? Please share your comments here, and what advice you may have for anyone planning to attend.
With luck, I will see you in Calgary at the 2019 When Words Collide Festival for Readers and Writers, August 9-11, 2019. WWC prefers not to call themselves a writers' conference, but in many aspects, it is. Just much more informal than the majority of writers' events I have attended.