exploring Cuban cuisine in Baracoa
In my previous post, I shared with you the excitement and trepidation of journeying along La Farola as we headed toward Baracoa. It was indeed worth the fear of facing the countless hairpin curves that led us to the Baracoa, Cuba's first European settlement. In this post, I'd like to give you a taste of Baracoa, to overthrow the myth that Cuban cuisine is dull and boring.
Cuba had been settled by the Tainos indigenous people who called their settlement Baracoa (meaning "beside the sea.") Christopher Columbus landed on this site in 1492 and dubbed the site as "Porto Santo." It was later renamed "Our Lady of the Assumption" by the Spanish in 1510 but the indigenous name took precedence when Cuba achieved its independence.
One of the must-see attractions in Baracoa is La Punta, the site of an 18th century fortress located on the Bay of Baracoa that is now run as a seaside restaurant where I enjoyed a lunch and dinner while in town. The views from La Punta are breathtaking, and the food is good, too. I enjoyed a lunch of roast pork, a dinner of sautéed shrimp, and a fabulous dessert that featured a dark chocolate leaf and a burnt sugar bowl filled with chocolate ice-cream that was a chocolate lover's delight.
enjoy authentic cuban cuisine at any of the casa privalos (privately owned and operated restaurants)
Another independent restaurant (paladares) that I thoroughly enjoyed in Baracoa was Restaurante Calalú where I experienced some local cocoa cuisine. Restaurante Calalú offers grilled chicken or roasted pork with a cocoa sauce (salsa de cacao) featuring pure cocoa powder mixed with water. I really enjoyed the grilled chicken served with the salsa de cacao at Restaurante Calalú in Baracoa. It was tasty, savoury, and not sweet at all. This is one of the best and busiest restaurants in downtown Baracoa (7-8 pm is the busiest hour) so be sure to consider that in your plans.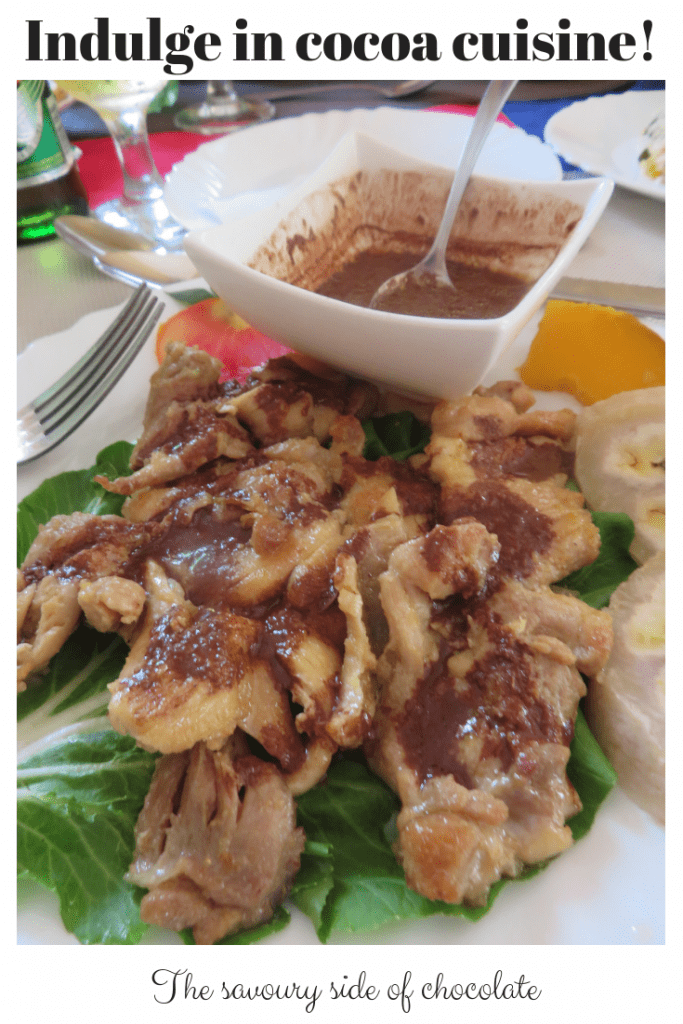 I hope this post has helped dispel the myth that Cuban cuisine is not worthy of your attention. It truly is. But you must remember that to experience it, you have to get away from the beaches and buffets of the tourist resorts and get yourself to one of the paladares located throughout Cuba. Or stay at one of the fabulous casa particulares such as Villa Paradiso Baracoa, where I also enjoyed some tremendous–and authentic–meals during my stay.
Thanks so much to the Cuban Tourism Commission for covering the costs of my travel and providing me with an amazing guide and driver for the duration of my stay.