Villa Paradiso Baracoa — The Gem of Cuba's Cocoa Country
Some people think I spend too much time on social media. But if I hadn't participated in the #FoodTravelChat on Twitter earlier this year, I never would have connected with Roberto Jovel, an El Salvadorian now living with his Cuban partner Manuel Riquenes in Baracoa, a small town in the heart of Cuba's Cocoa Country. Roberto and Manuel are the owners and hosts of a Casa Particular called Villa Paradiso Baracoa, a guesthouse located in the heart of Eastern Cuba.
villa paradiso baracoa is a beautiful casa particular in eastern cuba
I'd never stayed at a Casa Particular before, though I have stayed at B&B's and guesthouses in various places including Maui and Costa Rica. A Cuban Casa Particular can be either. It can be a simple room in someone's house as in a B&B or the AirBnB concept. Or it can be quite elaborate accommodations with incredible dinners at an additional cost, as in the case of Villa Paradiso Baracoa. The basic room charge is about $20/night. What a deal!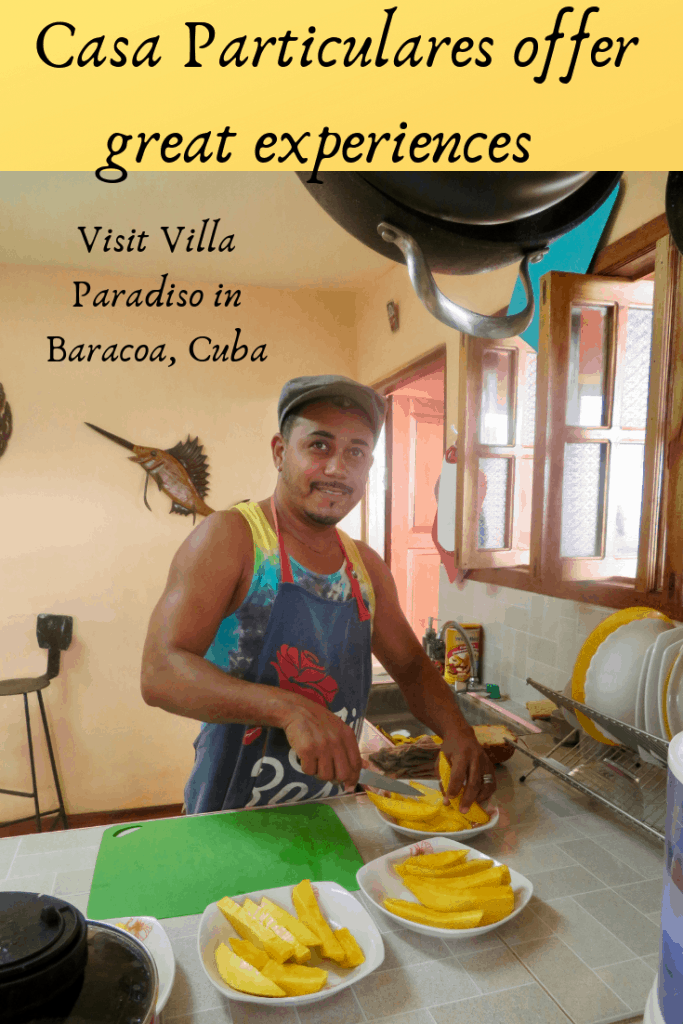 I was very pleased with my accommodations at Villa Paradiso Baracoa and stayed in two different guestrooms during my five-night stay. Both were terrific, with views of the town and Miel Bay. It was spotlessly clean and quiet, with an international clientele to share stories with. During my stay, I met other travellers from France, Switzerland, and Italy. (Roberto speaks fluent English, Spanish, and French.) There are three guest rooms in total that can accommodate up to eight people.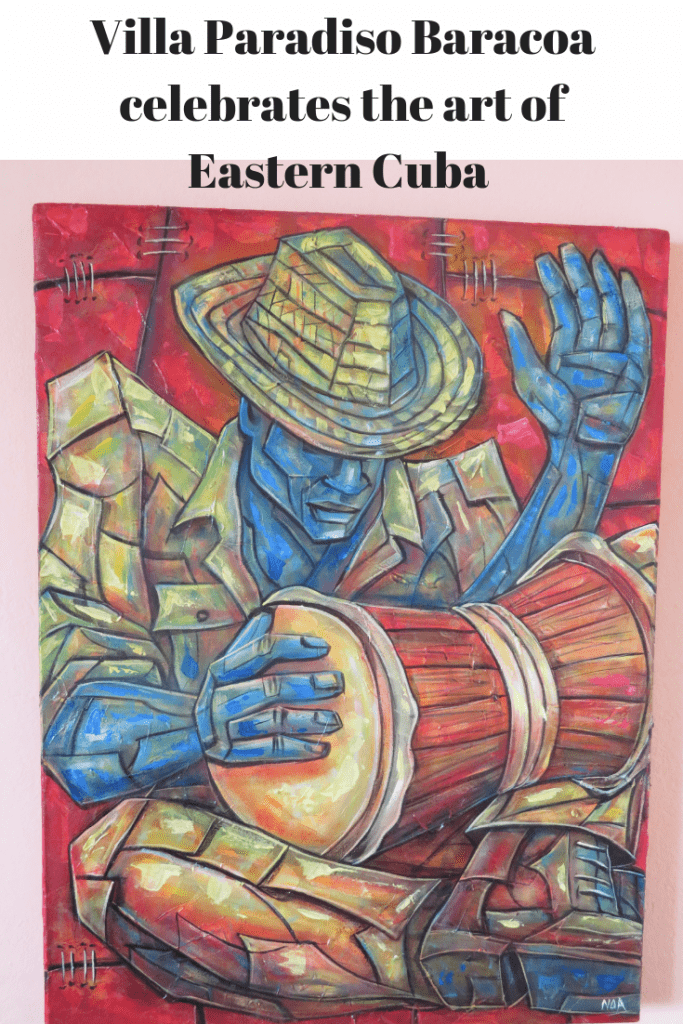 There are many gorgeous pieces of art hanging throughout the Casa Particular, giving the main part of the house a gallery-like feeling. But Villa Paradiso didn't start out that way. Roberto and Manuel personally guided the renovation process from an ordinary and fairly modest house in the area, to the masterpiece it is today.
Roberto and Manuel adapted concrete staircases to the limestone rocks at Villa Paradiso. That was no easy task, as the villa is situated on very uneven terrain. And they hand painted all the locally made rattan and wood furniture. It is truly a labour of love. But word is getting out! Villa Paradiso Baracoa was even full during the hot humid summer (I visited in July.) So be sure to reserve your room as far in advance as possible.
I truly want to thank Roberto and Manuel for inviting me to come stay at Villa Paradiso. It was one of the highlights of my visit to Eastern Cuba. And thanks again to the Cuban Tourist Board for orchestrating my itinerary, financing my travel costs, and providing me with a driver and translator/guide for the entirety of my trip.
Have you been to Baracoa? Have you investigated Cuba's Ruta del Cacao? Have you been lucky enough to stay at Villa Paradiso Baracoa? Please join the conversation. And stay tuned for more about my journey through Eastern Cuba.