acknowledging our accomplishments
As we're just six weeks from saying so long to 2013, I've begun reflecting back on the 11 months that have passed.
It had been my assumption that 2013 was not a good year for me. Everything seemed to take so much effort, and take longer than I had hoped. But when I looked back, I saw that I actually achieved my major goals for the year:
1) to charter a new Toastmasters club;
2) to achieve my Distinguished Toastmaster Award;
3) to self-publish my chocolate travel book.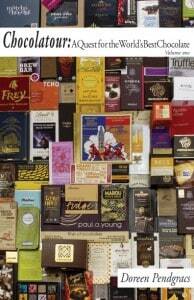 I realized that I had indeed met my goals and that 2013 in fact had been a good year that taught me many new lessons and skills.
Each of the three goals listed above were all long-term goals that took a lot of work, determination, and tenacity.
It took me nearly four years to research and write the first volume of Chocolatour: A Quest for the World's Best Chocolate. But how was I to get it into print? Any agents or publishers I spoke to were intimidated by the fact that it would be an expensive book to produce, as I wanted it filled with colour photographs. So I decided to publish it myself, as I didn't want any corners cut. I knew how I wanted the book to look and feel, and I would find a way to make it happen. I turned to crowdfunding in March, and launched a 30-day campaign on the Indiegogo.com platform. In a matter of 30 days, I had raised $8,000 via online and private donations–enough to pay for the design and editing costs, and a small print run of 300 copies of the book.
Crowdfunding was one of the hardest things I've ever done. You'll find several posts on the subject on this blog listed here. I am happy to have had this challenge, and pleased with the results. And now that Kickstarter is available to Canadian residents, who knows? There may be another campaign down the turnpike.
Then there was the process of proofing the book and getting it printed. Yes, we made some mistakes and they are now being corrected with the second print run to be delivered in the next few weeks. But all in all, I'm very proud of the book and am pleased that the response has been very positive from readers. Once I have the perfected version in my hands, it will be distributed to major media and hopefully … garner some major attention. Afterall, the saying is,"Nine out of ten people like chocolate and the tenth is lying."
Starting the new Toastmasters in the Arts club was also quite the challenge. It took a full year of encouraging members of the local arts community to come out and embrace the idea of a club that would help improve their listening and presentation skills. For the most part, artists and writers are solitary souls and not joiners. That was the biggest hurdle to clear on this project. Money was a factor as well. We were charging $120 for new members back in September, 2012. That is a lot to self-employed writers and artists. As the months went by and we were able to pro-rate the dues, we drew in more members. And finally, on September 25, 2013, we reached the 20-member mark, and were eligible to become a chartered club of Toastmasters International.
Achieving the goal of chartering a new Toastmasters club enabled me to complete my High Performance Leadership Project and qualify to apply for my Distinguished Toastmaster (DTM) Award. I received that in the mail this month, almost 12 years to the day after first joining Toastmasters. During that time, I delivered approximately 50 speeches and educational presentations, and took on the roles necessary to qualify me for a DTM.
So, all in all, I'd say that 2013 was a pretty good year for me.
How has it been for you? Have you achieved the goals you set out for yourself? Has it been easy sailing, or have you encountered some storms along the way?
I look forward to hearing from you. The conversations we have on this blog make blogging a worthwhile and enjoyable part of my week. Please join us back here the week of November 25th for our next new post.