Dandelion Chocolate is one of San Francisco's finest chocolate makers
As much as I enjoyed touring around San Francisco and Oakland, I had to stay focused, as the primary reason for my recent trip was to meet some of the chocolate makers whose fabulous chocolate creations had impressed me to the point that they became winners of several awards in the first volume of Chocolatour. On the top of my list were TCHO New American Chocolate and Dandelion Chocolate, two bean-to-bar operations in the heart of San Francisco. (Both companies have grown since my 2013 visit and have moved to larger facilities.)
dandelion chocolate has a funky cafe and great brownies
I'll begin with Dandelion Chocolate, a small company that in 2012, opened the doors to its funky cafe and chocolate factory on Valencia Street in the Mission Street Neighbourhood of San Francisco. I gave Dandelion a Chocolatour Award in volume I for "Best presentation" in the chocolate bars category to acknowledge the beauty and attention to detail that goes into wrapping its exquisite chocolate bars. Everything at Dandelion is done by hand (with the assistance of simple machinery) and the result is a level of freshness and excellence in the pure and simple chocolate bars it produces.
We met with co-owner Todd Masonis and tasted the Dandelion line-up of beans, including the 70% Ambanja Madagascar bar–my favourite as well as Todd's, who tells is that the fruity flavour of the Madagascan beans will vary from year-to-year, sometimes highlighting strawberry notes, sometimes cherry, but always highly acidic due to the aggressive drying process that occurs in the hot Madagascan sun.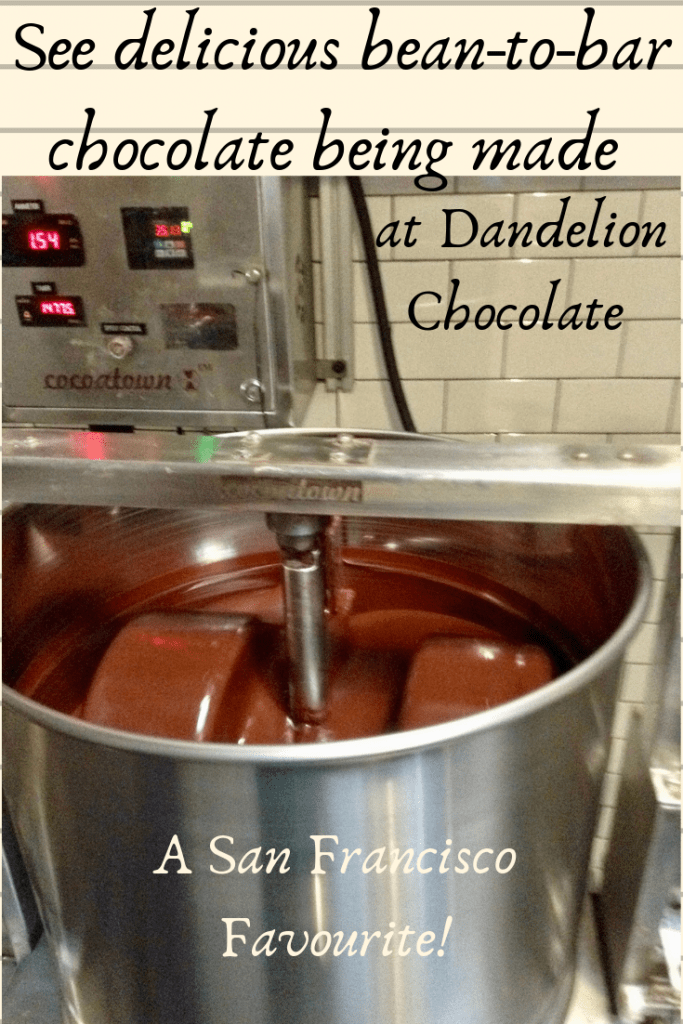 The cocoa beans are hand sorted so that the imperfect ones can re rejected as Todd says they've experimented and made chocolate with some imperfect and cracked beans included and you could tell the difference. So only the very best beans and pure cane sugar are used to make Dandelion Chocolate. I hope you'll get a chance to visit Dandelion soon and try some. Please note that in 2019, Dandelion Chocolate opened a new factory and expanded cafe at 16th Street at Alabama Avenue in San Francisco. I've not yet been there, but plan a return trip as it's time to restock my Dandelion Chocolate supply. My friends loved the tasting journey I treated them to some time back.
Another bean-to-bar California chocolate maker that really impressed me is TCHO New American Chocolate. I profile them in this post.