an enticing visit to the cacao bean lab of soma chocolatemaker
Canada's largest city of Toronto is a fabulous place to seek out great chocolate. My favourite is SOMA chocolatemaker, for the quality and creative variety of their chocolate offerings, the artfulness of their eco-friendly packaging, their dedication to the environment, their respect for the chocolate industry as a way of life for everyone in the production chain, and their great online store that is currently offering free shipping in Canada (subject to a $50 minimum order) and will also ship outside the country. WOW! For chocolate lovers like me, that's a whole lotta reasons to love SOMA Chocolate.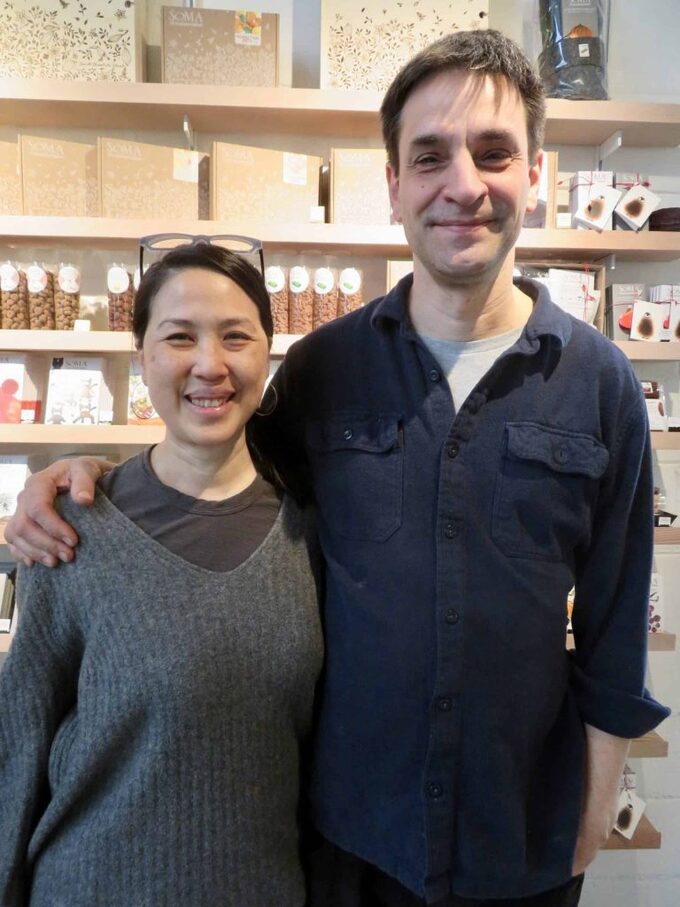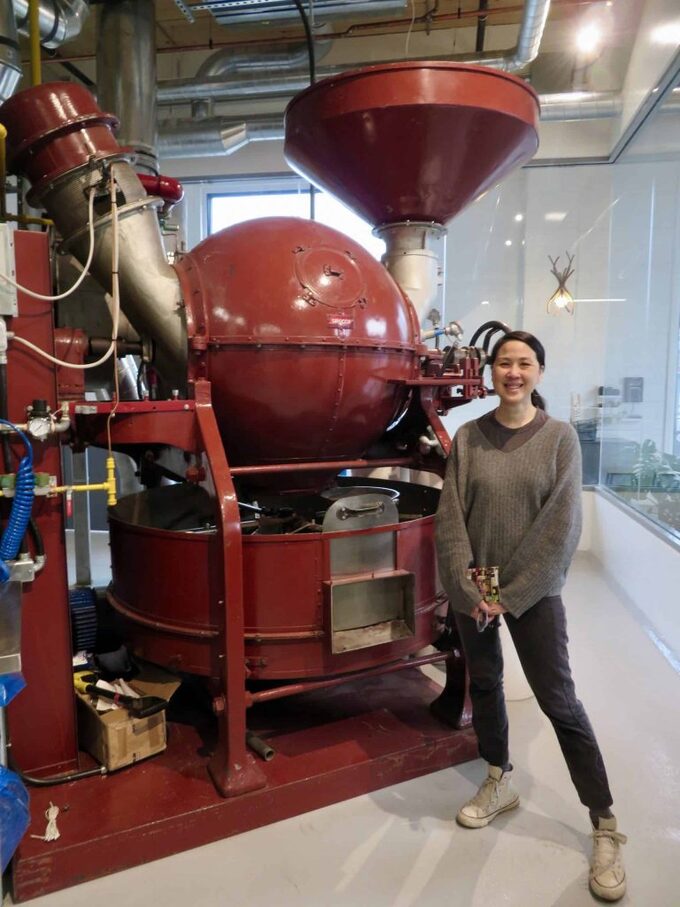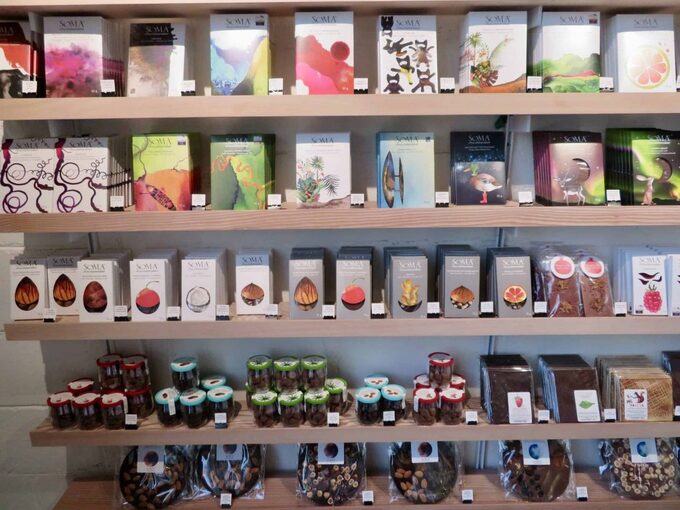 five reasons to love SOMA chocolatemaker
SOMA uses only the finest cacao beans sourced from the best cocoa producers. Cynthia told me that SOMA only uses certain origins from which they can verify that the beans they've ordered haven't been switched with cheaper beans. You can truly taste the difference. Whether you're enjoying SOMA's single origin truffles, chocolate bars or confections, or even their made-from-scratch single origin hot chocolate, the full flavour of the cacao shines through.
SOMA marries tradition with ingenuity and innovation to create exciting new flavours using tried and true heritage chocolate making equipment from around the world. That includes the German-made ruby red Sirocco roasting machine (pictured below) which SOMA purchased from Scharfenberger Chocolate of San Francisco, and a massive winnowing machine from Lindt of Switzerland.
SOMA has an extensive line of chocolate products that are all of superb quality, yet are playful and equally appealing to chocolate connoisseurs as well as those looking for fun-flavoured diversions such as the Mango bar with chili lime salt, the Brown Butter Rum Bar, the Roasted White Chocolate bar, the Starry Night dark chocolate bar featuring sea salt from the Newfoundland Salt Company, and the Fiji single origin made-to-order hot chocolate topped with house-made marshmallow are some of my personal favourites. See the photo of the amazing hot chocolate at the end of this post. It has a rich chocolate flavour, is thick, creamy and not sweet at all. The perfect hot chocolate for connoisseurs.
SOMA's product packaging are not only original works of art, but are eco-friendly, featuring only natural ingredient ink from the Toronto Ink Company Inc. Cynthia is an architect with artistic training who uses her skills to create original art for SOMA's packaging and enticing three-dimensional shapes for the single origin truffles. David is a pastry chef who upped his chocolate game by taking chocolate making classes in California. Together, they are an an unstoppable multi-award-winning creative team.
SOMA is all about sharing chocolate knowledge. They've done chocolate classes for large retailers like Sobey's to help staff understand what great tasting sustainable fair-trade chocolate is all about and why it costs more than large scale commercial products. And they do tours and chocolate appreciation workshops (in non-pandemic times) for chocolate lovers. They also have a terrific website that describes their chocolate philosophy and product lineup in detail. Shipping in Canada is free right now on orders of $50 or more. Yay! You can bet I'll be placing an order this week.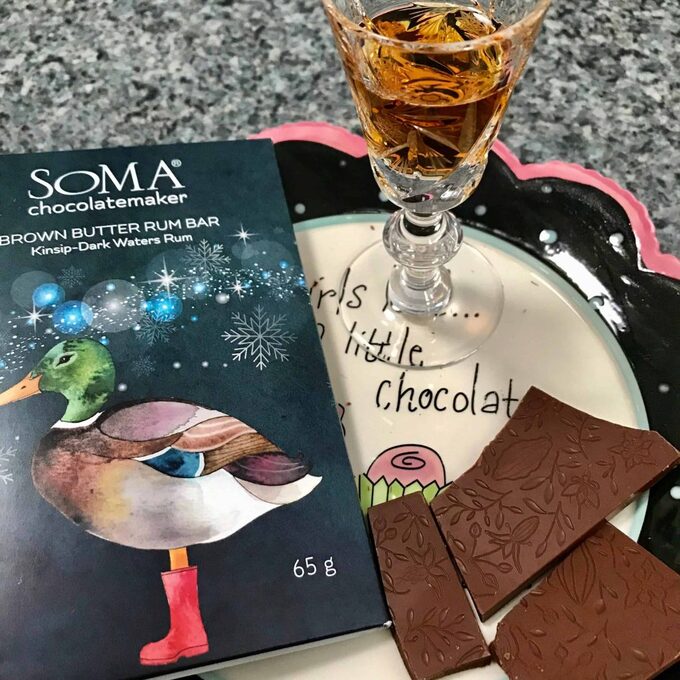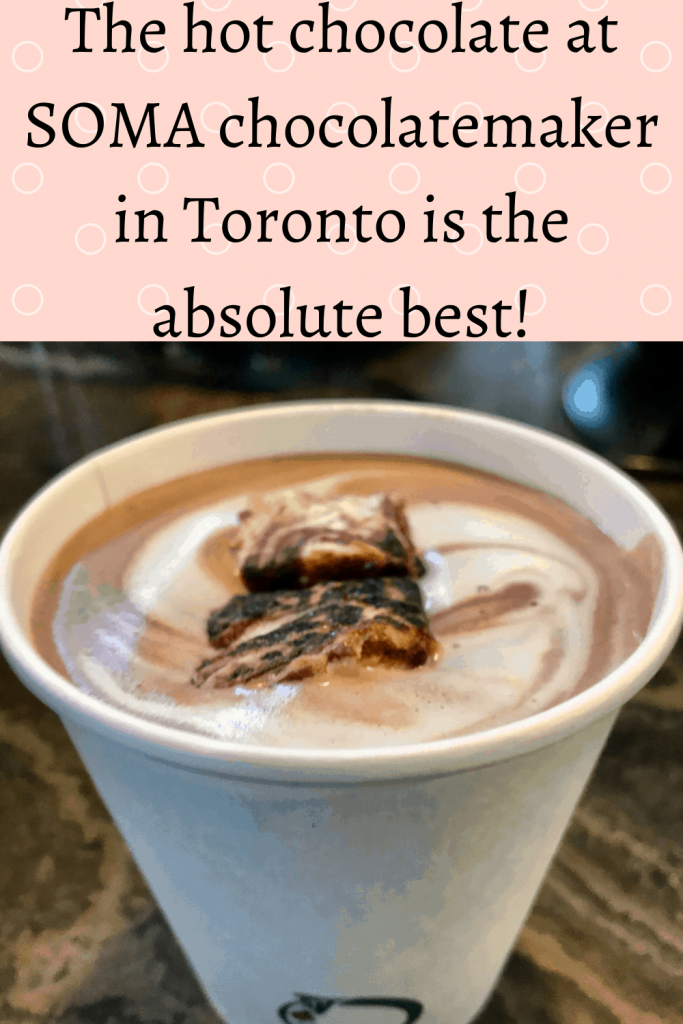 As we celebrate International Chocolate Day every year on September 13th, I hope you enjoyed some great chocolate of the world this week. And if you haven't already, it's never too late to expand your chocolate knowledge and further develop your chocolate palate.
I hope you do seek out SOMA chocolatemaker–definitely one of the best chocolate companies in Canada, and one of the finest artisan chocolate makers in the world. SOMA chocolate has three Toronto locations: The Distillery District is their original location. King Street West is their second location. Both of these are currently open to the public. The Cacao Bean Lab (SOMA chocolate factory) located at 71 Brock Avenue is not currently open to the public due to COVID-19. Hopefully, that will change sometime soon.
And if the name SOMA rings a bell, you may recall reading about this great Canadian chocolate maker a few years ago in this other post on my site. Enjoy!