Swiss chocolate … & why I love Zurich
I had a tremendous time discovering Belgium, France, and Switzerland on my first Chocolatour to Europe in 2009. I share some of my thoughts on France and Belgium in other posts. This post is all about Zurich, how I've come to know it during my three visits, why I an enamoured with this lovely Swiss city, and some exciting news! Read on …
Zurich is a tremendous place to discover Swiss chocolate
Zurich is one of the safest, cleanest and most efficient city I have visited. Safe, clean and efficient may not be sexy words and may instill the impression that Zurich is dull or boring. Not true! This lovely Swiss city is architecturally appealing, historically fascinating, has plenty of terrific shopping, great restaurants, and of course … some of the best chocolate in the world. What could be sexier than the sensuality of chocolate?
I've always been a fan of dark chocolate, so I was afraid I might not like the offerings of the Swiss chocolatiers. They are primarily known for their milk chocolate. But I was wrong. Firstly, the Swiss are now producing more dark chocolate products, so it wasn't difficult for me to like them. And secondly, the Swiss live and breathe chocolate, so if anyone knows how to make great chocolate, it is the Swiss. It is smooth, creamy and sensual. Even the milk chocolate of the best chocolatiers and confectionaries is appealing to the most dedicated lovers of dark chocolate.
But Zurich is far more than a chocolate lover's paradise. It is home to the Swiss National Museum, the
Landesmuseum
, a facility that combines a strikingly contemporary layout and design with the traditional styling of a world-class museum.
You won't find more clocks, watches and other time pieces anywhere in the world than in Zurich. Perhaps that's why their public transportation system is so efficient. Time really matters to the Swiss. Various forms of public transportation are at your disposal and almost always … on time.
We rode the local trams and trains religiously over a three-day period and found them to be clean and high-efficient, as well as an economical way to tour the city and surrounding area. Buy a
Zurich card
and you get cheap transportation and entry into local attractions all in one.
Restaurant meals are terrific but expensive by way of North American standards. But if you buy the Zurich card, you'll find some deals on dining, too.
I also love the people of Zurich. They are friendly, helpful, attractive and cosmopolitan without the arrogance found in at least one neighbouring country.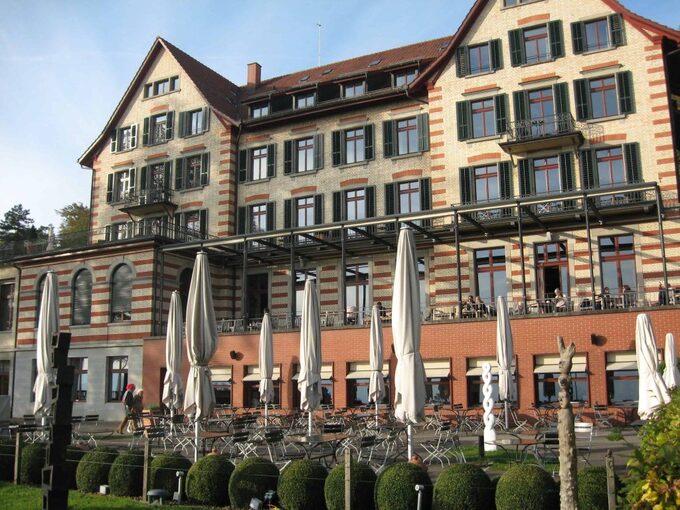 We stayed at the
Hotel Zurichberg
in 2009, which was situated on a hill overlooking the lake and mountains. It was a wonderful refuge to help regenerate us for each new day. That was my second visit to Zurich. The first was in 1996 and only a brief stop over. My 2009 visit–although primarily focused on chocolate–was fortunately much longer, and gave me a true insight into one of Europe's most understated cities.
I was fortunate to return to Switzerland in 2016 for a Swiss chocolate travel tour of other Swiss cities such as Lucerne, Vevey, Montreux, Broc, and Gruyères and they were all fabulous. Use the search tool via my homepage to check out those posts. I just had a quick overnight stay on that visit at the
Radisson Blü Zürich Airport Hotel
and really loved their ultra modern lobby lounge and the chic ambiance of the hotel.
Zurich is the quintessential chocolate destination
Whether you stay in Zurich or venture out to the various other centres, Switzerland is a premiere chocolate destination, and in my opinion …
The
Quintessential Chocolate Destination. And as of September 13, 2020, there is a new and exciting reason for chocolate lovers to visit Zurich! The opening of the "Lindt Home of Chocolate" (also known as the
LINDT & SPRÜNGLI CHOCOLATERIA
) a 65,000 square foot multi-faceted, multi-media chocolate museum offering interactive exhibits depicting the world of chocolate and cacao, a history of chocolate section with chocolate memorabilia and comprehensive insight into the evolution of chocolate, a chocolate tasting gallery, innovation lab, corporate offices, the world's largest Lindt chocolate shop, and the world's largest chocolate fountain at nine metres (almost 30 feet) high! That gives me plenty of reasons to plan a return trip to Zurich for yet another incredible chocolate travel experience.
SaveSave
SaveSave