Confiserie Sprungli: Masters of Chocolate in the Swiss Tradition
Confiserie Sprüngli has been making incredible Swiss chocolate in Zurich since 1836. Not to be confused with Lindt & Sprüngli, a branch of the Sprüngli family that separated from the original chocolate-making group in 1845 to create their own brand and are best known in North America for their Lindt Excellence chocolate bars and Lindor brand truffles.
confiserie sprüngli offers the ultimate swiss chocolate experience
Confiserie Sprüngli specializes in the exquisiteness of silky smooth chocolate in the Swiss tradition and in a truly elegant style that is second to none. My first visit to a Sprüngli shop in Zurich in 2009 sent my taste buds to the moon! We were greeted by Mrs. Howald (above), a beautiful blonde who took my friend and me through all the different Sprüngli offerings in a journey of joy.
Limited edition Cru Sauvage and Grand Cru truffles of various origins made from fresh cream, cocoa, and sugar with no additives or preservatives mean you are getting the finest flavour and an end product only the Swiss can master. These fresh chocolates are meant to be eaten quickly, with just a 2-3 week shelf-life for optimum flavour and texture.
Sprüngli is also known for its tiny macarons called Luxemburgerli, its playful and elegant seasonal packaging, and its delicious hot chocolate made from 70% cocoa. Products with a longer shelf-life like the bags of hot chocolate mix, cookies, and pralines can be shipped worldwide via Sprüngli's online store.
Fast forward to 2016, when I was last in Zurich, and happened upon the Sprüngli shop in the Airport Centre of Zurich International Airport. I was thrilled to be able to sample Sprüngli's newest offerings. The CUBA Auténtica Collección De Trufas Gran Cru consists of four fantastic truffles featuring cocoa grown in the Baracoa region of Cuba blended with other Cuban specialities like Cuban rum, coconut, tropical fruit, and dulce de leche (caramel). I'm not shy in telling you that the Dulce de Leche truffle made of 40% milk chocolate and caramel is chocogasmic.
I really like the white chocolate Fiona bar that features cocoa butter from the Dominican Republic, dried apricots, pistachios, and almonds. There are two milk chocolate bars featuring cocoa from the Beni region of Bolivia: the Alma bar with crunchy roasted hazelnuts is absolutely delightful.
Sprüngli has its cocoa processed by Felchin of Schwyz, Switzerland, one of the top cocoa processors in the world. Felchin works directly with the cacao farmers of the various origins to ensure the cocoa beans are fermented and dried to maximize the flavour notes of the beans–which are processed to specification and then sent to Sprüngli to be made into its different chocolate creations.
If you love super creamy chocolate with a high level of excellence and sophistication, you can't beat Swiss-made chocolate. And among Swiss chocolatiers, Confiserie Sprüngli is one of the best. It is a large company at approximately 1,000 employees involved in sales, administration, and production, of which 100 are experts in the art of chocolate making.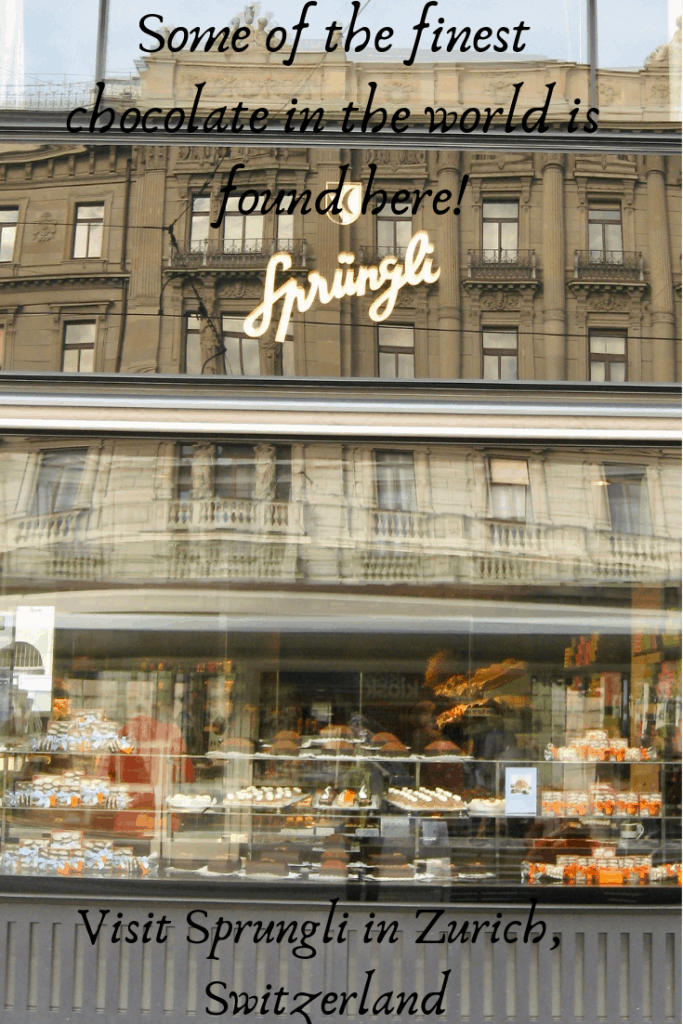 There are more than 30 locations throughout Switzerland where you can purchase Sprüngli chocolates, plus a location in Dubai, in the UAE. No surprise, as the Emirates really know excellence in any type of product, and I'm sure they are enjoying the various Sprüngli creations as I do.
Have you tried Sprüngli chocolate? Please share your impressions of this post, of Sprüngli, or Swiss chocolate in general. I love hearing from you. Just so you know, the very svelte Mrs. Howald confesses to eating a good helping of chocolate each and every day. 🙂
SaveSave
SaveSaveSaveSave
SaveSave
SaveSave
SaveSave
SaveSave
SaveSave
SaveSave
SaveSave
SaveSave
SaveSave
SaveSave
SaveSave
SaveSave
SaveSave
SaveSave
SaveSave