Pacari is king of Ecuadorian chocolate
No discussion of chocolate from Ecuador would be complete without visiting Quito-based Pacari Ecuadorian Organic Chocolate that has won more than 100 international awards and no less than nine International Chocolate Awards in the 2012 Chocolate Week competitions in London, England. Pacari continues to win awards and impress the world with innovative chocolate flavours using Arriba Nacional cocoa beans. Pacari has won a variety of top awards such as Best Chocolate Maker and a number of awards for its dark chocolate bars which are USDA certified organic, Kosher, soy and gluten free, and Biodynamic.
What is Biodynamic chocolate, you ask? Pacari claims to have the only Biodynamic chocolate in the world and explains it as being an integrated farming system that views the farm as a living organism. All operations on the 200 cacao farms that are part of the certified Pacari group are chemical-free and designed to rejuvenate the farms through interplanting and preservation of cacao's genetic diversity. It is the ultimate in sustainable chocolate.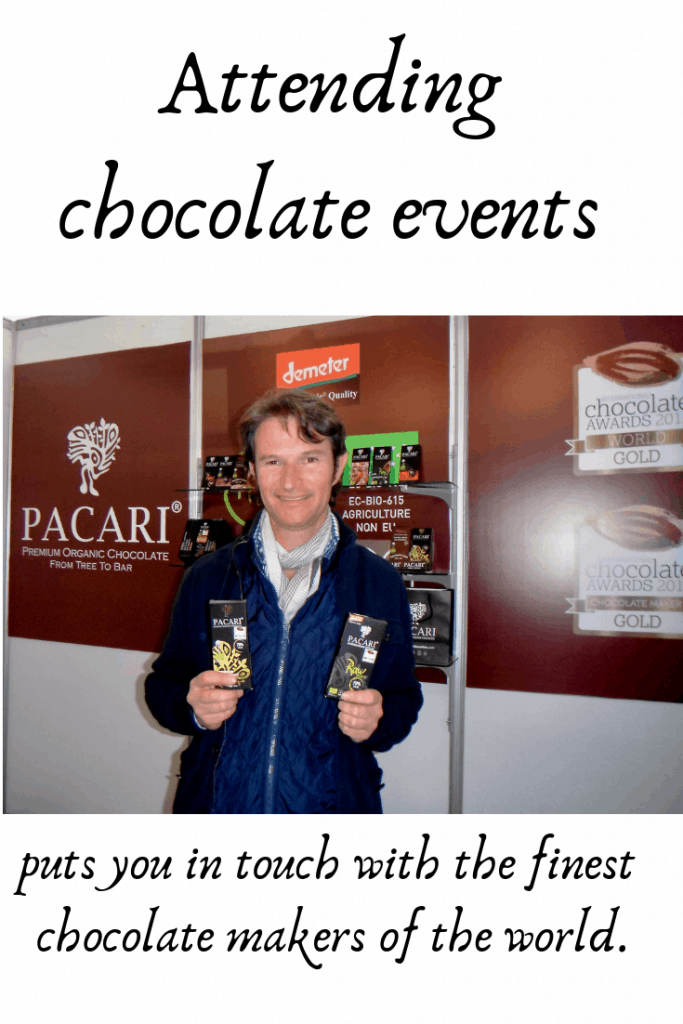 I did not make it to the Pacari factory when I was in Quito in 2012, only learning of them after I returned to Canada. But I did meet founder Santiago Peralta (pictured above) at the 2013 Salon del Cacao y Chocolate in Lima, Peru.
And I am told Pacari hosts a terrific chocolate tour that they offer in Quito, where you can taste a variety of their bars and learn how they are made. Details here.
pacari chocolate is good for the environment and readily available
Fortunately for chocolate lovers, the line of Pacari "tree-to-bar" chocolate bars are sold in 26 countries. They have a location in Sedona, Arizona that fills the orders for North America.
Of the varieties I have tasted, my favourite Pacari bar is the 70% Raw Chocolate with Salt and Cacao Nibs. "Raw" means it is made from cacao beans that have not been roasted. The bit of saltiness with the crunch of the cacao nibs makes this a flavour-packed bar that is fun to eat and good for you and environment all at the same time.
Do you specifically look for organic chocolate when you buy chocolate? Do you care if your chocolate is sustainable and eco-friendly? Are Kosher, soy free, or gluten free labels that you look for? Have you tried raw chocolate? Please let us know if you've tried Pacari dark chocolate from Ecuador and if you enjoyed it.