artisan chocolate in Gruyeres, Switzerland
In this post, I introduced you to the medieval village of Gruyères, Switzerland and we discovered it's not all about the cheese. Gruyere cheese is indeed wonderful, but I'd like to introduce you to Gruyères chocolate.
gruyeres chocolate is an excellent example illustrating the evolution of swiss chocolate
Richard Uldry is the talented chocolate maker born just 10 minutes from the village of Gruyères where he now owns and operates Chocolaterie De Gruyères a tiny retail chocolate shop and workshop inside the historic walled village. You walk up the stone stairs to the tiny chocolate shop. The chocolate workshop is on the lower level.
I loved meeting Uldry and hearing his story about his own evolution in the world of Swiss Chocolate and the evolution of Swiss chocolate throughout the industry. Over the past 25 years, Uldry has worked as a baker, patissière, and glacière (ice-cream maker). In 2013, he opened his chocolaterie (chocolate shop) and decided to go bean-to-bar and truly immerse himself in the world of chocolate. "My dream was to make really good chocolate," he told me.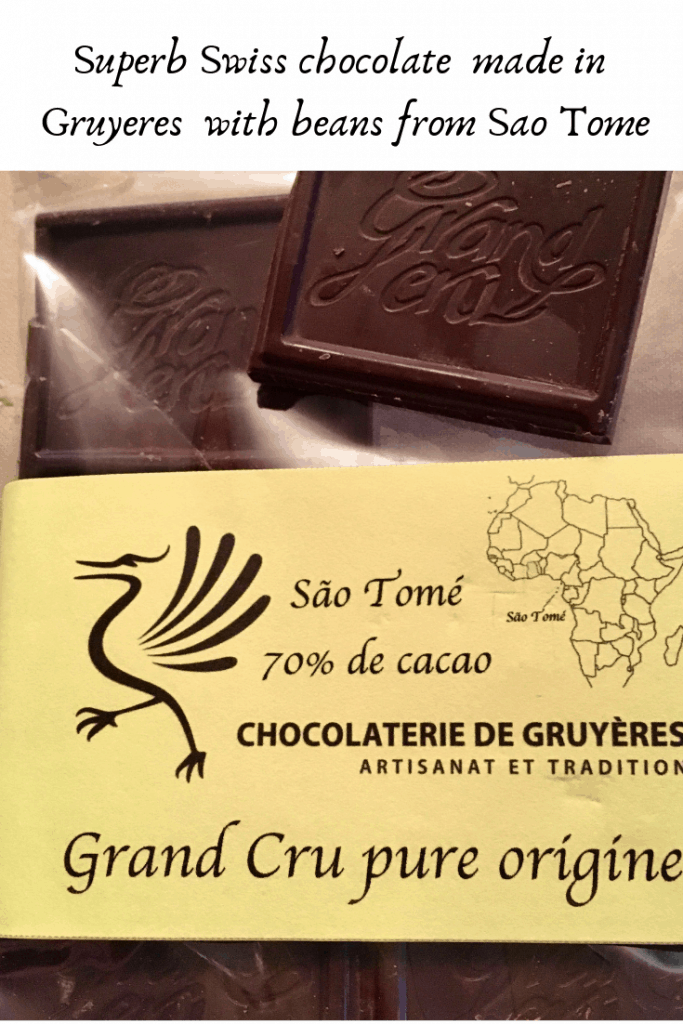 And make good chocolate he does! The 70% São Tomé bar from Chocolaterie De Gruyères is one of the finest chocolate bars I have ever had. When you open the clear wrapper, you get a whiff of the intense chocolate flavour you are about to enjoy. You break off a square of the chocolate and hear that intense snap achieved when the chocolate is just the right thickness and consistency. You taste a piece of that square and let it melt slowly in your mouth, and are pleased that the silkiness of that Grand Cru single origin bar still closely resembles the silkiness we have come to know and love in Swiss chocolate. "I buy my cocoa beans via Felchlin, as they have access to the very best beans in the world," says Uldry. Time and time again when I have visited small chocolate makers who are doing amazing things with chocolate, it has been revealed that their beans have come via Felchlin, a Swiss company known for creating the finest couverture using their traditional chocolate-making equipment. The beans used to make this stunning São Tomé bar boast natural flavour notes of a lovely fruitiness (without the acidity) blended with molasses and caramel, yet the only ingredients added to the cocoa beans are cane sugar and cocoa butter. It is the epitome of perfect dark chocolate without the intensity or bitterness that turns many palates away from dark chocolate.
Another product that Chocolaterie De Gruyères proudly offers is the Moutarde de Bénichon, a dark chocolate-coloured "jam" or condiment made with ground mustard, white wine, sugar, cinnamon, anise, cloves and flour (so not gluten free) that is a specialty of the region. I enjoyed it spread on top of cream cheese with a bagel and fruit.
Part of what I really love about my work with Chocolatour is the opportunity to meet passionate and creative people like Richard Uldry. They are most often found in places off the beaten path, which is what makes chocolate-focused travel and chocolate tourism so very intriguing. Please stay tuned for the next post as I continue my quest for the world's best chocolate adventures.
SaveSave
SaveSave
SaveSave