cruise up Carefee Highway to Cave Creek, Arizona
If you find yourself in the Scottsdale/Phoenix area, a highly recommended day trip is up Interstate 17 to the historic town of Cave Creek, Arizona, and its modern sidekick, Carefree. You'll find Cave Creek about 30 miles north of Scottsdale and Carefree immediately east of that along Arizona Highway 74–locally known as Carefree Highway (made famous in the 1974 Gordon Lightfoot song of the same name.)
To quickly familiar yourself with the highlights, I recommend jumping onboard the Foothills Trolley. We caught it at the Cave Creek Visitors Center, and it stops at 16 different places along its route. You can park your car or bike and use the free service to explore the highlights of this fascinating diversion.
Founded in the 1950's as a planned community, Carefree is an artistic hub, with many galleries and gardens to enjoy. We happened to be there on a Sunday afternoon, so not much was open in Carefree, but we did enjoy a visit to the Carefree Desert Gardens, home to the one of the world's largest sundials–spanning 62 feet and pointing to the North Star.
Arriving first in Cave Creek, we stopped at the Visitor Center and spoke to Community Outreach Coordinator, Patty Pollnow, who described Cave Creek as, "An equestrian town where people drive up to the DQ (Dairy Queen) drive thru on horseback."
Cave Creek was founded in the 1870's as a (gold) mining town and in the 1880's grew to include a number of cattle ranches–a town that truly celebrates its western heritage.
Today, Cave Creek has a thriving real estate industry offering vacation rentals with western flair, and an escape from the hustle and bustle of the thriving metropolis of Phoenix.
For the most part, horses have been replaced on the roadways by motorcycles. Lots of them! Bikers will be pleased to learn that Cave Creek is incredibly biker friendly and there are hundreds of custom motorcycles at the various watering holes along Highway 74.
tasty eats in cave creek arizona
We were more into the food and galleries, so we enjoyed a burger at Big Earl's Greasy Eats followed by a fabulous hot fudge sundae at The City Creamery.
We found some great chocolate at the Cave Creek Olive Oil Company (olive oil infused chocolate) and at It's a Divine Bakery (where we spoke to owner Susan Fiebig who specializes in European-style brownies.)
Another fabulous diversion in Cave Creek are the rock shops and galleries. My favourite is the Rare Earth Gallery, where you will find petrified wood and stone sculptures large and small, jewellery, and other various forms of art.
If all this makes you want to stay and play in Cave Creek or Carefree, Arizona, you might be interested in a stay at the Boulders Resort & Spa. The resort and golf course are set behind the protection of massive boulders that are estimated to be 1.4 billion years-old!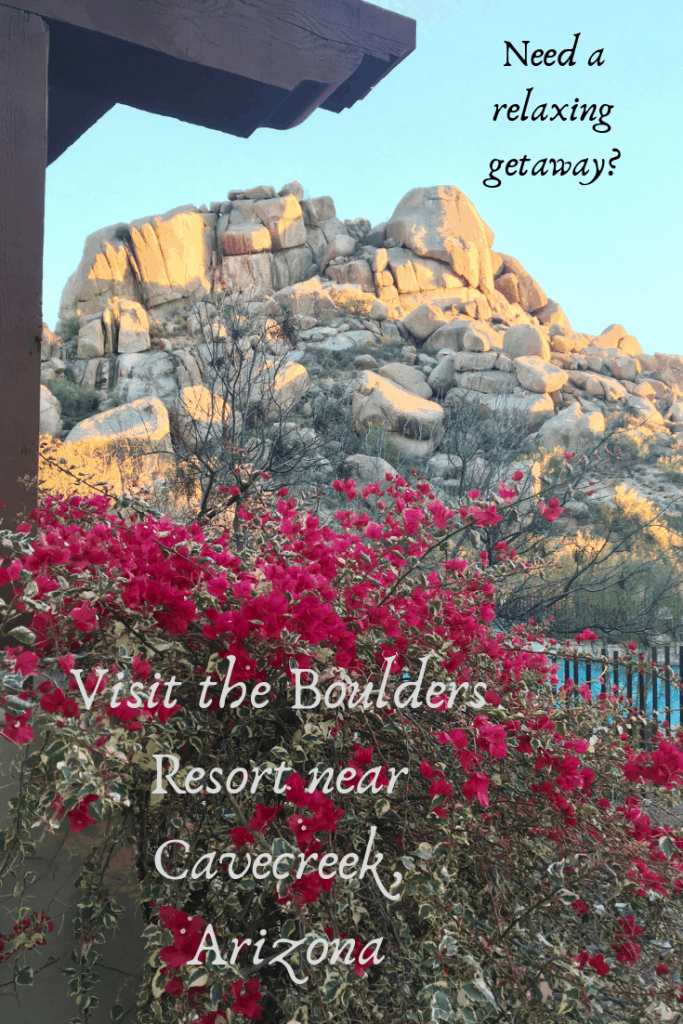 I found the natural surroundings of the Boulders Resort to be breathtakingly beautiful and surreal and I would love to stay there on a future visit to the area. Did I mention the Taste of Cave Creek foodie fest happening October 16-17, 2019? That would be an amazing time to visit this very special place on earth.
Have you been to Cave Creek and Carefree? Please share your experiences with us here. And join me next week for more Arizona gems.
SaveSave
SaveSave
SaveSave
SaveSave
SaveSave
SaveSave
SaveSave
SaveSave
SaveSave
SaveSave
SaveSave
SaveSave
SaveSave
SaveSave
SaveSave