Zak's Chocolate: Best in Arizona
I had the pleasure of meeting Maureen and Jim Elitzak at their chocolate shop in Scottsdale, Arizona, in January, 2018, and was blown away by the chocolate knowledge, talent, and finesse this couple has achieved in the three short years since opening their shop in 2015.
zaks chocolate of scottsdale, arizona, produces taste-tempting ethically sourced organic chocolate
Both Jim and Maureen have degrees in accounting, and a background in corporate finance. But after retiring from corporate life, the Elitzaks decided to turn Maureen's hobby of chocolate making into a small business. She began using Valrhona couverture to make her chocolate, but was looking for organic chocolate to work with, and soon learned that working directly with cocoa beans was the way for them to go.
The couple left their home in the Northeast US and moved to Scottsdale in 2011. They took some chocolate making courses through Ecole Chocolat, and purchased some small commercial chocolate making equipment from Chocolate Alchemy and slowly increased their chocolate knowledge and chocolate making abilities. In April, 2015, they opened their lovely little chocolate shop on East Shea Blvd., and not three years later, have won awards from the International Chocolate Awards and been named the best chocolate maker in Arizona by USA Today–an honour I most heartily endorse.
Adjacent to the chocolate shop is a small events space where Jim and Maureen hold chocolate events. They also have an outdoor patio where you can sit and enjoy a coffee and brownie.
"The name Zak's Chocolate is just a play on our own name," says Jim, who says that using the last half of their surname sounded right in giving the feel they were trying to create; a friendly place where quality chocolate is king, and chocolate knowledge is freely shared.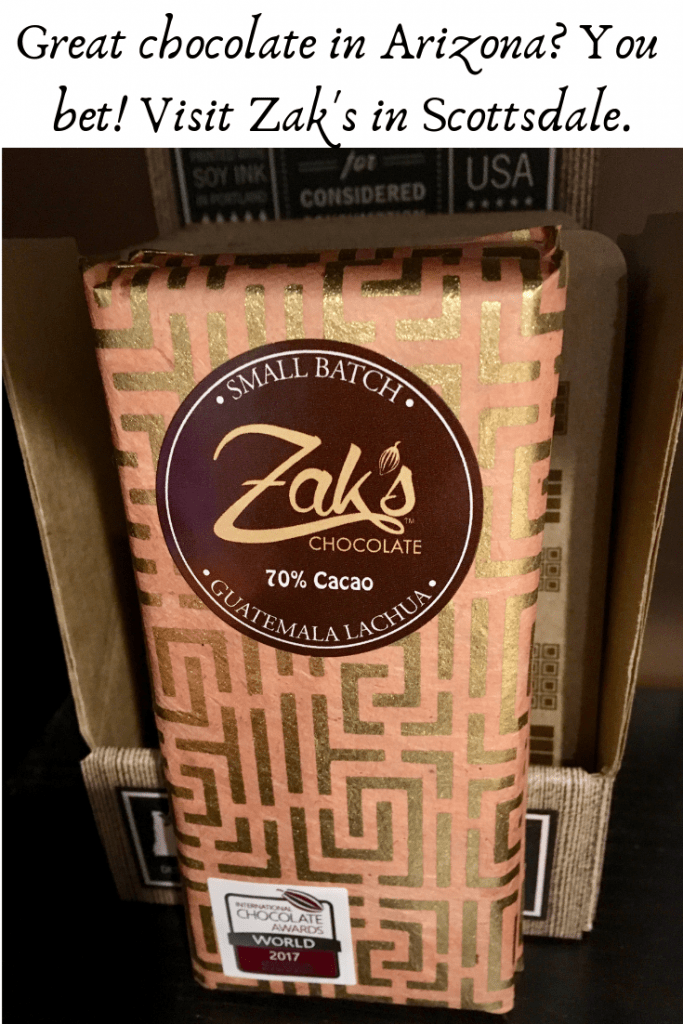 All of the dark chocolate bars at Zak's feature 70% cocoa and are wrapped in this beautiful packaging. "We do that so that the true flavour profiles of the beans are clear and their differences shine through," says Jim. The beans are slow-roasted in small batches. Jim pays special attention to custom roast according to each origin, and each batch from that origin, as there can be variances dependent on the climate of that particular growing season just as with wine, where you will sometimes see the vintner naming the specific harvest and vineyard of the grapes on the bottle.
I tasted the various origins Zak's is currently offering and enjoyed them all. I found the Madagascar bar to be less acidic than is the case with some chocolate makers, but the fruitiness still shone through. I loved the smokiness of the Papau New Guineau bar. We also tasted chocolate from Belize and Nicaragua, each with its own flavour profile.
I loved the Lachua bar made from Guatemalan beans. This award-winning bar features citrus, dried cherry, and raisin notes that reveal themselves as you let the chocolate slowly melt in your mouth. Zak's also makes a Guatemalan bar from the Monte Grande farm that tastes quite different from the Lachua bar. The 70% Haiti bar has a full, rich flavour. But I didn't like it nearly as much as the 55% dark milk Haiti bar. For my taste buds, that bar is true perfection.
Maureen is a skilled chocolatier, and makes fabulous chocolate bonbons and novelties such as her own version of 'turtles." I loved them, as each chocolate turtle contains a whole pecan. And the Tropical Blackberry bonbon features an exotic blend of blackberries, lychee, and passionfruit that I'm still swooning over.
If you find yourself in Phoenix, Scottsdale, or any of the surrounding communities, be sure to take a detour to Zak's Chocolate. Your taste buds will thank you for it.
Zak's Chocolate partners with various venues and events including the Chilies and Chocolate Festival at the Desert Botanical Garden and the Chocolate Tour of Scottsdale.
SaveSave
SaveSave
SaveSave
SaveSave
SaveSave
SaveSave
SaveSave
SaveSave
SaveSave
SaveSave
SaveSaveSaveSave
SaveSave
SaveSave
SaveSave
SaveSave
SaveSave
SaveSave